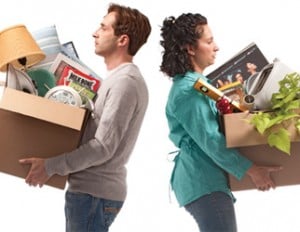 Two weeks after his divorce, Phil Doughty received a blunt letter from his ex-wife's lawyer. It informed him he'd contravened his settlement by not giving his ex her $100,000 share of his pension within 10 days of the divorce.
"It was a knockdown punch," says the retired teacher from Montreal. "I had no idea I had to pay her right away, or that the money would come directly out of my pension fund." Doughty thought his ex would simply get a share of his benefit after he stopped working. "I'd never heard of a company taking money out of a pension eight years before retirement."
With his pension fund depleted, Doughty's monthly cheques were reduced by over a third when he eventually retired, yet he was still required to pay spousal support from what remained, leaving him strapped. "I had to find another lawyer to help me get out of those support payments I couldn't afford anymore."
Doughty (we've changed his name, and those of all the featured subjects in this article) believes his pension arrangement should have been handled differently—at the very least it should have been explained to him properly. "I guess it was just something the lawyers worked out between them," he says. "My lawyer and I never really talked about the pension."
It seems hard to believe a lawyer would not talk to a client about how such an important asset would be divided, but Doughty insists he would have remembered such a conversation. His situation is just one example of how partners frequently get divorced without understanding all the financial implications.
"Divorce changes a person's financial situation dramatically and often there is no planning for it," says Debbie Hartzman, a Certified Divorce Financial Analyst in Kingston, Ont., and co-author of Divorce Isn't Easy, But It Can Be Fair. (CDFAs are planners with additional training in the financial impact of separation and divorce. See "Where to get help," at the bottom of this page.) "I've had clients say things like, 'I just spent four years fighting with my ex, I have this cheque for $400,000, and I have no idea what that means in terms of my financial future.'"
Surely part of a lawyer's job entails discussing financial matters surrounding divorce. Apart from custody of children, aren't money and property the big issues in divorce? "A family lawyer's job includes giving advice about a number of financial issues, but we are not financial analysts," says Bruce Clark, who observed many divorce-related financial problems during his 35-year career as a family lawyer in Toronto.
Lawyers may not anticipate the long-term implications of divorce-related financial matters. For example, Hartzman explains it's possible to have different divisions of assets that all meet the 50/50 requirements of the law but have profoundly different financial consequences for the divorcing partners. Her book includes a case study that presents different ways to legally divide the assets of a middle-class couple. Both are 58 years old, and the largest assets are the house and pensions (his is four times more valuable than hers). In one scenario, the assets are split more or less equally, so the initial net worth of the two partners is about the same. However, her share of the man's pension is paid out as a lump sum, and the support payments are not structured to reflect the fact his post-retirement income will be higher than hers. As a result, after age 65 the woman's net worth and monthly cash flow flatline, while the man's relative financial situation steadily improves. "The person with the pension can end up in a much better financial position than the person with the house, particularly if the pension is indexed to inflation," says Jim Doyle, a CDFA with Investors Group in Vancouver.