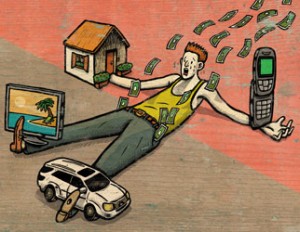 Talk about a mixed headline. More Canadians are debt-free this year (26%) than last year (22%) but those who do owe money are carrying slightly heavier loads, according to RBC's annual debt poll. Indebted Canadians on average owe $13,141 in non-mortgage debt, up $84 from 2011. Four-in-ten say they're comfortable with their debt load while 34% say it causes them anxiety.  Here's a snapshot of consumer debt loads by province.
A new U.S. survey suggests 22% of Americans could not make ends meet without access to credit. A full third of respondents said they don't pay their bills on time, the National Foundation for Credit Counseling said. If you fall into this group, it's time re-evaluate your spending and perhaps consider a low-rate credit card.
Buy cheap? Buy twice, the Canadian Finance blog reminds us about consumer goods. We couldn't agree more which is why we started The Perfect Price series a few months back. Take the guess work out of buying suits, sunglasses, shoes and more.