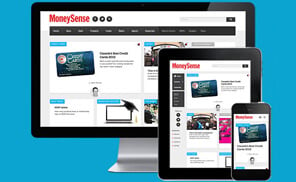 Dear readers,
Welcome to the new MoneySense.ca! Here you'll find the same great personal finance and lifestyle content you've come to expect from us, redesigned to better suit your smartphone, tablet, laptop and desktop. Our new responsive design makes it easier than ever to navigate and read our website anywhere, anytime on any device.
We've done more than just give MoneySense.ca a makeover however. Our team has spent months rebuilding the website from the ground up, in an effort to make it more intuitive. Whether you're looking for new ways to save, invest or spend your money, you'll find it more quickly and easily. There are also dedicated areas on debt, retirement and property matters along with a whole host of others. No matter what stage in life you are at, we'll help you get on the path toward financial independence faster.
MoneySense magazine columnists including Norm Rothery, Pat Bolland and Evelyn Jacks among others will also make regular appearances on the new and improved website. And we're very happy to introduce all new social media share functionality—something many of you have asked us for.
We will continue to make improvements to MoneySense.ca and welcome your feedback. Please leave us a comment below.