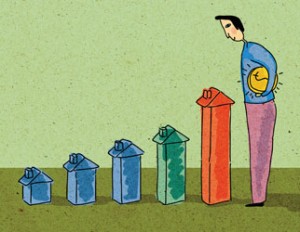 Despite what the banks might have us believe, Canadian households with a mortgage are in substantially worse shape than the headline numbers suggest, according to Maclean's contributor Ben Rabidoux. He draws some troubling parallels between the Canadian household balance sheets of today and those of Americans just before the housing market crash.
Got junk? Don't toss it, sell it! A recent survey by online classifieds site Kijiji found 40% of Canadians had at least one unwanted item they could have sold, but threw away instead. The company's latest ad campaign breathes new life into unwanted household items. Of course, Kijiji isn't the only way to sell your gently used stuff, garage sales are fun and relatively simple to organize.
Congrats to all Plutus Awards Finalists. The awards celebrate the best independent personal finance bloggers out there in various categories. Check out the full list of nominees and vote for the winner of the People's Choice award.