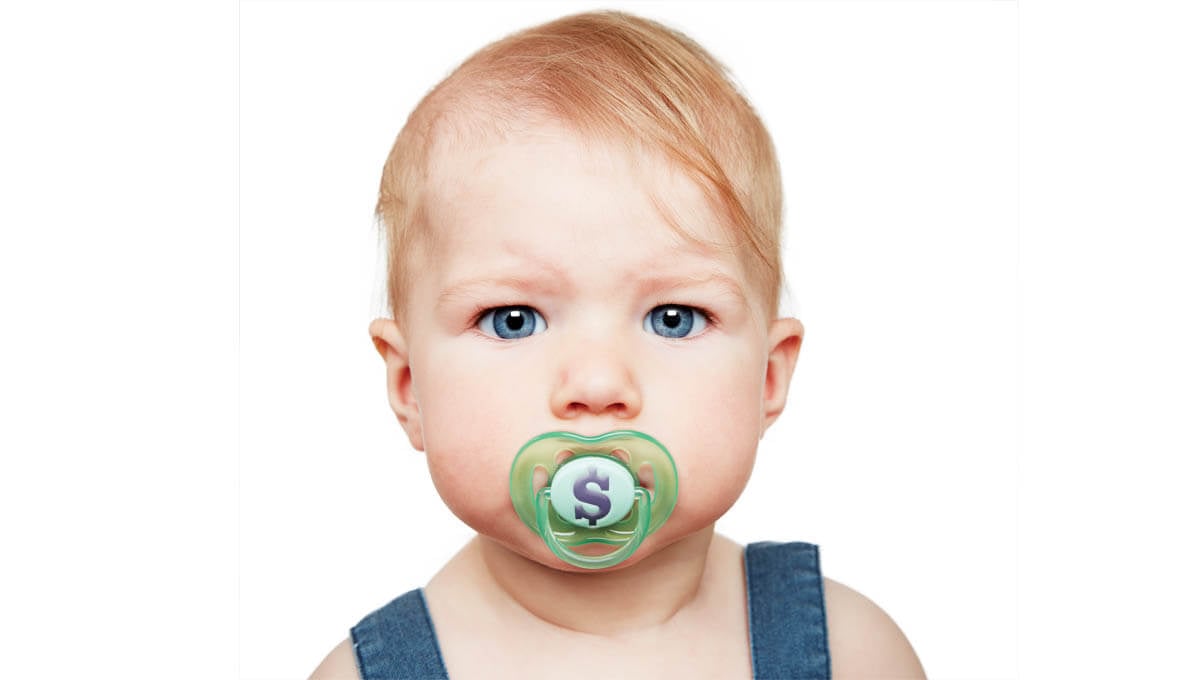 When Jacqueline Misshula went on maternity leave last September, the Toronto-based human resources manager had the typical concerns of most first-time parents. Could she handle the constant feedings, non-stop diaper changes, serious lack of shut-eye—and would there be enough money?
This financial worry is hardly trivial. By our own previous estimates at MoneySense, raising a child in Canada will set you back a whopping $243,660, or more than $12,825 a year, if you include everything from toddler-friendly Goldfish crackers to swishy shoes for high school graduation. But it's that first year, when parents are juggling big-ticket baby expenses with slashed parental leave income, that creates a perfect storm for anxiety and debt.
"It's definitely challenging," says Misshula, now more than halfway through her leave. "We've had to make changes to our lifestyle in order to be able to still live in the city and maintain some normalcy."
As Misshula herself has learned, there are indeed tips, tricks and hacks that can help new parents and parents-to-be survive the cash crunch of the first 12 months. From getting the most out of government and company benefits, to learning how to budget for a stroller, here's everything you need to know to get through that first blurry-eyed year without breaking the bank.
Get EI sorted
Canadian parents are permitted up to 52 weeks off work to feed, care for and snuggle their new infants—and if you want the government to help you out with the accompanying drop in income, be sure to apply for Employment Insurance (or QPIP in Quebec) as soon as you take your leave to get the maximum benefits. With few exceptions, EI can only be claimed within the year following your baby's birth or adoption placement, and once you apply there's a two-week waiting period before you'll receive any funds—although the government is reviewing this.
Also keep in mind that EI is only a partial panacea for your reduced earnings: It's calculated at 55% of your gross income up to a maximum amount set each year—in 2016, it's $537 per week based on $50,800 worth of insurable earnings. (But low income families with a net household income of $25,921 or less may increase their benefit rate to as high as 80% of their average insurable earnings.)
There are EI eligibility restrictions, too. Those who aren't entitled include shareholders of a family business, the self-employed (unless you're in Quebec or have opted to pay into EI well in advance of your pregnancy), and those who haven't accumulated at least 600 working hours in the year before taking parental leave. That 600-hour threshold, which equals about four months of 37.5-hour work weeks, is particularly important to keep in mind when timing pregnancies. For instance, if a new mom decides to come back to work part-time at first, but then discovers she's pregnant with her second baby only 15 to 18 months after the first arrived, she could find herself ineligible for maternity benefits the second time around.
Here's something else you need to plan ahead for: Parental leave benefits are taxable. To get on top of a costly tax bill, Calgary-based tax analyst Cleo Hamel recommends talking to an accountant to estimate how much money you need to put aside in advance. "It's a big hit," she says. "If you're only getting half of your wage, where are you supposed to come up with some extra money to put aside for taxes?"