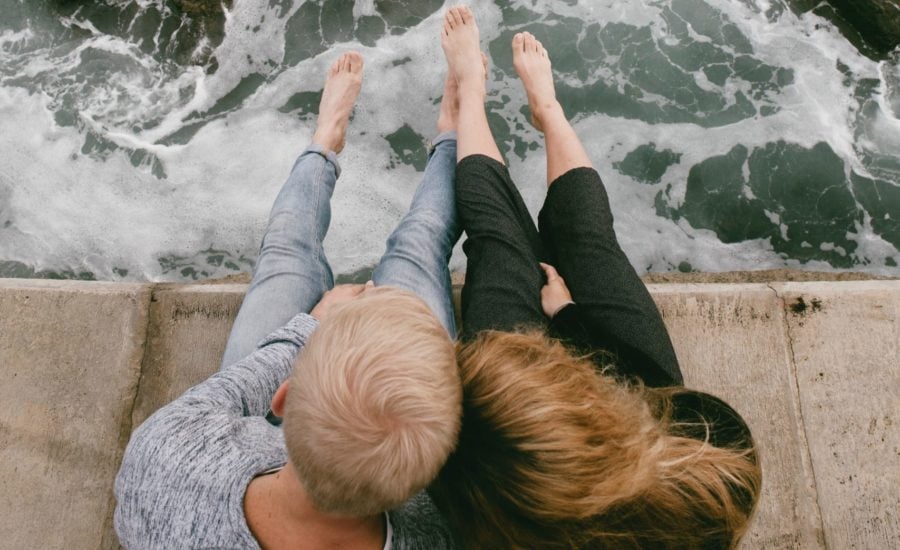 Michelle and Peter both worked in sales, making a combined income of more than $150,000. (Their names have been changed to protect their privacy.) The couple was doing well, financially speaking, and Peter recalls not understanding how anyone would get into so much debt that they could no longer handle repayments. "It was a place I never thought I'd ever be because it was people not managing their money properly. Then it was my turn."
A reduced income wasn't part of the couple's plans. But when Peter became ill in 2013, he was let go from his commission-based job. "He was ill for three years before he could get back to normal and have a full-time job again," Michelle recalls. "It wasn't a good time." 
Even after he recovered in 2016, Peter had difficulty rebuilding his career. "He would get a job and get laid off six months later, have another job for a year and get laid off again," says Michelle. 
While Peter was fighting his illness, the family income dropped from $150,000 to $60,000. He went on short-term disability, then on unemployment benefits (EI), and bills began to pile up. 
"We were the people who would always pay our bills ahead of time, you know what I mean?" Michelle says. "We each had a great credit rating." But with Peter unable to work, and a mortgage, property taxes, utilities and other expenses to cover, Michelle says, "We didn't have any money left over; just enough for groceries We put things on our credit card to help us get by." Peter had other personal debts, as well, which added to the burden. 
Reduced income and living on one income
For any household, going from dual to single income is a financial shock. Nancy Snedden, a Licensed Insolvency Trustee ("LIT") with BDO Canada, often meets couples who find themselves in this situation. Her advice, which can work for anyone who is struggling to pay their bills, is to focus on setting a budget.
"The first thing I tell people when they have a big change in their household income is to revisit their budget and ask for budgeting help if they feel stuck," she says. "For many people, cutting a few expenses definitely helps, but dealing with a 50% drop in revenue is really tough. People often benefit from talking to someone about changing certain aspects of their lifestyle and figuring out how they can get by without using their credit cards."
Budgeting advice starts with figuring out your non-negotiables, such as rent and hydro bills. Then you need to determine how much money is moving in and out of the household. Take a step back and carefully reevaluate your needs and wants. The next step is to look at your debt repayment options and see if you can work with creditors to set a manageable payment schedule until you get back on your feet. 
If it gets to the point where you start falling behind on your bills because of an illness or limited job opportunities, there are debt relief options you should consider. For example, Michelle and Peter had first tried refinancing their mortgage in order to make ends meet. But it still felt like they were playing catch up. Their debts were becoming more and more unmanageable. In a situation like this, working with an LIT can help you explore all your options and get a fresh start.  
---
Learn how BDO Debt Solutions can help*
---
Going through bankruptcy
Yvette A. Power, a manager at BDO Canada, has many years of experience helping people find the best plan for their unique situation. After reviewing Peter's financial situation, Yvette knew that a formal debt solution called a consumer proposal was not a feasible option for Peter. That's because he didn't have a reliable income to put towards debt repayment.  If you miss three payments during a proposal, it is annulled, which would have left him at square one. 
Peter, who had more than $100,000 in unsecured debt, decided to declare bankruptcy in 2013. "When my wife and I became partners, I had a lot of debt. We kept our finances separate and we did whatever we liked. I was trying to pay off that debt, but there was no way to service it when I was unemployed." 
Working with Yvette at BDO, Peter was able to extend his bankruptcy from 21 to 32 months to lower his monthly payments and make them more manageable. At the end of the process, Peter was discharged from his personal debts. 
Filing a consumer proposal
The couple had initially decided that Michelle would be excluded from the bankruptcy Peter declared in 2013. But he still wasn't well enough to go back to work a few years later. The bills kept piling up and Michelle was on the hook; she had accrued $50,000 in debt. "I was just trying to get through paying the bills, hoping that he would be well enough to go back to work. Unfortunately, it all catches up to you," she said. 
So, in 2018, five years after her husband Peter met with Yvette Power at BDO, she knew who she could turn to. After sitting down with Yvette, Michelle decided that filing a consumer proposal would provide the debt relief she needed. 
The difference between a consumer proposal and bankruptcy
Both options provide protection from the courts. Legal action like garnishments and calls from  collection agencies will stop once you start the process. 

There is no debt limit for bankruptcy. A consumer proposal can be filed for non-mortgage debt of up to $250,000.

Depending on your income, your payments can fluctuate in a bankruptcy. Payments remain consistent in a consumer proposal.

In certain circumstances, you may decide to give up some of your assets when you file for a bankruptcy in order to pay your creditors. However, you keep your assets when you file a consumer proposal. 
Before the couple started the process, their expenses amounted to $6,000 per month, which included minimum payments of $1,500 on their credit cards. After going through the bankruptcy and now the consumer proposal, Michelle's monthly payments will be $450 for the next four years. In other news, Peter recently found work and has settled into his new job. 
Both say the debt repayment process* has given them a new perspective on their finances. 
"Because we went through what we did, we appreciate what we have a lot more than we ever did before," Peter says. "We now make sure we budget for heating, lighting and groceries, and just reduce the extras that we used to take for granted, like going to Tim Hortons or eating out whenever we wanted, or breakfast sandwiches in the morning."
Michelle and Peter are excited about their fresh start. They live within their means, keep spending to a minimum and enjoy simply going out and enjoying the fresh air. They now realize, it's the small things that count.  
This article is presented by BDO Debt Solutions, as part of the guide: "The New Normal: Take control of your finances and debt."
What does the * mean?
If a link has an asterisk (*) at the end of it, that means it's an affiliate link and can sometimes result in a payment to MoneySense (owned by Ratehub Inc.) which helps our website stay free to our users. It's important to note that our editorial content will never be impacted by these links. We are committed to looking at all available products in the market, and where a product ranks in our article or whether or not it's included in the first place is never driven by compensation. For more details read our MoneySense Monetization policy.