Jade Jefferson and her husband Stuart know how fragile life can be. It was the winter of 2010 and Jade, 43 at the time, had just gotten a new job contract with a large oil company in Northern Alberta. But she hadn't been feeling well for several weeks. "I was tired and had a cough that wasn't going away. I thought I had a simple case of asthma and tried to ignore it but it got worse," says Jade, now 47. "I went to my doctor but he was no help. I didn't know what to do."
Her boss at the time rose to the occasion. He recommended she see his own personal physician, who'd run more tests and get a more accurate diagnosis for her. The results were crushing. "I had a tumor in my throat the size of an orange and that was making it really difficult for me to breath," says Jade. "I had never even noticed that awful lump there. It was scary getting the news and it changed my life."
In the 25 years leading up to Jade's diagnosis, the couple had devoted a great deal of their time to building lucrative careers in the oil and gas industry. In their peak years they earned more than $250,000 between the two of them. But soon after learning she had her cancer, Jade quit work altogether, and Stuart, then 49, scaled back his supervisor's job. He too would like to fully retire soon and start spending more time with Jade. "Some people want to work as long as possible," says Stuart, now 53. "That's just not what we plan to do with our lives."

Many people dream of retiring in their late 40s or mid 50s, but Jade and Stuart (whose names we've changed to protect their privacy) are actually in a position to do it. For starters, the couple have no kids—"We kept putting it off, but we have six nieces and nephews we adore and spend a lot of time with," says Jade—coupled with a net worth of more than $2.2 million dollars. Their lucrative jobs certainly helped them amass this sizeable amount, but so have smart financial habits.
For many years Jade and Stuart enjoyed a total after-tax income of $150,000 a year, and remarkably, they managed to put away more than half of that each and every year. "We saved a lot of money before I got sick in 2010," says Jade, who after working a couple of part-time contracts in the oil industry over the last three years, fully retired in the spring. As for Stuart, he's now working about eight months of the year, earning $100,000. "Needless to say, the oil and gas industry has been good to us," says Jade.
Today the couple live completely debt-free in High River, Alta., just 60 km south of Calgary, in a comfortable $500,000 home near friends and family. Part of their assets also include a nearby $250,000 waterfront property. "It's on the lake I used to go to as a teenager," says Stuart. The rest of their holdings are mainly comprised of $1 million in RRSPs, $60,000 in TFSAs, $150,000 in LIRAs from previous employers, $85,000 in stocks and $200,000 in a savings account.
"We have an adviser that we like," says Stuart, adding that they pay him 1.4% in annual fees to manage a portfolio of 70% equities and 30% fixed income. Returns have been good, and for the last few years, they've averaged a 9% annual rate of return. "Our previous adviser had lower fees—about 1%—but his returns were also lower," says Stuart. "When he retired 10 years ago we switched to this younger adviser."
Now, after years of working and saving, the Jeffersons want to start spending their money and living a carefree existence—something they've spent the past few years getting ready for. "Next year it will be five years since I was diagnosed and hopefully, I'll be deemed cancer-free," says Jade. Even the couple's choice of home—an adult lifestyle bungalow condominium in a community that includes yard and other outdoor maintenance—reflects their new outlook. "It's all about convenience for us now," says Jade.
Her brush with illness helped them realize that they'd hate to die and leave behind a large sum of money that they never had the chance to enjoy together. So they've agreed to an audacious plan: they want to spend every penny they have before Jade turns 85. "I think I'll die before Stuart, but our dream is to die penniless," says Jade.
Travel is one of their biggest priorities. Over the years, the couple has vacationed extensively in California, Texas, Florida and Hawaii, renting accommodations wherever they went. "We never wanted the headache of owning a house in the U.S.," says Stuart. "We like being free to go wherever we choose." Arizona is the next major destination the couple has their sights set on—it will be welcome respite from Alberta's long winter months, says Jade. "And we'd like to see more of Europe, which we love."
Their big retirement plan involves leading a very active lifestyle. The Jeffersons, who are getting ready to celebrate their silver wedding anniversary, have always spent most of their free time together golfing, boating, curling and going to the gym. "We've led very healthy lifestyles," says Jade. "Which is why it shocked us when I got my throat cancer diagnosis in 2010. But we look at it as our wake-up call that life is very short."
Of course, there's still the question of what standard of living they should realistically aspire to in retirement. "We're not crazy with our money," says Stuart. "We're down-to-earth people who don't go in for flashy clothes." To that end, they don't mind economizing a bit if that's what it takes to meet their goal, but they'd like to have $6,000 net a month ($72,000 annually after taxes)—enough to give a bit to the charities they support as well as do all the things they love. "We want to enjoy our money without worrying about running out," says Jade.
Key for the couple is the fact they're clearly very good with their finances—a skill they both learned from their parents while they were growing up in High River. "Live within your means, pay yourself first and always leave a bit to enjoy life with," says Jade, recalling the lessons imparted to her. Stuart remembers, too, how his father retired at age 40 because of health issues. "He sold his business, invested the money, and after that, everything worked out okay. I think Jade and I can do the same."
It was as young adults in 1986 that the couple first met and discovered how compatible they were. Both went to post-secondary school in Calgary—Jade at a local college to study office administration and Stuart to the University of Calgary for electrical engineering. It wasn't too long before they had caught each other's attention at a local bar. They were married three years later, in 1989. By then Jade had started working in the accounting department of a Calgary trucking company while Stuart got a job working for an oil company in Grande Prairie, Alta. A few months later, Jade joined him at the same oil and gas plant in office management, and, both happy with their situations, stayed there for 19 years.
"We worked for a few different employers over the years and loved it there," says Jade. "We owned a home on a lovely 10-acre lot. But my parents were getting old and we didn't want to retire in Grande Prairie, so we moved back to High River in 2008."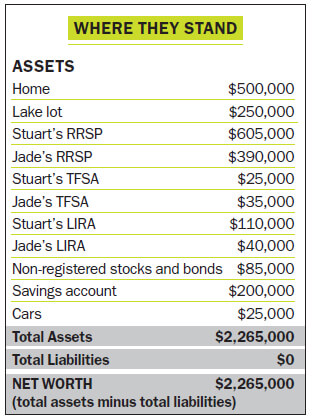 These days, the couple's immediate plans will see Stuart continuing to work part-time for five more years at his current $100,000 -a-year salary. "That will be just enough for us to live on comfortably until 2019, when he'll retire completely," says Jade. "We don't plan to add to our savings for five years but we'll let our investments keep growing until we start withdrawing from them."
In addition to their more than $2.2 million in assets, Stuart has a small defined benefit pension from a previous employer that allows him to collect $500 a month starting at age 65. At that time, the couple also plan to collect CPP and OAS, with the rest of their income coming from their portfolio. While both Stuart and Jade will inherit money from their parents at some point, they both plan to leave half of that money to their nieces and nephews and the rest to favourite charities—the Canadian National Institute for the Blind, the Canadian Cancer Society and a local children's hospital foundation. They say they won't need the inheritance to live on.
"We'd like our last cheque to bounce," laughs Jade, as she plans the itinerary for an upcoming river cruise in Europe. "Family and friends are the most important thing to us now. In fact, I'm planning to catch up with an old friend in Budapest next year. I've waited a long time to see her again and don't want to put it off any longer."
What the experts say
Like Stuart and Jade, we'd all like to enjoy a nice long retirement and spend our last dollar the day we die. The problem is, none of us can predict when we'll take our last breath or when we'll run out of money. The best we can do is an analysis using reasonable assumptions for life expectancies and draw-down rates. "Helping couples see that their investment capital can provide all the money they'll need for a comfortable retirement is an empowering thing," says Jason Heath, a fee-for-service planner in Toronto.
As you might have guessed, our experts say the Jeffersons have little to be concerned about. "Their assets will easily last them a lifetime," says Diane Dekanic, a certified financial planner in Calgary. Still, they need to pay attention to the following details to make sure they never run out.
Run the numbers. Based on their spending plan, even if the Jeffersons only get a 4% net annual rate of return from their portfolio, their financial assets will last until Jade turns 85. At that time, they'll still own their home and lake lot. "Earning a higher rate of return would give them a buffer in later life should the need arise, but it's not necessary," says certified financial planner Marc Lamontagne. "Remember, retirees in their 80s spend less than in their 60s and 70s so the Jeffersons should be fine." In fact, when Jason Heath ran the numbers with an annual average rate of return of 5%—just one percentage point higher than Lamontagne's conservative 4% rate—he found that the couple will never run out of money, even if they choose to spend more than $72,000 a year. "Jade and Stuart should be able to draw down as much as $110,000 from their portfolio annually until it reaches zero—which won't happen until Jade turns 90 if the markets perform well," says Heath. "And they'd still have the equity in their home and lake lot."
Keep the asset mix they have. All the experts like the Jeffersons' asset mix. They point out that it's more growth oriented than a traditional retiree portfolio, but Lamontagne stresses that these days, holding a larger percentage in bonds will result in a lower rate of return overall. The couple also has up to 40 years to wait out the ups and downs of the stock market. "It's good for them to keep $200,000 in cash," says Lamontagne. "It will pay for three years of expenses in case the markets are down for a prolonged time period. That way, they are never forced to sell any investment at a loss."
Manage their RRSPs wisely. The Jeffersons should withdraw some of their RRSP money early—starting in five years when both Stuart and Jade are no longer working. "They'll be able to withdraw money at the 20% tax bracket or less if they plan it right," says Dekanic. She goes on to explain that any time the couple is in a low tax bracket, it's a missed opportunity not to withdraw some money in those years. It's key to look at lifetime taxes as opposed to year-over-year taxes.
In the Jeffersons' case, Dekanic says that withdrawing about $40,000 from RRSPs over a period of 10 years before age 71 (the age at which they'll have to convert RRSPs to RRIFs) may be a good strategy. In the meantime, Lamontagne wants Stuart to keep contributing to his RRSP over the next five years, even if he has to transfer the funds from savings. "They should also keep contributing to their Tax-Free Savings Accounts," says Lamontagne. "All these strategies help to keep taxes low."
Keep an eye on their investments. Even though Jade and Stuart are happy with their returns, Heath says the fees the couple is paying their adviser are relatively high. "If the adviser is also providing tax and estate planning advice then the fees may be worth it," says Heath. "But I would encourage semi-annual reviews to make sure they stay on track. The last few years have been very good for portfolios weighed heavily towards equities but the markets may not be so kind in future years."
Plan for longevity risk. The couple's money will easily last until Jade turns 85. At that time, they may want to consider selling either their home or their lake lot if they're still alive. They can also do a couple of other things to give them a buffer against longevity risk. "They may want to postpone taking CPP until age 70, giving them 42% more compared to what they would get at age 65," says Lamontagne. "Postponing OAS as well would give them 36% more." But whatever they chose to do in this case, the Jeffersons will be just fine.
Would you like MoneySense to consider your financial situation in a future Family Profile? Drop us a line at [email protected]. If we use your story, your name will be changed to protect your privacy.
Julie Cazzin is an award-winning business journalist and personal finance writer based in Toronto.