Selena Ramirez knows how hard it is to make a romantic connection these days. The single, 53-year-old marketing manager, who works long hours at an Edmonton technology company, is unsure where to meet someone and is finding the dating scene a lonely place. Having already had two failed marriages, on the advice of a friend she decided to give online dating a try. "I'm a dreamer at heart and hadn't given up on finding a soulmate," says Selena. "I was excited."

But last spring, she found out the hard way that not everyone on Internet dating sites is looking for love. (We've changed names to protect privacy.) In fact, her dating site hooked her up with someone who was only looking to scam her out of her life savings—and, sadly, he succeeded. "Maurice, the man I met online who passionately said we were meant to be together, gave me a sob story that I learned too late was complete lies," says Selena. "He told me he was a retired dentist travelling to the United Kingdom to finalize a sales contract in Iran for a new business he was setting up, supplying dental equipment to clinics across Canada. But sending his equipment here required my help. He wanted me to pay $49,000 for the package of equipment to clear customs. When I got a call from a so-called 'courier company' I foolishly believed it, but it was just a trap."
Maurice told Selena that he would buy a house in Edmonton for the two of them once his business was up and running. "He said giving him the money to clear customs was an investment in our future. Now, there is no future, and the money's gone, too."
After the second wire transfer to Maurice for another $40,000 ($15,000 of which was an advance on her credit card), and more conversations with her bank and eventually the police, reality set in. "I had almost emptied both my RRSP and Life Income Fund (LIF) and had taken on debt," says Selena. "Then I realized I wasn't going to be getting any of it back. I had been swindled. I so wanted a genuine romantic relationship in my future. I was easy prey, and I'm crushed."
All in all, Selena lost $89,000—almost all of her life savings. Now, only a dozen or so years away from retirement, she has set her mind to starting over financially. "I've made it my mission in life to make sure others don't fall for these scams."
Right now, all that's left of Selena's assets are: $8,639 in her employer defined contribution pension plan, $28,000 in a LIF (from a previous employer), $2,000 in an RRSP, $5,292 in her company's deferred profit sharing plan (DPSP), $150 in a savings account and an SUV worth $27,000.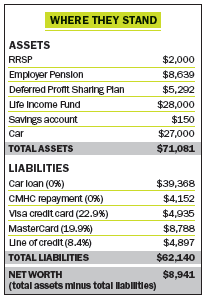 Blackening the picture is the fact that, between two broken marriages and the online dating scam, Selena has accumulated $62,140 in credit card and line-of-credit debt, as well as a car loan and a Canada Mortgage and Housing Corporation (CMHC) debt for an underwater mortgage from her second marriage. She plans to pay it all off in five to seven years. But she also worries that she'll owe the Canada Revenue Agency money next year on her 2014 RRSP and LIF withdrawals—money she lost in the scam. "Some money was withheld for taxes at the time of withdrawal, but I may owe a couple thousand more. That keeps me up at night."
Selena's goals are modest. "I'd like to retire at age 67," she says. "But starting over financially is scary. Do I pay down the debt or save? Or do I do a little of both? I need to prioritize to make any plan work."
It bodes well that Selena is not a stranger to starting over. At age 11, she moved from her hometown of Saskatoon, Sask., to Edmonton to live with her mother and new stepfather. "I worked at Wendy's through high school but never learned many money lessons since there was never much money."
Selena skipped college and in 1983, took a sales job with a local pharmaceutical company. That same year, she married James, her high school sweetheart, but divorced just seven years later. In 2003, Selena married a second time, this time to Sam, a local contractor who owned his own business in Calgary. "Sam cheated on me numerous times and was a spender in every sense of the word. He eventually declared bankruptcy and the marriage broke up in 2008."
At that time, the couple divvied up the small amount of equity they had in their Calgary home, and with her share Selena bought a two-bedroom condo in Edmonton. "But Sam wanted to give our marriage another try, so I sold the condo in Edmonton and moved back to Calgary to be with him." But the sale of her Edmonton condo wasn't timed well and Selena ended up owing (CMHC) $12,000. "I have $4,152 left to repay and am now back in Edmonton renting a nice two-bedroom apartment on my own."
The good news is that Selena's career has blossomed. Over the years, she progressed up the job ranks in sales and marketing at several different companies, getting her first senior marketing manager job in 2001 with a utilities company, where she stayed 12 years. She switched jobs two years ago to accept her present job at the tech company. "It pays $85,000, 15% more than my previous job, and has great benefits."
Up until last spring, Selena's assets totalled $150,000. But now, after the online scam, she carries lots of debt—$14,000 is credit card debt at an interest rate of up to 22.9%. "I asked the bank to renegotiate the credit card debt but haven't heard back." Another $4,897 is on a line-of-credit debt with an 8.4% interest rate, while the $39,368 car loan and $4,152 CMHC debt incur no interest payment. "My car loan is $12,000 more than the value of the car but with a 0% interest rate, I thought it was a good move."
After all expenses are paid, Selena has $5,513 left annually for investing. From this amount, she's contributing $200 monthly—or $2,400 annually—to her savings account to use as an emergency fund. She's undecided about how to allocate the remaining $3,113. As well, Selena has a good benefits package through her employer that includes an $8,632 contribution that goes into her pension plan at work (made up of $5,267 from her own contributions annually and $3,372 from her employer). That money is invested 60% in Canadian equities and 40% in U.S. equities, as is the $28,000 in her LIRA. Fees are low—about 1% annually—and returns have been good. "I'm happy with the two funds I hold now." In addition, she has built up $5,292 in employer contributions to her DPSP and she can also count on receiving $180-a-month from her Lifetime Income Fund with monthly payments having already started this past May.
In her spare time Selena enjoys going to the gym and for $600 a year, considers it a bargain. "It's one of the few perks I allow myself," says Selena, who is also enrolled in two university courses and hopes to complete her Bachelor of Arts degree in five years. "It's on my bucket list," she says.
For now, Selena plans to stick close to home, pay down her debt and prepare for a comfortable retirement. "I hope I don't have to retire at 75," says Selena, only half jokingly. She'd like to retire at 67 with $3,000 in net income monthly. Her long-term plan includes a good dose of travel. "I'd love to go to Antarctica with friends and see the penguins one day," she says. "That would be a dream come true for me."
What the experts say
Selena Ramirez's $90,000 mistake is one that elicits empathy. "Anyone who says they have not been scammed at some point is not being honest," says Trevor Van Nest, a certified financial planner and founder of Niagara Region Money Coaches in St. Catharines, Ont. "But Selena has time to right the ship." Rona Birenbaum, a fee-for-service financial planner and owner of Caring for Clients in Toronto, agrees: "It's a major setback, but given that she still has several working years left to rebuild, it's certainly not a death sentence financially, especially because she never lived large. She can recover." Here's what Selena should do:
Set achievable goals.
Selena has done the heavy lifting by setting long-term goals—to be debt-free, own her car outright in seven years, and retire at age 67 on $3,000 a month net. "Now she has to set out that path, step by step," says Van Nest.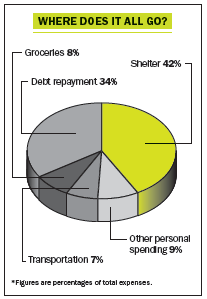 Tackle the debt aggressively.
"Keep paying the car loan on schedule," advises Debbie Gillis, credit counselling manager at K3C Credit Counselling in Kingston, Ont. "The $39,000 car debt is a secured loan so she can't sell the car but at the end of seven years she'll own her car outright, which is good." The remaining $23,000 in debt—made up of line of credit, credit card and CMHC debt—is unsecured. Both Gillis and Birenbaum suggest Selena transfer the $13,723 in high interest Visa and MasterCard debt to her line of credit, which offers a much lower 8.4% rate. "She should follow up with her bank on this," says Gillis.
After running the numbers, Gillis found that Selena is currently making an $866 monthly payment against her total debt with $292 of that in interest charges. But as her outstanding debt falls and monthly interest payments decrease, Selena should apply some of the money that was going to pay interest, towards the debt, eliminating it quicker. Selena should also take steps towards diminishing the risk of piling on more debt in future.
To do this, Gillis recommends getting rid of one credit card completely, once the balance is transferred to her line of credit. Selena should also reduce the credit limit on the remaining credit card to $2,000—enough for emergencies—and also examine her credit card statements to make sure there are no product protection plans or insurance protection plans that she's unknowingly paying for but doesn't need. "If she frees up any money from cancelling payments on these plans, she should redirect that money to debt repayment—namely the line of credit debt," says Gillis. Taking all these steps will allow Selena to pay off her debt (excluding her car loan) in a little over four years.
Build up savings.
Having a slush fund available for emergencies is the "glue that makes the budget stick," says Van Nest who recommends Selena build her emergency fund to $5,000 using her current plan of contributing $200-a-month to a TFSA.
Gillis also recommends that Selena put $250 a month into a TFSA to prepare for income tax time. Gillis advises that in early 2016, Selena fill in a preliminary tax return and find out how much money she still owes the CRA. "If she owes money, she should move the savings in her TFSA to her RRSP for some tax savings," says Gillis. "She'll likely have some money owing on top of what she's already paid but it will likely be $1,000 or so."
Selena should also continue contributing fully to her company's pension plan. Then, once the line-of-credit debt has been paid off, she should redirect that money to her RRSP. "She should try to use up whatever RRSP contribution room she has remaining before she retires and take her tax rebate every year and cycle it back into her RRSP—or TFSA if she runs out of RRSP contribution room in future," says Birenbaum. "A good balanced fund is a simple, low-cost way for her to invest."
Mapping out retirement. If Selena retires at age 67, she can collect CPP and OAS at that time. As well, her retirement savings (including the company pension, DPSP, her own RRSP and TFSA) will have grown to $450,000—more than enough to provide the modest retirement she craves. "She can work part-time beyond age 67 but she doesn't have to," says Van Nest. "By living within her means and diligently eliminating her debt, Selena is preparing well for retirement at 67. Antarctica, here she comes."