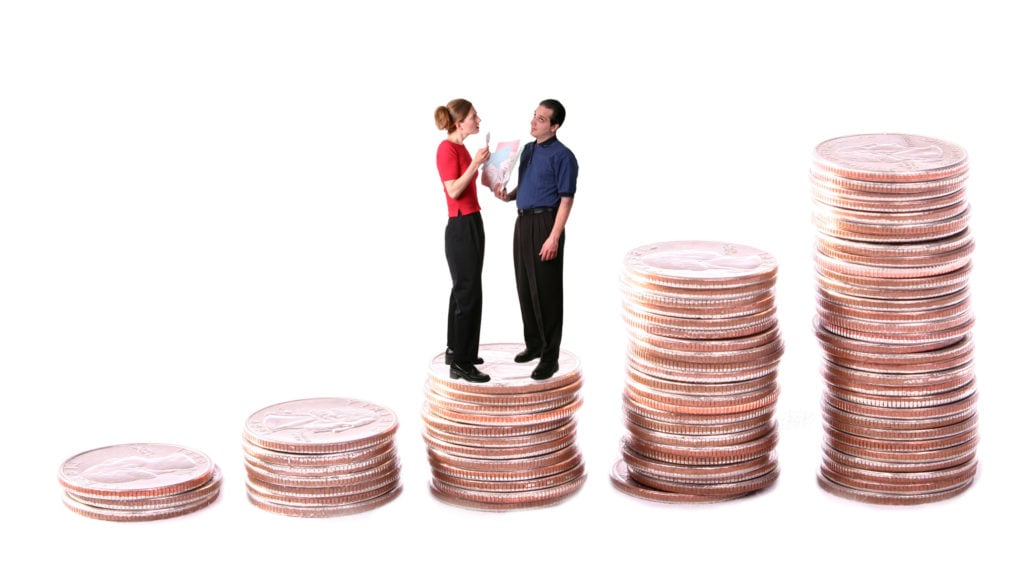 It took a heated argument over a $2 Vietnamese spring roll for Elizabeth Bain to realize that she and her husband Sam had a problem. The young couple's spat—on full display in a bustling Edmonton restaurant—was just one of many fights over money during the past year. This time was different, though. "We were over our food budget by $9 that month," Elizabeth recalls sheepishly. "I demanded an explanation, even though Sam had just spent a couple of dollars." For the sake of their sanity, she knew they needed to change.
Elizabeth and Sam are hardly alone when it comes to dust-ups over dollars. A recent survey of married couples 25 and older in Money magazine found that 70% of household arguments are related to money—not chores, snoring, who's making dinner, or even sex. And when left unchecked, fiscal fisticuffs can have serious consequences. A 2013 survey in the journal Family Relations found that disputes over money are the leading predictor of divorce—and the earlier these fights start, the more likely that outcome.
What most couples don't realize is that the root of these conflicts is rarely money—and it's certainly not $2 spring rolls. Unless the problem is related to a clinical disorder, such as pathological gambling or compulsive spending, the conflict almost always boils down to contrasting values. Few couples are comfortable talking openly about money—it's less taboo to talk about politics, religion or your latest digestive issues. But finding a way to have honest discussions about your finances is critical—many therapists even recommend financial counselling as a prerequisite to marriage.
If you're not ready for therapy, but you think you and your partner could deal with money issues better, read on. Here are the four crucial steps you need to take now to achieve a happier, financially sound relationship.
Step 1
Stop focusing on money
When couples in conflict come to see Dr. Brad Klontz, the renowned American financial psychologist and author of Mind Over Money, he doesn't want to hear the particulars. Instead, he wants the couple to talk about what he calls their "money scripts."
"These are the beliefs we have about money," says Klontz. "They're very idiosyncratic. They're subconscious. They're multi-generational. We're taught them in childhood, and most of us have very different experiences growing up. Couples come to the plate with entirely different money scripts."
These competing belief systems, Klontz explains, are usually at the root of conflicts over money. Couples are often doing fine financially, but they disagree with their partner's way of thinking—so while money is the catalyst, it's not actually the problem.
Take Harrison and Shanna Blizzard of Red Deer, Alta., who recently found themselves at loggerheads over whether they should buy a home. Harrison, 29, wanted to focus on paying off his student loans while Shanna, 26, insisted they needed to move quickly in an overheated housing market.