The tumble in energy stocks means the Canadian market is less exposed to commodities and a safer place to invest. Or is it?
Investors who are building their own portfolios might feel there is less risk these days, but they should remember that as the market's weighting to commodities goes down, the exposure to banks is getting even higher.
On May 7 in downtown Toronto during our Invest for Success event, you can join market and investing experts to get a better sense of the big picture in market trends, as well as a healthy dose of common-sense advice on how to be smarter in how you approach investing.
Ahead of the event, editor-in-chief David Thomas asked Kurt Reiman, chief investment strategist for BlackRock Canada, how he feels about the outlook for the Canadian market.

DT: Kurt, despite the heightened level of uncertainty that continues to cloud financial markets, you are relatively positive on equities. The Canadian market is much less exposed to volatile commodity prices but you've been keen to stress that the Canadian stock market has a new imbalance that investors should be aware of, right?
KR: Because of the collapse in commodity prices and the associated fall in the profitability of energy and materials companies, investors now depend on financials for more than 50% of the earnings and nearly half of the dividends on the S&P/TSX Composite Index. Ideally, commodity prices will firm and this dependency will fade as earnings recover in the energy and materials sectors.
More advice:
What kind of stock picker are you? »
The new rules of bond investing »
---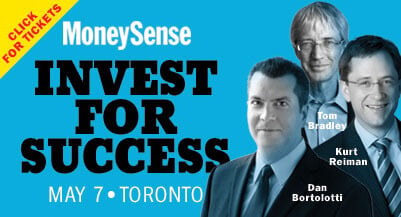 Want to learn more?
Hear Kurt Reiman and others, including Tom Bradley, president and co-founder of Steadyhand Investment Funds, and MoneySense columnists Dan Bortolotti and Norm Rothery share more investing tips on May 7 in Toronto.
Tickets to Invest for Success are still available. Agenda and registration details are here.