If you want to be able to build a successful portfolio, it's important to get a good sense of your investing goals and your knowledge of the market. Maybe mutual funds are right for you. More self-directed investors might be interested in stocks or more diversified indexed products, such as exchange-traded funds.
With MoneySense's May 7 Invest for Success event coming up, editor-in-chief David Thomas asked Norm Rothery–MoneySense contributing editor, Value Hunter columnist and chartered financial analyst—to share a tip with our readers on the first question investors should ask themselves before buying stocks.
Here's his response:
Budding stock pickers should figure out how much time and effort they want to devote to their investing activities.  Some traders are active all day while dividend investors might take a more relaxed attitude due to their focus on the long term. Pick the approach that best suits you.
The new rules of bond investing »
---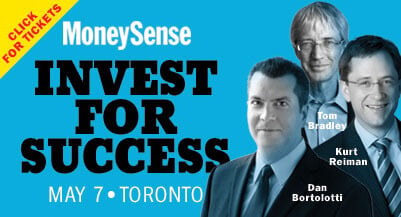 Want to learn more?
Hear Norm Rothery and others, including Kurt Reiman, chief investment strategist for BlackRock Canada and MoneySense columnist Dan Bortolotti share more investing tips on May 7 in Toronto.
Tickets to Invest for Success are still available. You won't want to miss out. Register now!