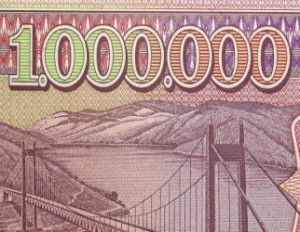 Roger Hunter is 40 years old and owns a small construction company in St. John's. He earns about $80,000 a year. His wife Anna, 36, looks after the couple's three children and works for the family business during the busy season, earning an extra $35,000 or so. Roger enjoys playing soccer, and he and Anna love to eat in nice restaurants, though they indulge only a few times a year. In many ways, they're just like everyone else in their neighbourhood. Except for the fact that they're millionaires.
Roger is the first to admit he's no investing wizard. "I just figure if I throw enough stuff against the wall, some of it will stick." What the Hunters have mastered is the art of saving. As soon as he started working full-time, Roger arranged automatic payroll deductions that, over the months, eventually bought him $10,000 worth of Canada Savings Bonds. Whenever his job required him to relocate, he took the moving allowance and put it in the bank. If he had a little extra cash, he called his bank and asked them to increase his mortgage payments.
Thanks to that attitude, the Hunters (whose names we've changed to protect their privacy) have saved more than $700,000 in their investment accounts. They paid off the mortgage on their $300,000 house in nine years, and own two rental properties, a tract of land and a motor home, with a combined value of more than $400,000. All this despite never earning a $100,000 income, until they hit that milestone last year.
When the Barenaked Ladies wrote their classic song about being rich, they didn't call it "If I Had an Ample Nest Egg." There's no TV game show called "Who Wants Several Hundred Grand?" In the first Austin Powers movie, Dr. Evil didn't obtain a nuclear warhead and hold the world ransom for 70% of his pre-retirement income. No, in our culture, the number that symbolizes real wealth is still a cool million. "I think I'll need a million and a half to retire," says Hunter. The couple is already there in terms of net worth, and they should have a seven-figure investment portfolio well before Roger hits 50.
At MoneySense, we've received many letters and emails from middle-class readers like the Hunters who have saved a million, so we thought we'd help you figure out if you could do it, too. We're not going to pretend it's easy—it requires a steady income, a commitment to saving, short-term sacrifices, and a smart investment strategy—but if Roger can do it, so can you. Joining the ranks of the millionaires may be a more realistic goal than you think.
Saving grace
The first secret to saving a million dollars isn't a secret at all: spend less than you earn, then save and invest the difference. "That is so dirt simple," says David Christianson, a financial planner and portfolio manager with Wellington West Total Wealth Management in Winnipeg. "But I work with people who have accumulated significant net worth, and most of them have accumulated it by using that formula."
The percentage of your income you need to save depends on how much you earn, how many years you have before retirement, and what kind of return you expect on your investments. As a rule of thumb, Gail Vaz-Oxlade, financial author and host of 'Til Debt Do Us Part, says that people who start saving in their twenties can assure themselves a comfortable retirement by setting aside just 6% of their net (after-tax) income. For someone whose take-home pay is $50,000, that's an RRSP contribution of about $250 a month.
If your heart is set on saving a million, however, you'll likely have to sock away more: On the opposite page we've created a Model Millionaire and figured out how much he needs to save each year. We found that about 10% of his middle-class income should do it, if he wants to hit seven figures by age 65. That means in his thirties and forties, he'd have to save $300 to $500 a month. That's a challenge for someone earning $50,000 or $60,000, paying off a house and raising children. But remember the part where we said this wasn't going to be a breeze?