You are probably still nursing your bruises from 2015's overall decline in Canadian stocks of just over 11%. So far 2016 is looking even worse. But if you're an income investor, it helps to appreciate the benefits of investing in stocks with reliable and growing dividends. Not only have those kinds of stocks fallen less than the market as a whole, but you continue to reap the uninterrupted benefit of steadily growing dividend cash flow.
Of course, not all dividend stocks did well, which proves you can't judge a dividend stock just by the size of its yield. Last year saw dividend cuts accompanied by declining share prices for many companies centred in the energy and mining sectors such as Teck Resources, Crescent Point Energy and Cenovus Energy. So you need to be able to distinguish dividends that are reliable and growing from those that aren't. While that's not always easy, we'll show you what to look for. We'll then discuss different ways of investing in reliable and growing dividend stocks through mutual funds, ETFs or individual stocks.
When done properly, dividend investing avoids the extremes of "ignoring yield" and "chasing yield." Look for companies that generate plenty of steady cash flow and have a moderate dividend, but are also good at re-investing the rest of their cash flow to create the growth that drives future dividend increases. Generally avoid stocks with the highest yields because often that indicates the dividend is at risk and growth prospects are low. "Dividends are important but they're not the only thing and sometimes they are not the primary thing," says Jason Gibbs, co-manager of the Dynamic Dividend Fund.
Related: Did you know you're getting a tax break on dividend income?
Payoff from payout
Ideally the company should have a strong competitive position in a stable industry, or should at least be one of the stronger companies in a cyclical industry that can ride out slumps when weaker companies falter. To find companies of this type, a good place to start is to look at the payout ratio, the proportion of profits required to cover dividend payouts. The company should be able to fund dividends with plenty of money left over to leave a buffer for a downturn as well as to re-invest in the business. Gibbs says the banks and cyclical companies ideally should have payout ratios under 50%, whereas companies in more stable industries like utilities, telecoms and real estate can have payout ratios of between 60% and 80%. The company should have manageable debt levels, be able to meet capital maintenance requirements and still have a reasonable amount of money left which it can profitably re-invest.
Gibbs' advice: "Stick to the fundamentals, stick to the great balance sheets, free cash flows, companies that are dominant. Find the highest quality companies out there. You'll never get them crazy cheap so don't try to be a contrarian. But if you pay a reasonable price for the best businesses, then over time you'll do well."
Many reliable dividend-growing stocks fell with the broader market in 2015, but not to the same extent and returns are steadier over time. "The dividend fund is my RRSP retirement fund," says Stuart Kedwell, co-manager of the RBC Canadian Dividend Fund.
The most obvious Canadian examples of this type are blue-chip companies concentrated in banking, insurance, telecommunications and utilities. Typically, they yield between 3.5% and 5% and hike their dividends moderately almost every year. Many of these types of companies continued to raise their dividends even during the 2008–2009 financial crisis, although some were compelled to put increases on hold for several years. With notable exceptions like Manulife, few actually cut their dividend during the crisis.
Yield pushes price
But there is another group of dividend stocks that shouldn't be ignored. These have particularly modest dividends—sometimes as little as 2% or even less—but also have compelling dividend growth prospects. To appreciate their value, consider the example of Canadian National Railway, which yields a paltry 1.6%. That's not much different from its yield in 1999, points out Tom Connolly, author of the dividend-investing newsletter and website, the Connolly Report.
But in 1999, the dividend was 10 cents a share on a share price of $6.35 (adjusted for splits), he says. By the end of 2015, the dividend had grown to $1.25 a share on a price of $77.35. That equates to average annual compound growth rates in both the dividend and the share price of close to 17%. (Disclosure: I hold CNR shares.) RBC research found dividend payers in the S&P/TSX Composite Index outperformed the composite by an annualized 3.8% during the period of December 1986 to November 2015. Dividend growers did even better, besting the benchmark by 5.9%.
It's important to note the huge advantage dividend stocks have enjoyed in Canada reflects specific domestic factors. These include the relatively poor performance of non-dividend paying and dividend-cutting resource stocks and the shooting-then-falling star phenomenon of large Canadian growth stocks such as Nortel and Blackberry. The outperformance of U.S. dividend stocks isn't nearly so pronounced. RBC research found that U.S. dividend payers and dividend growers outperformed the S&P 500 between January 1994 and November 2015 by a modest margin and with volatility only slightly less than the benchmark.
Find foreign content
It's a good idea to add some foreign content to get diversification by sector and country. Some Canadian dividend mutual funds (including the Dynamic Dividend Fund and the Beutel Goodman Canadian Dividend Fund) include U.S. stocks to enhance diversification in sectors where good Canadian companies are lacking.
If you want to add U.S. dividend stocks directly to your portfolio, ETFs may be a better bet than active mutual funds, since it can be hard to find active mutual funds with an edge in such a big and efficient market. "If you're an income-oriented investor and you want U.S. exposure, the passive alternative is pretty compelling," says Christopher Davis, director of manager research at Morningstar Canada. He highlights two U.S. ETFs from Vanguard: the Vanguard U.S. Dividend Appreciation ETF (VGH, VGG or VIG, depending on currency and listing location), and the Vanguard High Dividend ETF (VYM).
Active vs. Passive
Given the strong performance of Canadian dividend investing relative to the passive benchmarks, active investing has some inherent advantages. However, you can also buy dividend ETFs that provide a good option within the passive tradition, even though they are not based on classic broad-based market indices. Investing in mutual funds, stocks or ETFs can each work effectively, as long as you have a sound approach to selecting stocks that identifies reliable dividend payers with solid growth prospects. (See picks in "Mutual Funds vs. ETFs for Canadian Dividend Stocks" on pg. 20.)
With dividend mutual funds, investors pay higher fees, but gain the benefit of a team of skilled analysts and portfolio managers doing detailed analysis. "Where active managers get their advantage is how they can protect investors from companies that can't sustain their dividends," says Davis. "They can also potentially identify companies that can increase their payouts."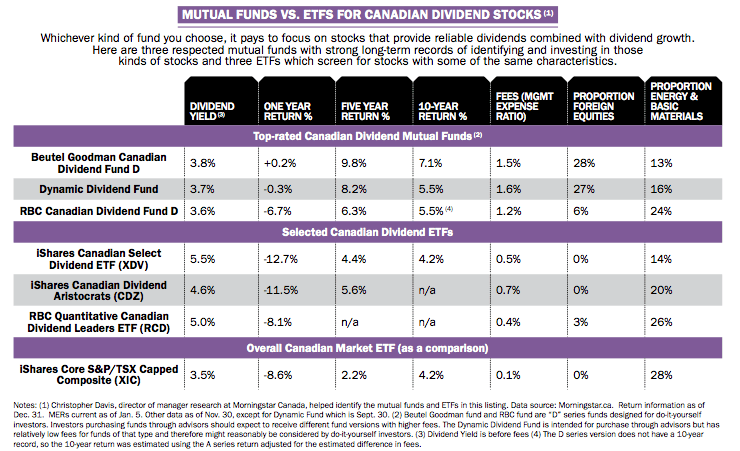 With mutual funds, it's important to watch the fees. "The higher the fees, the less income that's left over," notes Davis. For do-it-yourself versions of mutual funds, look for fees around 1.5% or less. Many top funds have dividend yields between 3.5% and 4% before fees. Typically, the money they distribute to investors is comprised of dividends and some capital gains earned within the funds, after fees. Some funds top up distributions to investors further with some "return of capital," which is essentially giving you back some of your own capital invested in the fund.
You can save on fees by buying stocks over mutual funds, but you need to be a good stock picker. (For help, start with Norm Rothery's "Retirement 100 All-Stars" in the November 2015 issue of MoneySense, or stocks identified in the Connolly Report—$50 a year, dividendgrowth.ca. Dividend ETFs will also save you money on fees, but look for ones that screen for indicators of sustainable and growing dividends. Choosing ETFs on high dividends alone is likely to be risky.
As ETFs and mutual funds compete, the choice is likely to come down to whether the human savvy in active mutual funds is worth the extra cost. While many funds won't pass the test, some of the better ones show promise. As RBC's Kedwell argues, "A computer can do a lot of the screening that a fundamental investor used to do, but the machine still can't handicap the future."
Related: The tax break you didn't know you were getting