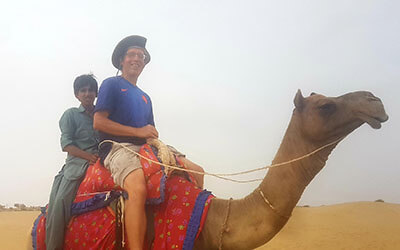 Arie de Jonge
AGE: 52
PLACE: Montreal
TFSA TOTAL: $91,000
STRATEGY: A concentrated stock investor who buys during depressed financial markets, averaging down with his purchases for better long-term returns
---
Arie's TFSA holdings
| Stock | % of portfolio |
| --- | --- |
| Alacer Gold (TSE:ASR) | 2% |
| AstraZeneca (LON:AZN) | 8% |
| Berkshire Hathaway (NYSE:BRK.A) | 14% |
| BP Plc (LON:BP) | 40% |
| British American Tobacco (LON:BATS) | 8% |
| Facebook (NASDAQ;FB) | 1% |
| Herzfeld Caribbean Basin Fund Inc. (NASDAQ;CUBA) | 0.50% |
| Imperials Brands (LON:IMB) | 1.50% |
| Obsidian Energie Ltd. (TSE:OBE) | 0.80% |
| Philip Morris International Inc. (NYSE:PM) | 1% |
| Quarterhill Inc. (TSE:QTRH) | 1% |
| Reitmans (TSE:RET.A) | 1% |
| Suncor Energy inc. (TSE:SU) | 9% |
| Valener Inc. (TSE:VNR) | 4.50% |
| Total: $91,000 | 100% |
Arie de Jonge, 52, teaches history, geography and personal finance to high school students in Montreal. He has always had an interest in investing and started a TFSA back in 2010. "I have a different strategy in my TFSA than my other accounts," says Arie. "I take more risk in my regular non-registered investment accounts because I can deduct the losses. But still, I try not to lose money."
Arie, who always puts the maximum allowable into his TFSA every year, holds several stocks—most of them being stock picks from the Benj Gallander newsletter that he subscribes to called Contra the Heard (www.contratheheard.com). This four-times-a-year newsletter has an excellent track record for stock picks and a subscription cost of $680 Cdn. plus tax. "Its stock picks return an average of 22.5% annually over the last five years and 16.7% average annual return over the last 15 years," says Arie. "I'm happy with it."
As a stock picker, Arie identifies with contrarians. "I like to buy good stocks in sectors that are beaten down," he says. So two years ago, he bought some oil stocks and his largest holding is BP Inc., the petroleum company. It makes up 40% of his portfolio. "I believe that to get excellent returns you have to be concentrated in a few stocks, so that's what I try to do." And just last week, he was looking into a Turkish mutual fund or stock. "I like the fact that the Turkish markets are down more than 50% and very depressed—an excellent time to buy," says Arie.
READ: A 19 holding TFSA that can be cut down to just two ETFs
Another sector he's considering is utility stocks, including Bell Canada, which carries a 5.5% dividend, as well as European bank stocks, which are very depressed. "So maybe an ETF of European bank stocks is worth considering."
And even though he has the goal of beating S&P stock index returns each year—a goal he says he's accomplished—he's ready to step away from American S&P stocks "because they're at a 52-week high."
However it turns out, Arie, who just came back from a six-week trip to India, would like to retire at age 61, although he likes teaching enough to stay on until age 65. The fact he has two months off every summer has allowed him to visit 43 countries and he plans to do more in the future. "I loved the Himalayas, Costa Rica, Peru, Thailand and Asia," says Arie, who hopes to live a small part of each year in retirement somewhere down south. He's even learning Spanish for when the time is right.