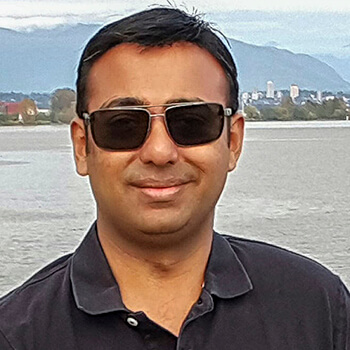 Raj Thirumeni
AGE: 28
PLACE: Vancouver
TFSA TOTAL: $17,000
STRATEGY: Stocks
Me and my TFSA
Raj Thirumeni is 28-years-old and works for the banking operations of a large financial institution. He has several degrees, including a Master of Science in project management, an MBA, as well as a mechanical engineering undergraduate degree from the University of Windsor. After all those years of study, he now has a full-time job but since he isn't earning enough yet to make contributing to an RRSP feasible, he's decided to concentrate on beefing up his investing through his TFSA.
Raj opened his TFSA in 2015 with a $5,500 contribution. "I learned about it from my TD Bank branch," says Raj. "I was applying for a credit card and the teller told me about it and explained the basics to me."
TFSA contribution room calculator »
Before making his first investment, Raj spent a few months watching the oil and gas markets. As oil prices were falling in 2016 he bought his first stock: TransCanada Pipeline. "I liked it because it was a very diversified company that was invested in several sectors," he explains.
His next purchase was Manulife Financial Corp. shares after doing a bit of research himself last year."I look at only two main ratios when I evaluate stocks: the P/E ratio and dividend yield ratios," says Raj. "And I use MoneySense's Top 200 ranking and buy only Canadian stocks. That's all I feel comfortable with right now."
Sign up for our free investing newsletter »
This approach helped him earn a 26% annual return last year. He's hoping this strategy will bring him more success with his latest purchase: Canopy Growth Corp. a Canadian marijuana stock. "I bought 900 shares at $7 a share," says Raj. "I also plan to focus more on dividend yielding stocks, but stock picking is slow as I only have a bit of time on weekends to work on it," he says. "Finding good stocks takes time."
As for his future plans with his TFSA, he hopes to eventually use the money to either renovate his house or buy a new car a few years down the road. "But I'm new to investing so the aim for my TFSA is really just as a learning tool right now. But as the balance grows I'm sure my confidence will also grow and I'll get better at picking good stocks as the years go by. I'm committed to it."
Pro tip
Youth doesn't offset the risk in this portfolio
 "Raj is doing things a little dangerously," says John DeGoey, a portfolio manager with iA Securities in Toronto. "His investments are all in Canadian equities—and all in just three stocks. As such, he's not as diversified as he could be." DeGoey explains how Raj is also taking on three risks by investing this way—country risk, sector risk, and company risk—all of which could be diversified away easily if he bought mutual funds or exchange traded funds (ETFs).
"Given his youth and long time horizon, this is perhaps the only time in one's life when this sort of strategy might be justified, but I still wouldn't recommend it," says DeGoey.  "Instead, I'd encourage him to move closer to using a well-diversified portfolio that's 100% in equities by divided equally between a U.S. index ETF, a Canadian index ETF, and an international index ETF. This would give him a low-fee portfolio with good long-term growth and solid geographic diversification."
Have a TFSA strategy to share? Click here to email us »
More stories like this: