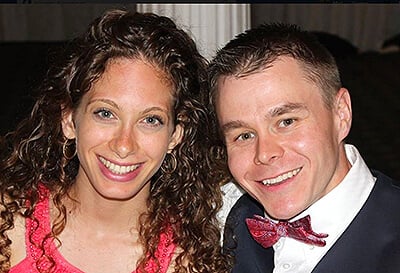 Stella & Mat
Stiver-Balla
AGE: 28 and 32
PLACE: Toronto
TFSA TOTAL: $77,210
STRATEGY: Growth and blue-chip stocks
Me and my TFSA
Four years ago was an important time for Mat Stiver-Balla. In 2013 he married his wife Stella, 28, and he began investing in his TFSA.
Like most young investors, Stiver-Balla started his TFSA without really knowing much about investing. The money sat in cash in his account for the first two years until his day, a mortgage broker, started giving him a few pointers on what to do with the account. That was the push Stiver-Bella need to start following the stock markets in newspapers and magazines. "I started teaching myself how to read balance sheets and I started picking stocks based on what numbers I thought looked good," says Stiver-Balla. It was enough to make him more comfortable with stocks and investing.
He credits MoneySense with his ability to read a balance sheet—especially when it came to understanding key stock metrics and ratios like price-to-earning and price-to-book ratios. Another resource that helped him was Morningstar, an investment research firm that compiles and analyzes mutual fund, stock, and general market data.
After those first two years when his money sat dormant in his TFSA, Stiver-Balla was ready to do his own stock picking. The first stock he bought: Encana Corp. "It had a solid board of directors, a low P/E ratio and at the time, energy stocks looked like a value buy," says Stiver-Balla. He bought 1,000 shares at $9.10 each and they've done very well for him. In fact, the shares are up more than 60% in those two years.
Today, Stiver-Balla's portfolio touches several different sectors, but with a greater emphasis on the financials and energy sector. Still, he makes a point of steering clear of telecom stocks and tech stocks. Stiver-Balla feels there is too much volatility and regulatory risk in sectors right now. "I just think these sectors will be very challenging to make any money at in the future," he says.
One sector he does like is medical marijuana. In fact, Stiver-Balla was drawn to the growth potential of Canopy Growth, (formerly Tweed Marijuana Inc.), a large medical marijuana company. "They have a high growth rate and they're not meeting demand, so they're growing. I hope this bet will pay off when legalization of marijuana comes in July," he says.