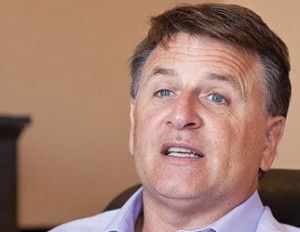 This story originally appeared in Macleans.

In 1989, David Chilton published The Wealthy Barber, a seminal book on money, focusing on three people in their 20s who visit Roy, a barber, for lessons on financial planning. It went on to sell more than two million copies, making it one of the bestselling Canadian books of all time. Now, more than 20 years later, and in the wake of the 2008 financial crisis, the 49-year-old has released the long-awaited follow-up: The Wealthy Barber Returns, which hits bookshelves this week.
Q: How old were you when you first published The Wealthy Barber?
A: I was 25 when I started writing it and 27 when it came out. I was very lucky. I really was. Interest rates had just started heading on a steady path downward and that was really important because it made people realize they couldn't just rely on GICs [guaranteed investment certificates], they had to start looking for other investments. And that meant they needed some knowledge. Also, there was almost no competition. When The Wealthy Barber came out, there were only two other Canadian personal finance books in the marketplace. Now there are hundreds.
Q: Why did you approach the book the way you did?