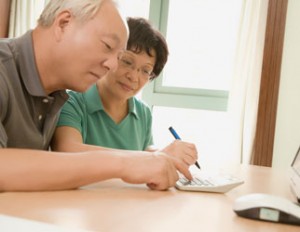 Many fund companies and advisers will tell you that you need 60% to 80% of your pre-retirement income to maintain the same standard of living in retirement. But a recent study by human resource consultants Morneau Shepell found that a typical Canadian couple actually needs a lot less. These new findings confirm Statistics Canada research previously commissioned by MoneySense (see "Sweet 65").
How much less might you need? Morneau Shepell found that a working couple who earned $100,000, owned their own home, and raised two kids, only needs to replace about 43% of their pre-retirement income. If the same couple is childless, they need to replace about 55%.
The study found that you need so much less to live on in retirement because many midlife costs no longer exist. Gone is the cost of raising kids, and mortgage costs are eliminated when the home is paid off. Employment-related costs taper off and, of course, there's no need to keep saving for retirement. Retirees also pay less income tax.
"This helps explain why there isn't a retirement crisis," says Fred Vettese, chief actuary at Morneau Shepell. "Retirees are okay because they generally find, to their pleasant surprise, that they don't need as much as they thought."