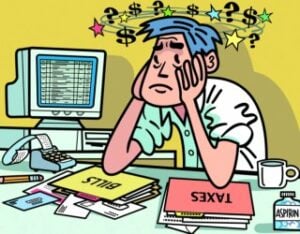 With the April 30 personal income tax deadline fast approaching, now's the time to decide whether you're an ideal candidate for the do-it-yourself approach using tax filing software or if you are better off in the hands of a professional.
Going it alone can save you money upfront but it's not always worth the hassle, especially if you are likely to miss out on important tax credits, said Brian Quinlan, chartered accountant at Campbell Lawless in Toronto and author of Taxes for Canadians for Dummies.
"For very straightforward returns, there is no reason why a person shouldn't do their own return," Quinlan said.
Landlords, self-employed persons, employees with numerous work-related expenses and high-level investors on the other hand should probably consider hiring an expert.
"It really comes down to the personality, if they want to spend the time or they are not comfortable working with it."
Hiring a professional? Buyer beware: not all tax pros are created equal. A walk-in tax preparer can charge upwards of $70 for a basic filing and while they do a decent job done in a short amount of time, these pop-up shops are not ultimately responsible for making sure all relevant information is submitted to the Canada Revenue Agency (CRA).
"They can only prepare what you give them," Quinlan said.
A tax preparer may not ask the prying questions whereas an accountant will probe you, your bank and investment adviser for information to take advantage of all applicable tax deductions and credits.