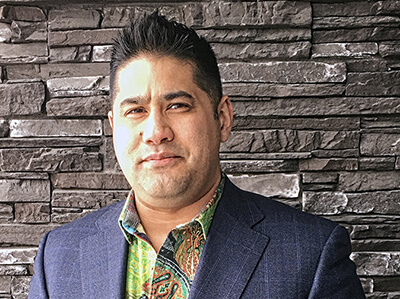 Jared Ali
AGE: 38
PLACE: Calgary
TFSA TOTAL: $91,753.63
STRATEGY: Warren Buffet's classic value style
Me and my TFSA
Jared Ali, a graphic designer in Calgary, is the first to admit he started investing in his TFSA rather late—2011 to be exact. That's when his dad let him in on the great tax benefits of investing in a TFSA. "I didn't understand its value as an investment vehicle for quite a while," says Ali. "I had been investing in RRSPs for years but once my dad explained the tax benefits of TFSAs—that money invested in them can grow tax-free for life—I realized it was a no-brainer and opened one right away."
Right now, Jared has a self-directed TFSA worth an impressive $91,753.63 and for the last six years he's had one strategy: copy Warren Buffett. "I wanted to find things that were undervalued and follow Buffett's classic value style of investing. It's worked for me as I've almost doubled my money in six years."
In fact, Jared invests by one of Buffett's most popular mottos: "Be fearful when others are greedy and be greedy only when others are fearful." But Jared also likes the fact that Buffett favours investing in what he understands. "I remember this one particular story where Buffett was at a a Dairy Queen with his grandkids. Of course, everyone eats Dairy Queen ice-cream so he invested in the company. He also saw his grandkids and their friends with Apple iPhones so he invested in Apple. I think what I like best is the the way he takes into account the emotions of the consumer. That intrigues me."
Following Buffett's lead, Jared's himself bought Apple shares—10 to be exact—in April 2012 for $590 each, adjusted for the exchange rate and trading fees. He bought more Apple shares in 2013 and 2014, raising his position to 30 shares. (After a 7-for-1 stock split on June 2014 he held 210 shares). In October of that same year, he sold 105 shares for US$105, netting $12,215 total when converted back to Canadian dollars. "I still have 105 Apple shares in my TFSA today and plan to hold those indefinitely," he says.
Have a TFSA strategy to share? Click here to email us »
For the last couple of years, Jared has focused his stock buying on what he believes to be undervalued oil and gas stocks. "I started buying Crescent Point Energy, Talisman Energy (before it was bought out by Repsol SA in early 2015) and Calfrac Well Services when oil was trading at around US$45 a barrel and dollar cost averaged several share purchases. I still hold shares in Calfrac and Crescent Point today," he says.
He also bought 125 shares of Bristol Myers Squibb, a pharmaceutical company, last summer for US$60 a share after Opdivo, a promising cancer drug, failed in a key study as the company attempted to extend it's usage for lung cancer patients. "It immediately fell US$10 a share after that announcement and I immediately bought 125 shares," says Jared. "I invested US$7,509 at that time and it's worth about the same today."