If you want to get a handle on your money, but just don't know where to start, then you need the Priority Pyramid. The Priority Pyramid lays out the best way to approach your money and take control of your finances.
Everything becomes easier once you're pointed the right direction, and that's precisely what this approach can do for you. Should you be investing or saving? Fretting about taxes or buying derivatives? It can get overwhelming and, quite frankly, fruitless if you try to tackle them all at once. At the end of the day you won't be any closer to reaching your goals. For instance, focusing on stock picks is all fine and good, but it makes little sense to put your energy here if you're paying 20% interest on your credit card debt.
The Priority Pyramid tells you when you can think about investing and when you need to save. There are five levels in the Priority Pyramid: cash flow, debt, saving, taxes, investment performance and optimizing returns. Once you've mastered the first level you can move up to the next.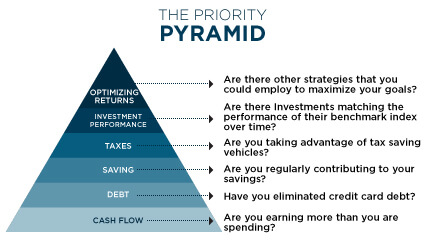 In this video Bruce Sellery explains how each level works. It's time well spent.