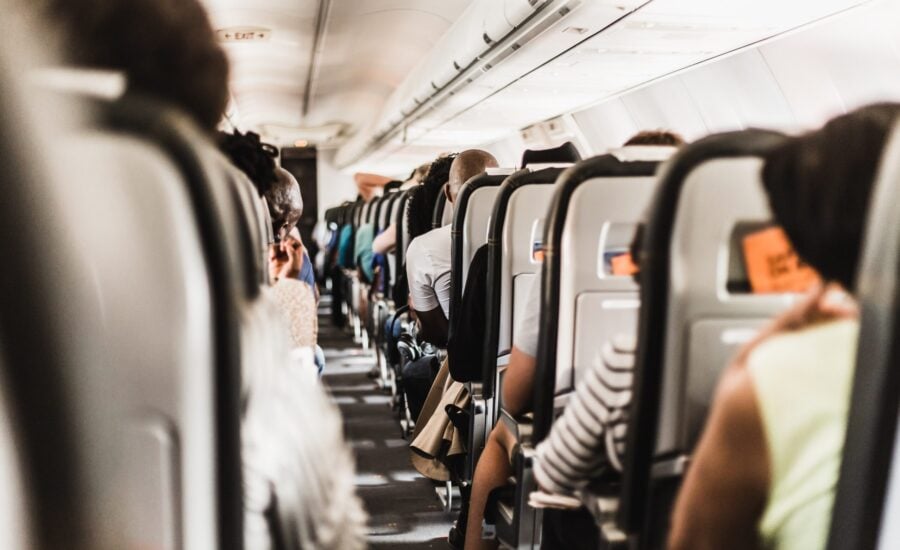 Aeroplan was created by Air Canada in 1984 and sold to investment company Amia in 2002. The airline reacquired the loyalty group in 2020, and is evolving the frequent flyer program. That includes enhancements to the Aeroplan eStore, expanding merchant partnerships, and new ways for members to maintain their Elite status through their co-branded credit cards. Here is what to know about Aeroplan and its benefits for members. 
What is Aeroplan? What are the key benefits for Aeroplan credit card holders?
The new Aeroplan, launched in November 2020, brought refreshed Aeroplan credit cards from issuers TD, CIBC and American Express, as well as generous bonuses and spend multipliers on travel and retail purchases. 
Find your next credit card*
See cards tailored for you from over 12 banks and card issuers
No impact to your credit score
Get an answer in under 60 seconds
You will be leaving MoneySense. Just close the tab to return.
A popular perk is a free checked bag on flights booked on points or purchased for members with mid-range and premium Aeroplan credit cards, as well as linked additional cardholders, and up to eight passengers on the same reservation. The flight does not have to be purchased on the card, however the primary and authorized user must have their Aeroplan credit card linked to their Aeroplan number and attached to the respective reservation. 
A game-changer benefit is the ability to earn Status Qualifying Miles on everyday spending; and for the Elite flyers with premium cards, the ability to roll over status miles and eUpgrade credits into the following year if unused. This makes having the credit card and Aeroplan Elite status very beneficial, as opposed to only rewarding on Aeroplan redemption travel bookings as previously offered in the old program.
Overview of new benefits on refreshed Aeroplan credit cards
| Entry-level cards: TD Aeroplan Platinum Visa, CIBC Aeroplan Visa | Mid-level cards: TD Aeroplan Visa Infinite, CIBC Aeroplan Visa Infinite, American Express Aeroplan | Premium cards: TD Aeroplan Visa Infinite Privilege, CIBC Aeroplan Visa Infinite Privilege, American Express Aeroplan Reserve |
| --- | --- | --- |
| $89 for TD annual fee; $0 for CIBC | $139 for TD and CIBC; $120 for American Express | $599 for TD, CIBC, and American Express |
| Preferred pricing when redeeming Aeroplan points | Preferred pricing when redeeming Aeroplan points | Preferred pricing when redeeming Aeroplan points |
| | 1 checked bag free on a revenue or reward ticket (for primary user, authorized user, and up to 8 travel companions) | 1 checked bag free on a revenue or reward ticket (for primary user, authorized user, and up to 8 travel companions) |
| | 1,000 Status Qualifying Miles + 1 Status Qualifying Segment per $10,000 eligible spend | 1,000 Status Qualifying Miles + 1 Status Qualifying Segment per $5,000 eligible spend |
| | | Maple Leaf Lounge access (for primary and authorized user) |
| | | Priority airport services like priority check-in, security, boarding (for primary and authorized user) |
| | | Annual companion fare ($99 in North America, offered when you spend a minimum of $25,000 annually) |
| | | Rollover elite miles/eUpgrade credits |
| | | Priority upgrades |
3 features for Aeroplan members to know
1. No more cash surcharges on redemptions
Air Canada removed cash surcharges on reward redemptions. This significantly reduces the fee added on top of the points redemptions when booking a flight with Aeroplan. In turn, redeeming is much more attractive, combined with the added ability to redeem for virtually any seat on an Air Canada flight. 
2. New feature: Family Sharing
The new Aeroplan Family Sharing feature makes it easy for family members (or good friends!) to combine separate pools of Aeroplan points into one pool. The individual totals are still tallied, but points are shared by your group for future redemptions. Points are redeemed proportionately by each group member for that reward (so you can't redeem for just one person from the pool). You can only be in one family at a time, and you are bound to that group for three months upon joining. Once you exit the group, you must remain as an individual for a period of time before associating with another group. 
3. Redeeming with Points + Cash
Points + Cash takes a page out of the Marriott Bonvoy program book when it comes to redeeming points, and it introduces the ability to redeem rewards for a combination of points with cash. Options of combinations will be made available to users so they can make the choice that enables better flexibility—ideal for when you might want to bank points for a more valuable redemption in future. 
Things to watch out for
Peak pricing
Aeroplan has moved to a new dynamic pricing chart with peak pricing for flights within North America, and between North America and outside regions operated by Air Canada. On a traditional economy class fare, what would have been 15,000 Miles return (plus taxes and fees) would fall into the 6,000- to 10,000-point range, per direction, meaning it could cost 12,000 to 20,000 points round trip (plus taxes and reduced surcharges) in the new charts. Variables would include flight capacity, demand and times, and passengers can see price jumps on high-demand flights, even while seeing potential savings on earlier flights or low-demand periods. Partner flights remain on a fixed chart, as do flights within regions outside of North America, with a flat partner booking fee on top of the price.
Later this year: Earn points based on amount spent
In late 2021, Air Canada will transition to revenue-based earn (points based on the amount spent), marking an official end to distance-based earn. With that, economy basic fares will become eligible to earn points, while they are ineligible towards status qualifying miles (SQMs) and status qualifying dollars (SQDs).
With a more simple calculation of points, this means better transparency for basic fares earning two times the base pre-tax fares, and all fares above earning three times. Elite members earn more with additional multipliers, and 25/35K, 50K, 75K, and Super Elite will earn +1x, +2x, +3x, and +4x, respectively. In some cases, especially with sale fares, earn rates may see a decrease based on the new revenue-based earn calculations compared to what's currently in place.
New for Elite users
With the former Air Canada and Aeroplan statuses unified, there are a few key "currencies" to be mindful of: 
Points:

Aeroplan points earned from purchases, bonuses, flights and other Aeroplan bookings/purchases.

EDQ:

Everyday Qualifying points are earned through co-branded credit cards, flight activity and eStore base purchases. It does not include bonuses, points conversions or promotional points. This allows members to earn enough points through credit card spending only to achieve the 25K status. 

SQM:

These rewards are earned from Air Canada-marketed fares, Star Alliance partner bookings, and accelerators on mid- and premium-tier credit cards.

SQD:

These are earned on Air Canada-marketed fares, and other eligible purchases through Air Canada.
For everyday spenders, 100,000 Aeroplan points qualify for 25K Aeroplan status. Elite tiers are 25K, 35K, 50K, 75K and Super Elite (100K), and status qualification is instant and valid through next calendar year with digital lounge passes deposited into the member's Aeroplan account for use. 
Rollover SQM and eUpgrade credits
Premium Aeroplan credit cards now include a unique feature that gives elite members the ability to roll over SQMs and eUpgrade credits into the following year. So, if you have unused SQMs from the previous tier you reached or unused eUpgrade credits, the difference in SQMs and eUpgrade credits will be moved to the next year.
Aeroplan eStore and retail partnerships
Recognizing that many members are still travelling less right now due to pandemic-related travel restrictions, Aeroplan has worked on more points accelerators through spend on their Aeroplan eStore, where members can purchase products and earn points on everyday purchases like Uber Eats and popular online shops. Just sign into your Aeroplan eStore account, find a store and click through to purchase. Points are credited after a successful purchase, per the individual retailer's terms. 
Aeroplan has deepened its relationships with Starbucks, allowing members to link their Aeroplan account with their Starbucks Rewards account. You can earn 150 Aeroplan points for every $75 or more loaded onto a digital Starbucks card in the app, and 75 Aeroplan points for every $50 to $74.99 loaded to your digital Starbucks card in the app, and redeem and save 20% on gift 20% through the Aeroplan eStore. 
Additionally, members can earn and redeem with purchases from Canadian tour company Rocky Mountaineer, and American Express members can transfer Chase Rewards points at a ratio of 1:1 to Aeroplan for redemption on more than 40 Star Alliance partner airlines, including Air Canada. 
Finally, noteworthy for Ontarians, Aeroplan members can now earn Aeroplan points on LCBO purchases, as well as save on redemption of points for LCBO gift cards through their eStore.
More airlines and promotion accelerators 
Air Canada has added even more Aeroplan points-eligible airlines, including Gulf Air, Eurowings Discover, Air Dolomiti, Virgin Australia, Air Serbia and Vistara. 
This, coupled with frequent promotional accelerators where credit card members can earn bonuses on purchases, as well as a limited-time 2021 offer where cardmembers can meet a $10,000 minimum spend through Fall 2021 to earn Elite 25K status or level up their existing status, brings more value than ever before. 
Is it worth it to collect Aeroplan points? Some final thoughts
Air Canada has proved that bringing Aeroplan in-house offers has increased value for Aeroplan members. It has demonstrated tighter integration with its reservation systems and inventory, while continuing to work on various tech pain points—we are patient.
Travellers can now save on certain aspects like surcharges, while allowing Air Canada to open up inventory so redeeming is less restrictive. While there are some sweet spots where travellers can find value in redeeming the new points, gaps remain where flyers will find less value in the new program. 
You will find the most value when you couple Elite status with a co-branded Aeroplan credit card, made even better if you add a secondary user or travel with your family. As always, if you apply for the card, you will want to check out the hefty welcome bonuses available given the increased competition in the marketplace today.