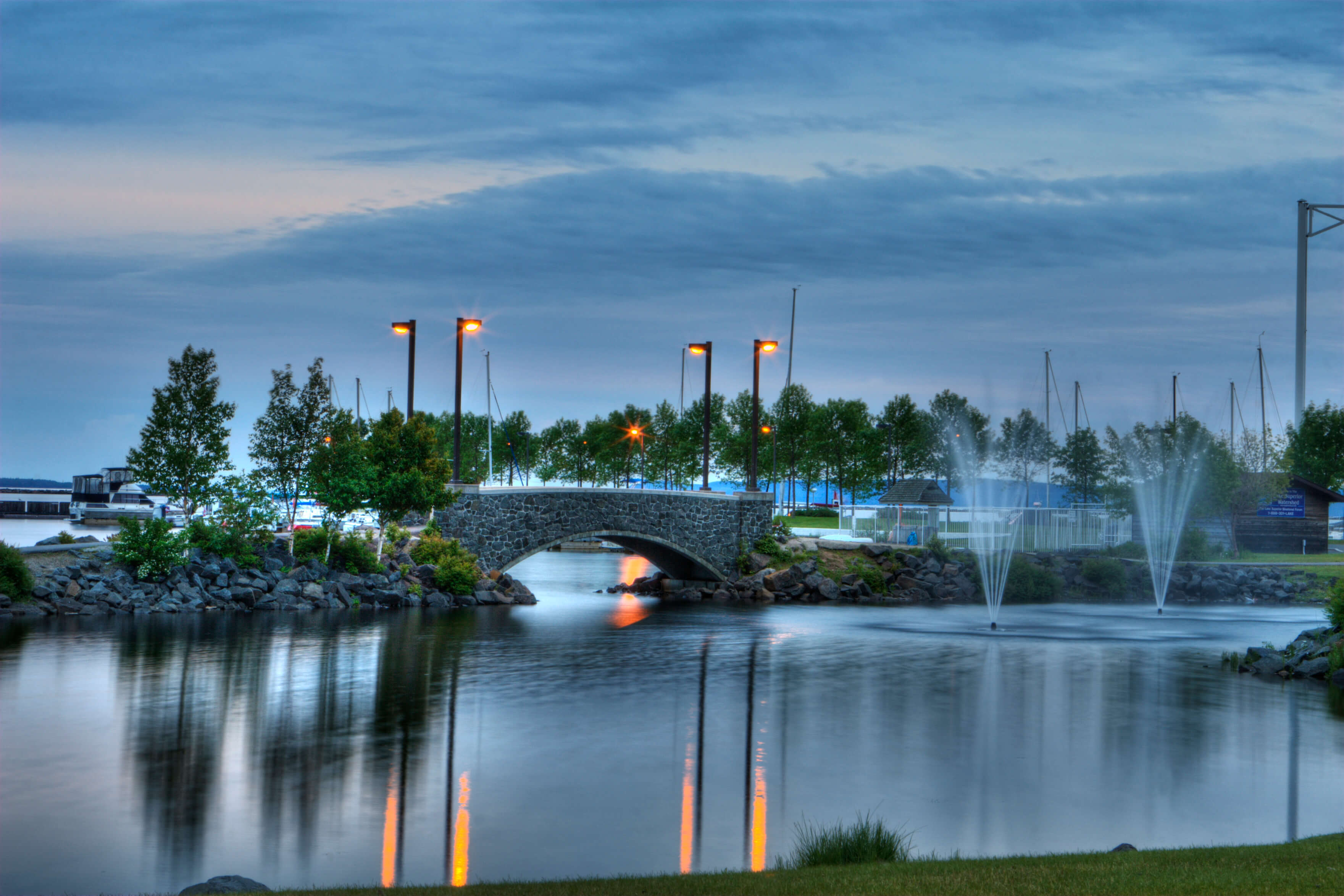 Yes, Thunder Bay
In the last five years, real estate prices in this Northern Ontario city of just over 100,000 have appreciated faster than in any other city in Canada. While it may seem a stretch for a family to pick up and move to Thunder Bay, just because it ranks No. 1, investors looking for an income property certainly might be curious.
This year, when we ran the numbers, we weren't surprised by Thunder Bay's top billing. Once an integral stop on the nation's train and truck routes, Canada's Gateway to the West has been methodically rebuilding itself as a knowledge economy centre, attracting jobs in the medical, educational and government sectors. As such, the city's job market is sheltered somewhat from price drops that have plagued manufacturing and resource sectors across Canada. The largest employers are the Regional Health Sciences Centre, Lakehead District School Board and Lakehead University, followed closely behind by the City of Thunder Bay and the Government of Ontario.
By and large, residents have remarkable buying power. The average household income is a reasonable $81,000. Yet home prices in the city remain exceptionally affordable: The average 2015 home cost just under $216,000, a little over two and a half times the average household income. Compare that to Toronto where homes are six times the average household income and Vancouver where they are nine times.
[brightcove video_id="6023948561001″ account_id="6015698167001″ player_id="lYro6suIR"]
Photo gallery: Canada's top 35 cities to buy real estate in »
---
[mp3j track="https://www.moneysense.ca/wp-content/uploads/2016/03/wknd-biz-2-eppel-mar-1213.mp3″ title="Play: Mark Brown talks the best places to buy with 680 News' Mike Eppel"]
---
Thunder Bay homes also offer great income potential. How do we know? Rental rates in the city have risen 22% in the last five years, in part due to the persistent influx of post-secondary students who come to study at the Northern Ontario School of Medicine. By looking at the rent-to-mortgage ratio, we can see that an average monthly rent cheque would more than cover a mortgage payment. By comparison, average monthly rental rates cover about a third of the average monthly mortgage payment in Vancouver.
Our list did contain some surprises. For instance, the top four cities are in Ontario, a province that was hit hard in the last five years by a shrinking manufacturing sector, a lower loonie and tanking oil prices.
The economic fall-out was certainly felt in Toronto, which dropped three spots in our ranking to 15th overall. And yet Hamilton, Brantford and Guelph climbed by as many as five spots since last year. All three cities have high average household incomes in common—ranging from $78,000 to just over $95,000—while unemployment ranges from 4% to 5.7%, significantly lower than the current national average of 7.2%. At $443,000, Hamilton's average home price is the highest of the bunch, but the city also boasts the highest compound annual rate of return for a five-year period at 7.3%.
The real shocker was Vancouver's arrival in the top five, rising from 18th place last year. Truth be told, that had little to do with the value of its real estate. (The city came dead last in that category.) Vancouver shot up the ranking due, in part, to how hard other cities were hit by crashing oil prices and because its economic fundamentals are strong. Really strong. The projected GDP for the province is 3.14%, the best in the country, while the city's unemployment rate is 5.9%. Despite a limited outlook for future appreciation, prospects going forward look good for this West Coast city.
Full rankings
| Rank | Rank | City | City | Average home price (2015) | Average home price (2015) | Average home price ratio to average rent (Price to rent ratio) | Average income to home price | Average income to home price | Home sales to new listings | 1-year price appreciation | 5-year price appreciation | 5-year price appreciation | 10-year price appreciation | Average 5-year rent increase | Average 5-year rent increase | Rental vacancy | Discretionary income levels | Average GDP growth 2010 to 2014 (%) | Projected GDP growth for 2015/2016 (%) | Current unemployment rate (2015) (%) | Previous year's unemployment rate (2014) (%) |
| --- | --- | --- | --- | --- | --- | --- | --- | --- | --- | --- | --- | --- | --- | --- | --- | --- | --- | --- | --- | --- | --- |
| 1 | 1 | Thunder Bay (Ont.) | Thunder Bay (Ont.) | $215,922 | $215,922 | 1.06 | 2.7 | 2.7 | 65.2 | 3.5% | 8.4% | 8.4% | 5.9% | 22.5% | 22.5% | 4.4% | $41,322 | 1.9% | 2.5% | 5.2% | 5.2% |
| 2 | 2 | Hamilton (Ont.) | Hamilton (Ont.) | $442,493 | $442,493 | 0.57 | 4.9 | 4.9 | 77.0 | 9.1% | 7.3% | 7.3% | 6.8% | 18.1% | 18.1% | 3.4% | $43,258 | 1.9% | 2.5% | 5.5% | 5.8% |
| 3 | 3 | Brantford (Ont.) | Brantford (Ont.) | $293,059 | $293,059 | 0.80 | 3.7 | 3.7 | 78.9 | 6.3% | 5.0% | 5.0% | 4.9% | 13.0% | 13.0% | 2.3% | $39,198 | 1.9% | 2.5% | 5.7% | 6.8% |
| 4 | 4 | Guelph (Ont.) | Guelph (Ont.) | $378,573 | $378,573 | 0.70 | 4.0 | 4.0 | 69.9 | 5.9% | 5.1% | 5.1% | 5.2% | 14.1% | 14.1% | 1.1% | $43,689 | 1.9% | 2.5% | 4.0% | 6.2% |
| 5 | 5 | Vancouver (B.C.) | Vancouver (B.C.) | $902,801 | $902,801 | 0.34 | 9.8 | 9.8 | 73.3 | 11.4% | 6.0% | 6.0% | 7.8% | 14.9% | 14.9% | 0.8% | $38,280 | 2.4% | 3.2% | 5.9% | 5.8% |
| 6 | 6 | Regina (Sask.) | Regina (Sask.) | $310,609 | $310,609 | 0.87 | 3.1 | 3.1 | 43.9 | -1.2% | 3.8% | 3.8% | 9.7% | 24.5% | 24.5% | 5.3% | $48,777 | 3.1% | 2.1% | 4.4% | 3.7% |
| 7 | 7 | Winnipeg (Man.) | Winnipeg (Man.) | $278,270 | $278,270 | 0.87 | 3.3 | 3.3 | 55.3 | 1.3% | 4.0% | 4.0% | 7.3% | 26.3% | 26.3% | 2.9% | $39,451 | 2.1% | 2.4% | 6.0% | 5.8% |
| 8 | 8 | Barrie (Ont.) | Barrie (Ont.) | $373,203 | $373,203 | 0.80 | 4.1 | 4.1 | 65.0 | 10.2% | 5.8% | 5.8% | 4.9% | 20.0% | 20.0% | 1.9% | $43,192 | 1.9% | 2.5% | 7.0% | 6.0% |
| 9 | 9 | Durham/Oshawa | Durham/Oshawa | $439,842 | $439,842 | 0.61 | 4.3 | 4.3 | 75.4 | 13.5% | 8.0% | 8.0% | 5.7% | 14.6% | 14.6% | 1.7% | $45,850 | 1.9% | 2.5% | 7.5% | 7.1% |
| 10 | 10 | Edmonton (Alta.) | Edmonton (Alta.) | $369,536 | $369,536 | 0.83 | 3.3 | 3.3 | 50.5 | 2.0% | 2.4% | 2.4% | 6.7% | 23.2% | 23.2% | 4.3% | $54,531 | 3.5% | 1.9% | 6.0% | 5.1% |
| 11 | 11 | Abbotsford – Mission (B.C.) | Abbotsford – Mission (B.C.) | $577,507 | $577,507 | 0.37 | 6.9 | 6.9 | 72.0 | 12.0% | 5.1% | 5.1% | 5.9% | 9.1% | 9.1% | 0.8% | $38,494 | 2.4% | 3.2% | 6.4% | 7.4% |
| 12 | 12 | Kitchener – Cambridge – Waterloo (Ont.) | Kitchener – Cambridge – Waterloo (Ont.) | $348,269 | $348,269 | 0.72 | 3.9 | 3.9 | 61.0 | 3.3% | 3.7% | 3.7% | 4.7% | 14.2% | 14.2% | 2.5% | $43,252 | 1.9% | 2.5% | 5.9% | 6.4% |
| 13 | 13 | St. Catharines – Niagara (Ont.) | St. Catharines – Niagara (Ont.) | $294,152 | $294,152 | 0.77 | 3.9 | 3.9 | 70.0 | 7.8% | 4.4% | 4.4% | 4.1% | 11.5% | 11.5% | 2.8% | $37,947 | 1.9% | 2.5% | 7.0% | 7.7% |
| 14 | 14 | London (Ont.) | London (Ont.) | $265,370 | $265,370 | 0.88 | 3.2 | 3.2 | 56.4 | 4.1% | 3.1% | 3.1% | 4.0% | 10.7% | 10.7% | 2.9% | $41,065 | 1.9% | 2.5% | 6.5% | 7.5% |
| 15 | 15 | Toronto (Ont.) | Toronto (Ont.) | $622,046 | $622,046 | 0.51 | 6.1 | 6.1 | 63.1 | 5.9% | 7.6% | 7.6% | 6.3% | 15.3% | 15.3% | 1.6% | $45,850 | 1.9% | 2.5% | 7.0% | 8.0% |
| 16 | 16 | Windsor (Ont.) | Windsor (Ont.) | $196,664 | $196,664 | 1.00 | 2.6 | 2.6 | 67.8 | 5.0% | 4.3% | 4.3% | 1.9% | 10.2% | 10.2% | 3.8% | $38,387 | 1.9% | 2.5% | 9.8% | 9.0% |
| 17 | 17 | Calgary (Alta.) | Calgary (Alta.) | $453,814 | $453,814 | 0.71 | 3.5 | 3.5 | 56.2 | -1.3% | 2.6% | 2.6% | 6.1% | 24.4% | 24.4% | 5.1% | $61,169 | 3.5% | 1.9% | 6.4% | 5.0% |
| 18 | 18 | Saskatoon (Sask.) | Saskatoon (Sask.) | $342,727 | $342,727 | 0.78 | 3.4 | 3.4 | 37.7 | 0.6% | 3.0% | 3.0% | 9.0% | 17.0% | 17.0% | 6.3% | $47,112 | 3.1% | 2.1% | 5.8% | 4.1% |
| 19 | 19 | Kingston (Ont.) | Kingston (Ont.) | $293,375 | $293,375 | 0.93 | 3.4 | 3.4 | 37.5 | 3.9% | 3.3% | 3.3% | 4.1% | 16.6% | 16.6% | 2.8% | $43,540 | 1.9% | 2.5% | 6.6% | 6.8% |
| 20 | 20 | Québec (Que.) | Québec (Que.) | $275,347 | $275,347 | 0.73 | 3.6 | 3.6 | 52.5 | 4.4% | 2.3% | 2.3% | 5.7% | 12.7% | 12.7% | 4.0% | $33,832 | 1.4% | 1.7% | 4.7% | 5.3% |
| 21 | 21 | Greater Sudbury (Ont.) | Greater Sudbury (Ont.) | $242,303 | $242,303 | 0.98 | 2.6 | 2.6 | 48.2 | -3.0% | 1.8% | 1.8% | 6.1% | 14.1% | 14.1% | 3.5% | $47,348 | 1.9% | 2.5% | 7.3% | 6.4% |
| 22 | 22 | Victoria (B.C.) | Victoria (B.C.) | $521,616 | $521,616 | 0.48 | 6.1 | 6.1 | 66.6 | 5.3% | 0.7% | 0.7% | 3.2% | 8.8% | 8.8% | 0.7% | $38,419 | 2.4% | 3.2% | 5.8% | 5.4% |
| 23 | 23 | Kelowna (B.C.) | Kelowna (B.C.) | $408,394 | $408,394 | 0.59 | 4.8 | 4.8 | 60.2 | 2.5% | 0.7% | 0.7% | 4.2% | 9.4% | 9.4% | 0.7% | $37,809 | 2.4% | 3.2% | 5.6% | 4.6% |
| 24 | 24 | Peterborough (Ont.) | Peterborough (Ont.) | $297,847 | $297,847 | 0.82 | 3.7 | 3.7 | 62.4 | 6.5% | 3.6% | 3.6% | 3.7% | 9.3% | 9.3% | 3.6% | $39,641 | 1.9% | 2.5% | 7.7% | 8.2% |
| 25 | 25 | Halifax (N.S.) | Halifax (N.S.) | $282,679 | $282,679 | 0.91 | 3.5 | 3.5 | 46.4 | 2.1% | 2.4% | 2.4% | 4.2% | 17.0% | 17.0% | 3.4% | $38,587 | 0.3% | 1.2% | 6.3% | 6.1% |
| 26 | 26 | Ottawa (Ont.) | Ottawa (Ont.) | $369,477 | $369,477 | 0.77 | 3.4 | 3.4 | 46.3 | 1.8% | 2.4% | 2.4% | 4.1% | 11.0% | 11.0% | 3.5% | $52,955 | 1.9% | 2.5% | 6.3% | 6.6% |
| 27 | 27 | St. John's (Nfld.) | St. John's (Nfld.) | $275,579 | $275,579 | 0.82 | 3.1 | 3.1 | 39.1 | -3.3% | 3.2% | 3.2% | 6.9% | 24.7% | 24.7% | 4.7% | $39,734 | 1.0% | 0.8% | 6.5% | 6.0% |
| 28 | 28 | Trois-Rivières (Que.) | Trois-Rivières (Que.) | $160,311 | $160,311 | 0.91 | 2.5 | 2.5 | 58.1 | -2.2% | 1.4% | 1.4% | 3.5% | 7.6% | 7.6% | 6.0% | $28,771 | 1.4% | 1.7% | 6.6% | 7.3% |
| 29 | 29 | Sherbrooke (Que.) | Sherbrooke (Que.) | $253,914 | $253,914 | 0.62 | 3.9 | 3.9 | 47.2 | 13.2% | 3.9% | 3.9% | 4.3% | 7.6% | 7.6% | 5.8% | $28,307 | 1.4% | 1.7% | 6.8% | 7.2% |
| 30 | 30 | Charlottetown (P.E.I.) | Charlottetown (P.E.I.) | $163,533 | $163,533 | 1.30 | 2.2 | 2.2 | 45.2 | 0.4% | 2.1% | 2.1% | 3.4% | 15.7% | 15.7% | 4.0% | $37,552 | 1.1% | 0.8% | 9.5% | 9.5% |
| 31 | 31 | Moncton (N.B.) | Moncton (N.B.) | $163,601 | $163,601 | 1.18 | 2.3 | 2.3 | 44.9 | 0.3% | 1.4% | 1.4% | 2.8% | 14.3% | 14.3% | 7.4% | $35,298 | 0.1% | 0.8% | 6.9% | 6.7% |
| 32 | 32 | Montréal (Que.) | Montréal (Que.) | $349,289 | $349,289 | 0.56 | 4.7 | 4.7 | 54.2 | 6.4% | 3.2% | 3.2% | 4.8% | 9.4% | 9.4% | 4.0% | $31,475 | 1.4% | 1.7% | 8.4% | 8.2% |
| 33 | 33 | Gatineau (Que.) | Gatineau (Que.) | $250,441 | $250,441 | 0.77 | 3.0 | 3.0 | 42.0 | 3.5% | 2.2% | 2.2% | 4.0% | 6.1% | 6.1% | 5.9% | $36,478 | 1.4% | 1.7% | 7.1% | 7.0% |
| 34 | 34 | Saguenay (Que.) | Saguenay (Que.) | $180,693 | $180,693 | 0.83 | 2.6 | 2.6 | 45.1 | -5.2% | 1.5% | 1.5% | 5.5% | 10.1% | 10.1% | 7.1% | $32,005 | 1.4% | 1.7% | 7.8% | 9.6% |
| 35 | 35 | Saint John (N.B.) | Saint John (N.B.) | $163,572 | $163,572 | 1.11 | 2.2 | 2.2 | 39.1 | -3.6% | -0.9% | -0.9% | 3.2% | 10.6% | 10.6% | 8.4% | $37,431 | 0.1% | 0.8% | 8.2% | 7.7% |
SOURCES: Canada Mortgage and Housing Corporation; Canadian Real Estate Association; Environics Analytics: WealthScapes 2015; Statistics Canada