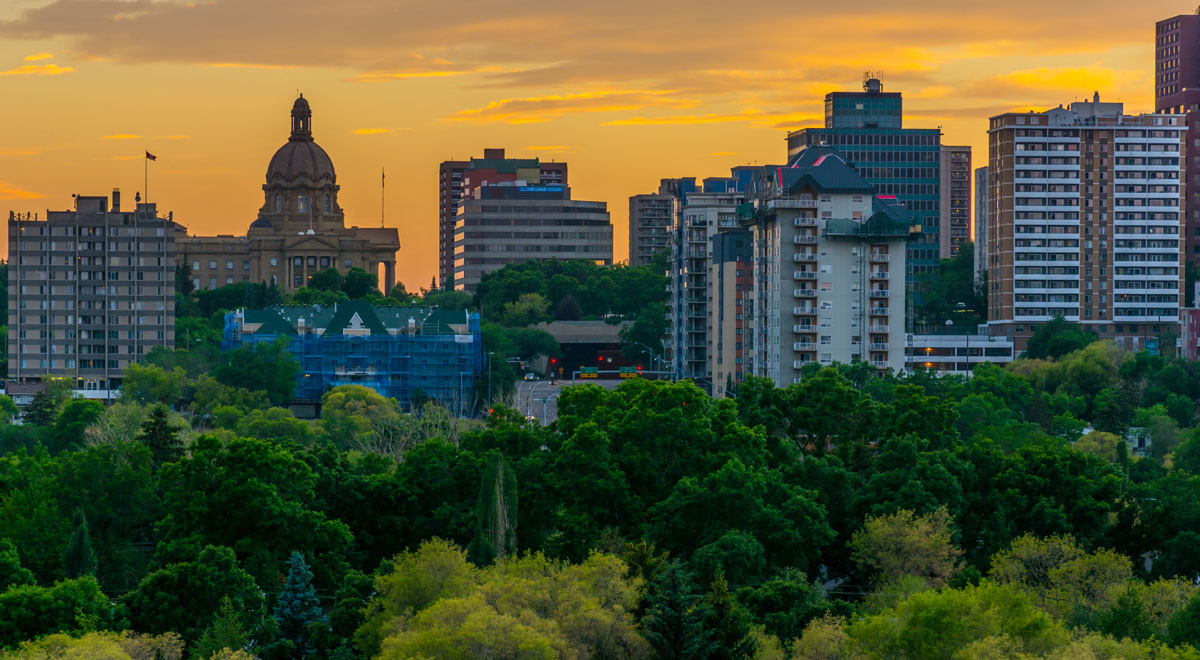 C I T Y   D E T A I L S
In 2015 Edmonton's real estate market weathered the downturn in oil prices fairly well, but the sustained pressure on the provincial economy has started to take a toll. Neighbourhood values slipped 2.7% over the past year, slicing about $10,000 off the value of the average home. Even before prices fell, Edmonton was considered a fairly affordable place to buy a home, with the average detached single family home going for a little over $410,000. Our top 25 neighbourhoods held their value, eking out a small gain over 2015. Fifteen of those neighbourhoods are back near the top of our list again this year.
While the recovery in the real estate market will be driven by what happens in the provincial economy, there are some choice areas to consider. In Edmonton, you'll want to start your search just north west of the downtown core. Homes in Grovenor and Sherbrooke—our top two neighbourhoods—are about $60,000 below the average home price in the city.
Edmonton at a glance…
| | City | Top 25 |
| --- | --- | --- |
| Average Neighbourhood Price | $414,759 | $336,980 |
| Median | $401,820 | $330,808 |
| Max | $832,181 | $440,188 |
| Min | $250,633 | $278,649 |
| Below $500K | 86% | 100% |
| Average 1-year return | -2.7% | 0.3% |
| Average 3-year return | 7.3% | 12.2% |
| Average 5-year return | 14.8% | 19.1% |
| Realtor grade (out of 5) | ★★★ | ★★★ |
Edmonton's top 5 neighbourhoods
1. Grovenor, Zone 21
This is a sister neighbourhood to Glenora and Westmount, two well-established and sought-after areas in Edmonton. People who aspire to live in one of these other two areas are looking at Grovenor now because it's a little more affordable, explains Sandy Pon with Re/Max Excellence. It's not cheap, but it is a little more accessible for younger homeowners, she adds. Grovenor is comprised of a lot of "small doll houses" that are selling for close to land value, which is encouraging some buyers to bulldoze the existing house and build something grand, says Pon. It's particularly attractive to families, since it has access to some of the most elite schools in the city. The Valley Trail is only blocks away, which is great for biking and runs along the river.
2. Sherbrooke, Zone 4
Would you be willing to extend your commute downtown by a few minutes to save $100 to $150,000? Many young Edmontonians are doing just that, but they're getting more for their time than savings. "This is an extremely livable nieghbourhood," says Pon. If you're looking in this area, which is just a little bit north of Westmount, expect to find a lot of small, older bungalows on large lots with a double detached garage. This is allowing young buyers to get into the market. Recent changes to municipal guidelines, which now allow back alley apartments in this area is also giving buyers more options to offset the cost of their home, adds Pon.
Photo gallery: Top 25 Edmonton neighbourhoods »
3. Dovercourt, Zone 4
This is an attractive area for anyone who still wants to live close to downtown without feeling like they're sitting on top of their neighbour. While this neighbourhood shares amenities with Sherbrooke, you have a little more breathing room, with wider boulevards and more space between properties. The amount of space here is allowing homebuyers to build larger homes on the land and not feel congested, says Pon. The area is going through a bit of generational renewal with many seniors moving out and young families coming in, she adds. "It's very up-and-coming."