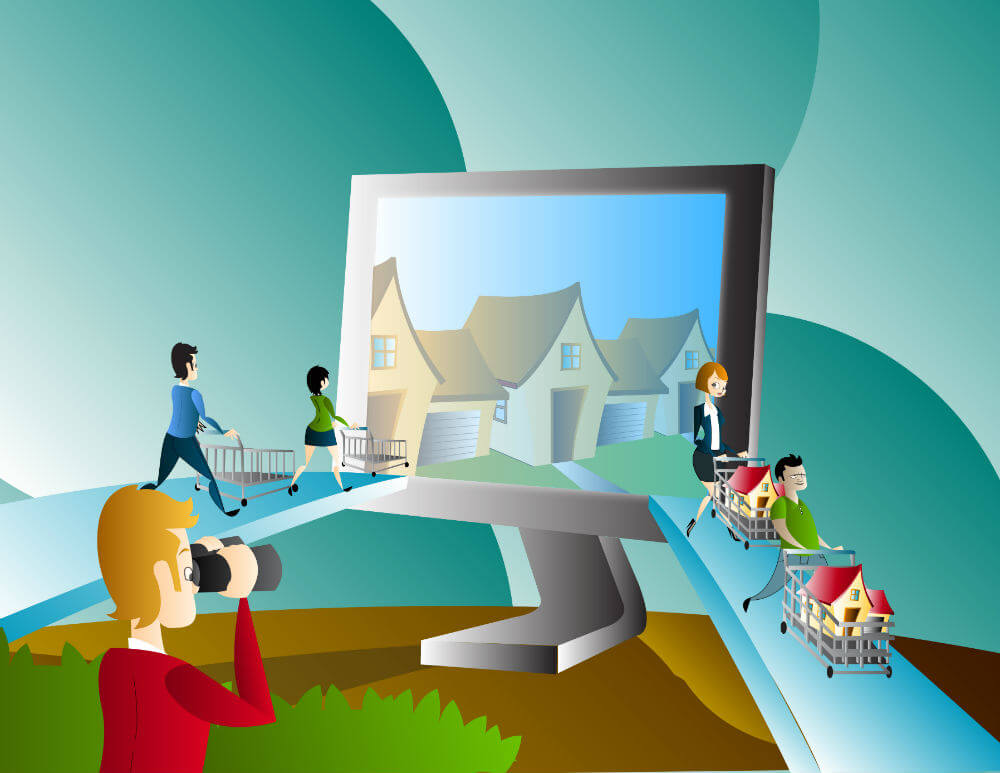 Buying a home can be a daunting task. Yes, it's exciting to become a homeowner but the decision to take this step in life often comes with some heavy price tags. Thank goodness technology is here to help! To make it easier here's a snapshot of the free mobile apps and free online calculators that can help you achieve your goal of homeownership.
This is not a comprehensive list. I'd run out of time if I were to list all the available options currently in the market. Instead, this is a compilation of those online calculators and universal smartphone apps that I believe are most useful—and the majority are 100% free to use.
Should I rent or buy?
Name: New York Times' Rent vs. Buy Calculator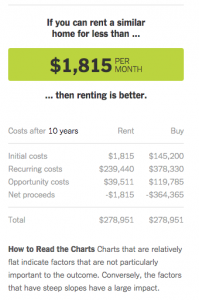 Type: Online tool
Cost: Free
Claim: The calculator keeps a running tally of the most common expenses of owning and renting. It also takes into account something known as opportunity cost — for example, the return you could have earned by investing your money instead of spending it on a down payment. The calculator assumes that the profit you would have made in your investments would be taxed as long-term capital gains and adjusts the bottom line accordingly. The calculator tabulates opportunity costs for all parts of the buying and renting situations. All figures are in current dollars.
Pros: This calculator factors in so much more than a simple comparison between your monthly rent and your monthly mortgage payment. It also analyzes opportunity cost—the loss of any potential gain from other alternative options. If you really want to find out if it's economically better to buy rather than rent this calculator will give you an answer. Better yet, it will tell you at what point it makes more financial sense to take the leap and start owning.
Cons: It's U.S. based. That means that all mortgage calculations are based on U.S. regulations, which are quite different than Canadian regulations.
---
Name: Rentseeker's Rent vs. Buy calculator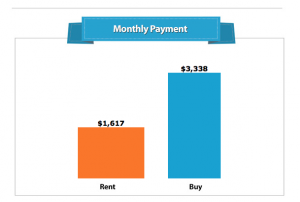 Type: Online tool
Cost: Free
Claim: This calculator compares your initial monthly rent payment to your initial monthly housing payment and does not factor in future changes to these payments. 
Pros: Live in a major Canadian city (aside from North or West Vancouver)? Then this calculator may be ideal for you. It compares monthly rent to homeownership costs and gives you a quick, graphical look at how much more expensive homeownership really can be. Even better this calculator will automatically calculate and add-in the mortgage loan insurance fees if your downpayment is less than 20%. 
Cons: While the calculator factors in more than just the cost of a monthly mortgage payment it doesn't give an accurate comparison. By omitting utility costs from the renter's portion of the monthly costs and by neglecting to factor in annual rent increases you get a pretty skewed perspective of what option is better. Truth be told, renting is always easier on the pocketbook, but over time the equity in paying down a mortgage adds up. Neglect this and omit annual rent increases and you're really just looking at a current snapshot of what's better and ignoring future consequences.
---
How much home can I afford?
Name: Calum Ross' Mortgage qualifier calculator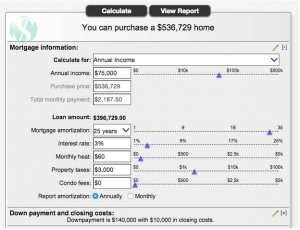 Type: Online calculator
Cost: Free
Claim: This calculator steps you through the process of finding out how much you can borrow.
Pros: Determine what you can afford either by inputting your annual income or the house price. This will spit out a preliminary affordability snapshot, but then you can alter the equation by adding or reducing your down payment, budgeting monthly expenses, or adding in GST (charged to buyers of new-build homes or pre-development condos).
Cons: Closing costs are capped at $10,000, so anyone anticipating a larger cost, say due to land transfer taxes, may have to fudge their expense numbers so you can get a more accurate reflection of what you can afford.
---
Name: CMHC's Debt service calculator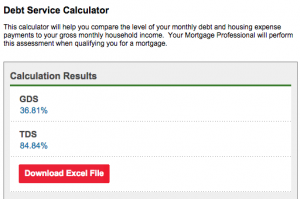 Type: Online calculator
Cost: Free
Claim: This calculator will help you compare the level of your monthly debt and housing expense payments to your gross monthly household income.  It's the same assessment your mortgage advisor will perform when qualifying you for a mortgage.
Pros: To qualify for a mortgage rate and a mortgage you must submit proof of income, among other financial documentation. This documentation is then used to calculate your debt ratios—how big of a piece of pie is taken up by your current debt repayment. This online tool gives you a snapshot of what the pros are looking at and gives you a better idea as to whether or not you could qualify for a mortgage loan. (For more on debt service ratios, see my post on how they are used by your lender.)
Cons: The tool doesn't take into consideration how different types of income are treated differently by lenders and it doesn't factor in all monthly expenses.
---
Name: Globe and Mail's: Down payment tool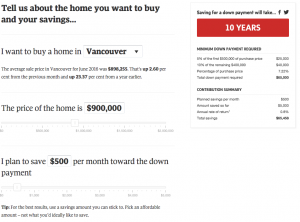 Type: Online tool
Cost: Free
Claim: Saving for a down payment is the entrance exam for home ownership. But in cities where prices are surging to record levels, passing the test is a greater challenge than ever for first-time buyers. Saving up can take years longer than it once did. How long will it take you to break into the market? Find out with our new interactive tool.
Pros: Great interactive tool to help you determine how long it will take you to save up a 20% down payment for a home in your city of residence.  
Cons: The tool is limited to 12 municipality choices—11 of Canada's largest cities along with an "other" option that can be used if you fall outside of the 11 listed cities.
---
Should I buy this house?
Name: Hometrics.ca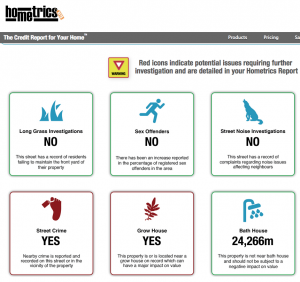 Type: Online tool
Cost: Free or $29 per segment or $99 for full address report. Monthly or annual plans also available.
Claim: The credit report for your home. Avoid hazards before you buy.
Pros: Want to avoid buying a home with potential nuisance neighbours? Want to know if there are registered sex offenders living in the area? Concerned about watermain breaks. The free version of Hometrics allows you to input an address within the Greater Toronto Area and it provides a synopsis of 12 areas that can impact your enjoyment or your home's value. The paid version gives you a very robust snapshot of the house, the neighbourhood and how these metrics compare to other GTA neighbourhoods. No doubt about it, the paid version of this report is packed with information. Great for real estate investors or for buyers who want a more quantifiable report on the neighbourhood. 
Cons: It's limited to the Greater Toronto Area and much of the information may not help a buyer narrow down what a home is really worth.
---
What mortgage should I get?
Name: Karl's Mortgage Calculator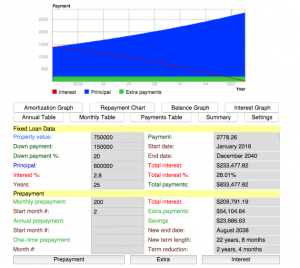 Type: App / Online calculator
Cost: Free / Free
Claim: Mortgage calculator with graphs, amortization tables, overpayments for Canada.
Pros: Want to play with different variables, such as annual prepayments, extra monthly payments or different sizes of down payment? This is the calculator for you. Even with all the free mortgage calculators in the online space this one stands out. You can opt to change just about any variable or factor that impacts your mortgage and your payments. Plus, the calculator provides a series of views, letting you see monthly principal and interest payments or annual breakdowns.
Cons: Because it's so robust, it's easy to forget what parameters you've used and that can lead to errors. For instance, in a recent blog post I ran some numbers and accidently reported the bi-weekly payments as the monthly mortgage costs. A reader pointed out my error and I realized I'd forgotten to change the payment frequency settings (under the Settings tab). The key is to be disciplined about checking all the parameters before using the final summation.
---
Name: TaxTips.ca: Loan/Mortgage Calculator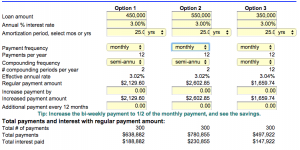 Type: Online calculator
Cost: Free
Claim: A site dedicated to Canadian tax and financial information.
Pros: Sometimes all you really need is make a side-by-side comparison. This tool allows you to do just that not for two but for three different mortgages. You can adjust amortization lengths, mortgage rates, even frequency of payments. The snapshot will help you see the impact it has on your monthly payments and overall interest costs. 
Cons: Some may consider three options too limiting, also it would be nice if the tool would allow to progressively escalate the interest rate, so you get a true picture of the overall impact on your interest payments and monthly costs.
---
Name: The Canadian Mortgage App


Type: App
Cost: Free or $20 to $40 per month
Claim: Used 2.5+million times and by more than 300,000 Canadians. The No. 1 rated mortgage app in Canada.
Pros: One of the most comprehensive mortgage apps on the market. It offers a realistic estimate of homeownership costs. Even better, it provides an estimate of the one-time costs when buying a home. It's effortless to input the numbers and you can also switch between semi-annual or annually compounding interest. Even better, it will help calculate first-time home buyer rebates and land transfer costs, based on where you live. The paid and pro versions allow realtors, mortgage professionals and lawyers to brand the app. The free version is just fine for the individual homebuyer. Available for Android, iOS and Blackberry.
Cons: n/a
---
Name: Interest.com's Adjustable rate mortgage calculator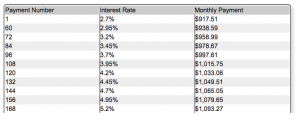 Type: Online calculator
Cost: Free
Claim: n/a
Pros: Great tool that provides a snapshot of how rising interest rates will impact your mortgage.
Cons: This is an American calculator, which means its underlying calculations don't conform to Canada's rules and regulations. This can create calculations that aren't 100% accurate. Still, these inaccuracies don't detract from the calculator's intended use: To determine how rising interest rates will impact your the repayment of your mortgage debt.
---
What closing costs should I consider?
Name: Ratehub.ca's Land Transfer Tax calculator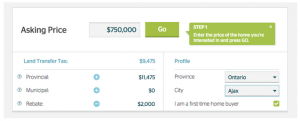 Type: Online calculator
Cost: Free
Claim: Land transfer tax (LTT) is often overlooked when considering the total cost of purchasing a home. All provinces have a land transfer tax, except Alberta and Saskatchewan, who instead levy a much smaller transfer fee.
Pros: Considering a home purchase anywhere in Canada and want to know how much LTT you'll have to pay and whether or not you qualify for a rebate? This is the calculator. Input your home price, the province and city where you're buying the home and whether or not you're a first time homebuyer and out spits the calculator's results.
Cons: Buyers of new-build homes need to keep in mind that this calculator only provides LTT rebate information, not GST/HST rebate information.
---
Name: CMHC's Premium calculator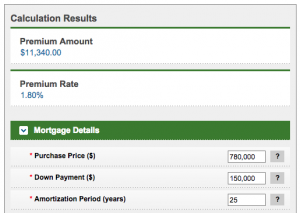 Type: Online calculator
Cost: Free
Claim: The CMHC Mortgage Loan Insurance premium is calculated as a percentage of the loan and is based on the size of your down payment.
Pros: This online calculator will tell you how much you'll pay if you put less than 20% down on a home to purchase.
Cons: This tool with calculate the premium you owe to pay for mortgage loan insurance, even if you put more than 20% down on a home to purchase. That's because some lenders may pass on the cost of mortgage loan insurance even your down payment is more than 20%. Keep in mind, that paying for a Premium on a mortgage when you've put more than 20% down as a down payment is not typical. Start asking questions if this happens to you.
---
Ask a Real Estate Expert: Ask our experts your property or real estate question »
---
Read more from Romana King at Home Owner on Facebook »