What makes a city great? When we were determining our 8th annual list of Best Places to Live in Canada, we looked at all the data we could find to name the communities that offer the best overall quality of life. We started with incomes and employment. After all, most people's experience in a city is more positive when they have a high-paying job—and the ability to get a new one if they so choose. We looked at the price of housing, giving high scores to cities where home prices are affordable when compared with local salaries. Weather was also key. Sure, some Canadians love cold weather, but most will agree that extra sunny days, days above zero and days without precipitation are nice to have. Crime rates and access to medical treatment are also important factors, so we awarded points to communities with low rates of crime, good access to hospitals and high numbers of medical professionals.
[adspot align="right"]
Quality of life isn't only about practical concerns. The ability to take part in cultural activities adds richness to our lives, so we gave points to communities with high numbers of people working in the arts or sports. We tracked whether a city has a movie theatre or easy access to an airport. Of course, statistics don't capture the personality, scenery or people that make each place special, but they provide a good idea of what life would be like if you lived there. Did your hometown make it to the top of our list of Best Places to Live in Canada?
Galleries
Top 10 Small Cities in Canada
There's a lot of choice when it comes to small-town Canada but these picturesque towns are tops.
Top 10 Mid-Sized Cities in Canada
Not too big, not too small, these Goldilocks cities have it all.
Top 10 Large Cities in Canada
You may be surprised to see which big urban centres came out on top this year.
Top of the List
Find out which city has the highest divorce rate, where the richest Canadians live and more.
Bottom of the List
Here are the lowest ranking cities in a number of important categories.
Best Places for New Immigrants
Canada is the land of opportunity but some cities can better accommodate immigrants than others.
Best Places to Retire
We pick the best place in Canada to live out your golden years.
Best Places for Kids
Looking to plant some roots? Consider one of these 10 family-friendly cities.
[adspot align="right"]
Stories

St. Albert: Best Small City
This Edmonton suburb takes the top prize in our ranking of picket fence towns.

Burlington: Best Mid-Sized City
This city makes the most of being sandwiched between the economic engine of Toronto and the industrial powerhouse of Hamilton.

Calgary: Best Large City
Go west, young woman. Calgary has a laid back feel and plenty of job opportunities.

Room for improvement
No city is perfect but some really have their work cut out for them. Here are the worst performing cities in some of the most important categories.

Vancouver: Beautiful and expensive
International observers have named Vancouver among the world's most livable cities but for many Canadians it's simply out of reach.

Toronto: Too much of a good thing
Bigger isn't always better. Why Toronto ranks 28th overall.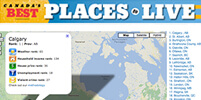 Canada's top 30 overall Best Places to Live 2013 includes communities from coast to coast.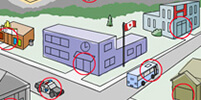 Tour our virtual utopia to see just what the best place in Canada might look like.
s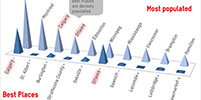 Eight of Canada's 10 most densely populated cities don't crack MoneySense's top 10 overall Best Places to Live list.