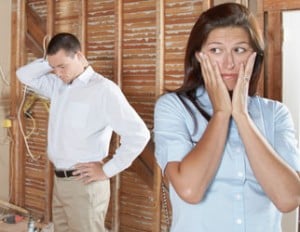 The "fixer-upper." The "handyman's special." The home that needs "tender, loving care." Some buyers run in the other direction when they see a listing containing those phrases. The handyman buyer starts salivating at the thought of big savings.
After all, if you're good with your hands you can buy a fixer-upper for a song and transform it into the home of your dreams. It's a chance to create a custom home that you'd never be able to afford otherwise. At least, that's how it works in theory.
Problem is, lurking among those handyman specials are the dreaded money pits. These homes have massive hidden problems that suck your bank accounts dry before you even get started on the work you were intending to do. To save your finances, and your sanity, here are four tips on how to spot—and avoid—the money pit.
Beware rock bottom prices
For Joyce Wayton and her husband Craig, that low, low price was the reason they bought their four-bedroom, two-bathroom home in Lower Sackville, N.S. Located in a neighbourhood where homes usually sell for $250,000, the Waytons snapped up their bungalow for only $120,000. (We changed their names to protect their privacy.)
They knew the home had issues: for almost 15 years it had been rented out and, as Joyce says, "it was not well-maintained." There were broken windows. The garden was overgrown and the kitchen and bathrooms needed updating. But it had potential, says Joyce. "I could definitely see our kids growing up in that house."
Initially, the Waytons planned to gut the basement and update the main floor, eventually adding a second-floor addition to accommodate their four young children. They had a modest budget of $40,000, but they were willing to do a lot of the work themselves.
Once they moved in and started opening up walls, however, their plans got shelved. Almost immediately they found knob and tube wiring throughout the house. Then they discovered there was no insulation in their ground-level basement. The fireplaces were inoperable. Worse, the basement demolition exposed a big crack in the foundation that ran the length of the house.
Charles Sezlik, an Ottawa-based realtor, says the too-good-to-be-true price that the Waytons paid should have raised big red flags. If a home is much cheaper than other similar homes in the area, "you need to dig to learn what's wrong with the place," he says. At the end of the day, dramatically underpriced homes usually mean big problems.
Get it inspected
Joyce confesses they didn't bother having the home inspected by a professional before they bought. Instead, they relied on her husband's construction experience. But even if you have some knowledge of home building and repair, it's worth paying for an objective outsider's second opinion, says Sezlik.
If you're looking at a real fixer-upper, he suggests finding a home inspector with a background in structural engineering. "You'll pay more up front but you'll save thousands in the long run," he says, because such an inspector is more likely to find hidden, expensive-to-fix structural issues.
The biggest money-sucking problems to look for during the inspection include foundations built on mixed granular, pervasive musty smells (which indicates a mold-infestation), and foundation cracks that appear to have widened over time.
Is your fix-it-up budget realistic?
You can't tell if a fixer-upper is a good deal unless you know how much it will cost to turn your diamond in the rough into a gem, so it's important that you get that estimate right. Your home inspector's report, along with various online tools, can help you get a grip on what your renovation budget should be. But these tools can't estimate the complexity of a project—and complexity adds to cost.
So once you've created a budget, experienced renovators say you should add another 50% to it, as a contingency fund. Then add that larger budget to the cost of your fixer-upper. If the total is more than the price of similar homes in the area that have already been renovated, it may not be a deal.
Know when to walk away
If, like the Waytons, you have already bought a place and it's slowly dawning on you that you've bought a money pit, at some point you have to decide whether to keep moving forward.
The key here is to be honest with yourself. If you have a history of being overly optimistic about how much it would cost to complete various renovations, get a professional in to help cost it out. Then ask yourself: Do you really have enough time, patience and money to do the renos you need to do? If not, you might want to put that money pit right back on the market.
The Waytons had hoped to do all the work they needed on their house, plus add a second floor for their kids, for $40,000. But they ended up spending $30,000 just to fix unexpected plumbing, electrical and roofing issues. Eventually, they realized there was no way they were going to get the extra bedrooms they needed. So they'll spend another $15,000 completing the last of the necessary repairs, then list their home for sale. If they're lucky, sighs Joyce, they'll at least break even.
Read more from Romana King at Home Owner on Facebook »