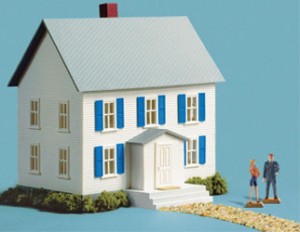 Five years ago, Bill and Karen Fung started planning for one of the most important days of their lives—the day they would both leave their full-time jobs for good and begin enjoying the long unstructured days of a carefree retirement. Their goal? To sell their $565,000 home and retire by age 60 to a small condo in Richmond Hill, Ont. "We had a lot of equity in our house and with our two adult kids now on their own, we didn't need all that space," says Bill, a retired engineer who is now 62. "Selling it allowed us to buy a nice condo where we don't have to worry about shovelling the snow or cutting the grass. It's worry-free, and exactly what we wanted."
The Fungs, who spent six months searching for just the right condo, were excited when they found a place last year they both loved. "We were ready to downsize and de-clutter our lives," says Karen, who's 60 and retired from her job as a systems analyst. "Now we can travel at a moment's notice and take advantage of all those bargain-priced vacation packages to the Caribbean. We just shut the door behind us and go out to see the world."
The Fungs aren't the only ones looking to the family home to help fund a happy retirement. After a decade of record-breaking house price increases, homeowners across the country are ready to cash in their chips and downsize to a smaller property to help bolster their nest eggs. It's easy to see why. The typical Canadian home has more than doubled in value since 2001, and among those with a paid-off mortgage, the family home now accounts for about one-third of their total net worth. So why not tap some of that wealth and enjoy a dream retirement?
The possibilities are endless. You could move into a condo with all the bells and whistles—a swimming pool, fitness centre and 24-hour concierge. Or, you may consider an idyllic cabin near the ocean in rural Canada—a place with no daily commute, peaceful surroundings and little maintenance. Or maybe you love the sun and surf, so a bright airy house near the beach in the Caribbean is what you crave.
The only problem is, downsizing often doesn't always work out the way you think. Many make the mistake of figuring that if they sell their home in Toronto and move to a pretty little bungalow on the East Coast, then they'll walk away with an extra $300,000 for their nest egg. Sadly, according to the homeowners we talked to, this is usually not the case. Most downsizers walk away with much less than they anticipated, and many run into other unexpected snags as well.
"For some people, selling the big $1-million home could mean a very comfortable nest egg for retirement," says Marc Lamontagne, a fee-only adviser with Ryan Lamontagne in Ottawa, Ont. "But if you're downsizing from a $400,000 home to a $300,000 one, there won't be much of a nest egg left once fees and commissions are paid."
That doesn't mean downsizing never works. If you do it right, you can walk away with a pile of freed-up funds that will let you do the things you've always dreamed of doing in retirement—travel, volunteering, social activities and community involvement. It works especially well if you're emotionally ready to move and you have other reasons for downsizing, either to be closer to family, or perhaps to find a place that better suits your retirement lifestyle. But you have to have a plan. Here's how to get it right.
Be honest about why you're moving
Ask yourself why you are considering selling the family home. Is it for financial reasons or practical reasons? For instance, have your kids moved away and your five-bedroom home is now too large for you? Has your spouse died and you want to move closer to your grandchildren? Or is it simply that you travel four months of every year, so you don't want to spend money and upkeep on a detached home? All of these are good reasons for downsizing, provided the finances work in your favour and you are mentally ready to transition to a new community.
In the Fungs' case, the primary reason for downsizing was that they wanted a smaller, maintenance-free space. But John Fleming and his wife Barbara downsized from their Oakville, Ont., house for a slightly different reason. In their case, the prime motivation was finding a place they could grow old in comfortably. So they sold their 3,000-square-foot family home two years ago and bought a much smaller 1,800-square-foot bungalow with all the bells and whistles. They didn't bank a profit—in fact their new place cost several thousand dollars more than the place they sold.
"We did it for old age," says John, 64. "We equipped the new house with everything we felt we would need to be comfortable over the next 20 or 30 years. We deliberately thought it through and deliberately overspent and are really glad we did."
Just what did the Flemings get? Built-in sprinklers for the small lawn and a fully equipped woodworking workshop and theatre in the basement. They even had a dog run built just outside their side door. "We're animal lovers and if we ever reach the point where we can't walk the dogs, we don't have to," says Barbara, 61. "We spared no expense."
Assess your needs
Decide what you really need by looking at how you live your life daily. Then prioritize the activities and items that are already a part of your actual lifestyle, and not things that may become part of your lifestyle in the future—or may not.
Couples like the Flemings are well aware that aging means they will need more specialized upgrades to their home. For instance, Barbara, has osteoarthritis so everything she and her husband John need is on one floor—including a large laundry room. They also had the builder put in extra-wide hallways and easy-to-open doorknobs as well as a small but easy-to-maintain garden. "It means we can still have a bit of fun fussing with the garden," says John. "But it's not overwhelming. The next stop for us is a nursing home or a funeral home so we wanted something that would get us to old age with dignity and comfort."
Decide where you'd like to live
Give some thought to what you'd like your retirement to be like. Does an isolated lake community sound wonderful to you? Or would you prefer to be near the amenities that a big city has to offer? Do you want to downsize to a smaller house, or to a condo? Many prefer houses, according to the 2010 TD Canada Trust Boomer Buyers Report. The survey found that 61% of boomers plan to purchase a detached house for their next home. Although condos come in as second choice at 24%, more than half of boomers say they are at least considering a condo because they are low-maintenance, offer better security and amenities such as a gym or pool. The top reasons that most boomers prefer houses over condos are that they prefer to have a backyard and garden, and they don't want to pay condo fees.
If you've decided to make a major move—say from a big city to a small town, or from a city in one part of the country to a smaller, less expensive town in another, it makes good sense to test drive your choice before buying. You really can't be 100% sure you'll like the move without trying it out first. "A small town in New Brunswick may be lovely in the summer during good weather but it may be miserable in winter when the big snow storms hit," says Al Feth, a fee-only financial planner in Waterloo, Ont. "I always tell people who are considering downsizing to rent for a year or so before buying a new home. You have to be absolutely sure before you make a major move and renting allows you that option."
Of course, you may already know exactly where you want to live. For many Canadians, the dream is to downsize to a cottage they already own. But again, make sure you're happy at the cottage during winter months. "This option works best if you want to winter in Florida and spend the other six months in Canada," says Lamontagne. "You can cut living expenses substantially, plus pocket the full value from the sale of your home as a nice nest egg."
For Gail Goldman, a 64-year-old liaison officer living in Toronto's trendy Cabbagetown neighbourhood, the decision was easy. Nine years ago, she and her husband decided to stay in the same neighbourhood but downsize to a much smaller and slightly less expensive home. "I loved the neighbourhood and knew exactly what I wanted," says Goldman, who now lives in a small one-bedroom cottage house with a nice garden in central Cabbagetown with her two poodles, Jazz and Niko. "I didn't want or need the three-bedroom house anymore." And although Goldman says she and her husband, who has since passed away, didn't pocket much from the sale, once they made the decision to sell her large home, she never looked back. "It was a treat to have this much smaller space. Before, I had rooms I never used. Some people downsize by buying a cottage and spending winters in Arizona or Florida. Me, I still work and live in my small cottage house right here in the city. It works for me."
Realize that smaller isn't necessarily cheaper
Depending on where you move, don't be surprised if you face monthly expenses that are as high or even higher than you pay now. And often those trade-offs are difficult to quantify. For instance, you may save money on utilities by moving to a small condo. But those annual savings may be eaten up by costly maintenance fees. Also, from time to time you may be on the hook for condo board assessments to replace high-cost capital items such as the roof and windows.
Moving to a smaller home, or one further away from an urban area, can generally save you money on housing expenses, but in some cases the savings may be offset by the fact that smaller towns don't have public transit—requiring you to budget for two cars and higher gasoline and insurance bills. The opposite is also true. If you move from the suburbs to downtown, you may be able to sell one of your cars and rid yourself of all of its expenses, including insurance, financing, taxes, maintenance and fuel. If you gave up a three-year-old mid-sized car, for instance, you'd likely save $20,000 or more in the first five years.
Price it out
If you're counting on downsizing to help bolster your nest egg, make sure your expectations are realistic. The truth is that most people who downsize walk away with less money than they expected, says Feth.
To get a better idea of why, let's take a closer look at Bill and Karen Fung's case. The couple sold their family home in Richmond Hill last year for $565,000 and bought a nearby condo shortly afterwards for $338,000. That's a sizeable difference in price, and you would think that they'd walk away with an extra $200,000 or so to add to their retirement savings.
However, that's before all the costs of moving are taken into account—and the costs are considerable. For instance, the Fungs had to pay a total of $23,730 in real estate commissions to their agent. They also had to pay a total of $2,100 in legal fees, plus $3,500 in land transfer taxes, moving fees of $3,000, and outstanding property taxes of $1,420.
Then, when they moved to their new condo with its smaller floor plan, they found that they needed to replace some of their furniture and add some new items, which cost an extra $9,000. Finally, they had to pay off the balance of their original mortgage, which was $125,230. All of those costs meant that, when the dust settled, the Fungs didn't make anywhere close to $200,000 when they downsized: They were left with a much more modest $60,000 instead. "We really didn't save much by downsizing," agrees Bill, who says that they plan to use most of the leftover cash for travel in China over the next few years. "But we love our smaller space and have the flexibility to travel anytime. Those things are key for us."
To get a better grip on what you could make by downsizing, call a real estate agent and get a reliable estimate on what your home will sell for in the current market. Then make sure you're honest when you tally up the costs. Typically, you can expect to pay as much as 10% to 20% of the value of your current home. In other words, if your current home has a market value of $500,000 and you'd like to downsize to a place costing $400,000, after real estate fees and other incidentals have been paid, you probably won't pocket much.
Of course, there are some ways to minimize your transaction costs. You can sell your home privately, thereby saving on real estate commissions. You can cut moving expenses by booking a mover for the middle of the month. If a condo is what you're interested in, consider a resale unit. They're often less expensive than new, effectively decreasing all transactional costs. You also may want to consider moving to a smaller town. Not only are the houses cheaper, but many of the other transactional costs, from legal fees to new furniture, tend to be lower in an area where the cost of living in general is low.
Don't rule out renting
Before buying, consider renting for a year or so in the town you'd like to downsize to. Doing so will give you a good idea of what the new location is like year-round and whether it's the right long-term plan for you.
Chris and Lee Lauder of Ottawa, both 45, plan to do exactly that. They hope to downsize from their home in Ottawa to a smaller town where the cost of living is cheaper, so they can bank a profit and travel more. "We're interested in both small-town New Brunswick and the interior of B.C.," says Lee, who hopes to retire with husband Chris in 10 years when they're both 55. "We plan to rent in both areas for a year or so before making a final decision. Who knows, we may discover that we like renting because it allows us to pick up and live in different places across the country." As a bonus, renting cuts your transactional costs in almost two—you still have the costs of selling and moving—but not the cost of buying a new place.
Lamontagne agrees that renting is a good option for retirees to consider before finally buying another house. "Rents are cheap right now," says Lamontagne. "Always look at your lifestyle goals. Often selling your big house, cashing in the equity and renting instead can help you achieve those goals—especially if the equity from your home is what you need to live your dream."
Don't underestimate the emotional issues
Downsizing isn't just about money. You're probably more attached to your current home than you'd like to admit. "For most people, the family home is where the kids and grandkids come back for Christmas and Easter," says Feth. "I've done 10 or so downsizing plans for clients recently where most of them were flipping to a smaller home and believe me, it's very emotional. For some people, it can be like dying. The transition is really quite difficult to do. Make sure you're mentally prepared for the roller coaster of emotions that may ensue."
Bill Fung agrees with Feth. "We were happy because Karen and I spent within our budget and our new condo is comfortable. But don't get me wrong—it's a sacrifice to get used to less space and new neighbours. Karen especially misses our old house—all the friends and ample space we used to have there. It's been a bit of a struggle for her."
Draw up a plan
Once you've done your research, it's time to hire a financial adviser to draw up a simple financial plan that will outline what the various scenarios mean to your finances. Before you make a move, you need to know for sure that you'll have enough to meet your retirement goals if you downsize. If not, then you can look at how the plan can be modified.
"Go to an adviser before you sell your home and see how much you will actually net from the transaction," says Lee Anne Davies, head of retirement strategies for the Royal Bank in Toronto. "A planner will lay all of the options out in front of you, plus he'll give you other ideas you may not have thought of yourself." For instance, if house prices are sky-high, it may be a good idea to sell your house right away, pocket the money and rent for a while before buying. "Open yourself up to new ideas before making any commitments."
Make the money last
Downsizing will do you no good at all if you squander your profits. Before you make your move, be sure to think about how you'll invest the money that's left over to ensure it's still there when you need it.
In general, if the money is meant to support you in retirement, we recommend using it to build a properly balanced portfolio inside your RRSP, although even then, you should have a tax-efficient strategy for depositing your windfall. For complete instructions on how to build a solid retirement portfolio that will last you a lifetime, search for "The perfect portfolio" by David Aston at MoneySense.ca.
Though the pitfalls are many, downsizing effectively can pay off handsomely. You just need to make sure you have a plan, you're emotionally ready for the move, and you have realistic expectations. Take the time to do your research, and make sure you have a complete and accurate picture of what your life will be like in your new home. Try to figure out any shortfalls before you take the plunge. That way, when you're ready, you can be sure that the next stage of your life will be just as rewarding as you imagined.