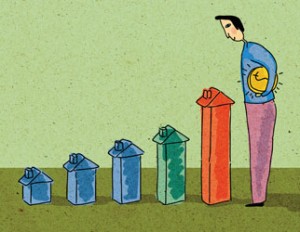 The cooler housing market may be good for certain sectors of the economy, CIBC World Markets says in a new report.  First-time buyers, for instance, may welcome a letup in home prices and may have more money available for retail spending, argues economist Avery Shenfeld. Pick up the Dec./Jan. issue of MoneySense to read "No Bubble, No Trouble," your guide to capitalizing on the recent market downturn.
In his latest blog post, our favourite Canadian Couch Potato gets to the bottom of BMO and PowerShare's new batch of low-volatility ETFs.
The Royal Canadian Mint is selling off some rare gold coins. There are 30,000 $5 and $10 coins up for grabs dating back to First World War. The $10 coins, with about 15 grams of gold, are being sold for $1,750.