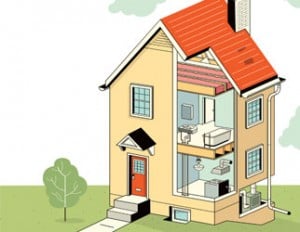 When I bought my dream home two years ago, I wasn't imagining myself standing in my basement, holding an umbrella, watching my husband chase streams of water with a flashlight. But that's where I ended up. It was the first spring thaw and he was trying to figure out where the leaks were coming from.
Clad in his work boots and a rain jacket he would alternate between stepping outside our basement door, where the rain came down in big sheets of cold wetness, and ducking into our basement to inspect various parts of our foundation. It would take three more rainstorms, the installation of a sump pump and a complete overhaul of our plumbing before we were able to correct the problem.
That was a rough introduction to the world of home ownership, but I don't regret buying the place. It's a great century-old row house in downtown Toronto in an eclectic and vibrant west-end neighbourhood. Still, as I watched the balance on our line of credit creep up to the $40,000 mark, I started to wonder: How much does it cost to maintain a home anyway?
After a bit of research, I found out that the general rule of thumb is that you should expect to spend 3% to 5% of the value of your home every year, on average. For a 40- year-old home worth $500,000 that means you'll need to set aside up to $25,000 every year. I ran that figure by my husband, who is—as it happens—a commercial and residential general contractor, and he said that sounded high. But is it? We were savvier home buyers than many, but we still underestimated the cost of fixing our drainage issues and the expense of tearing down the garage ("Give it a year and you won't have to," one broker told us when were out shopping for insurance).
So, to get a handle on the real cost of maintaining a home, I decided to price out all of the major maintenance and repairs you can expect to perform on a typical 2,000-square-foot detached house in Canada myself.
To do this I looked at two different kinds of upkeep. The first is the regular annual maintenance that every homeowner should do to keep his or her home running smoothly. Things like changing the furnace filters and patching the driveway. The second kind of upkeep includes those once-a-decade expenses that tend to result in migraines. Here I'm talking about things like replacing your hot water heater because it rusted through, or replacing all of your outdated electrical wiring.
To get an accurate figure, I divided up the typical home into its seven major components and tallied up the costs for both large and small jobs over 25 years. I then annualized that amount, so you can make sure that you're contributing enough to your household maintenance budget every year. I also include tips on regular maintenance you can do to keep those little problems from turning into expensive headaches. But I didn't include jobs such as interior painting, or upgrading your kitchen cabinets. I focussed on the bare bones maintenance you need to do to protect your home and keep it from deteriorating. In short, if you're wondering why your car came with a maintenance guide, but your home didn't—problem solved. Because here it is: A complete maintenance guide for your home.