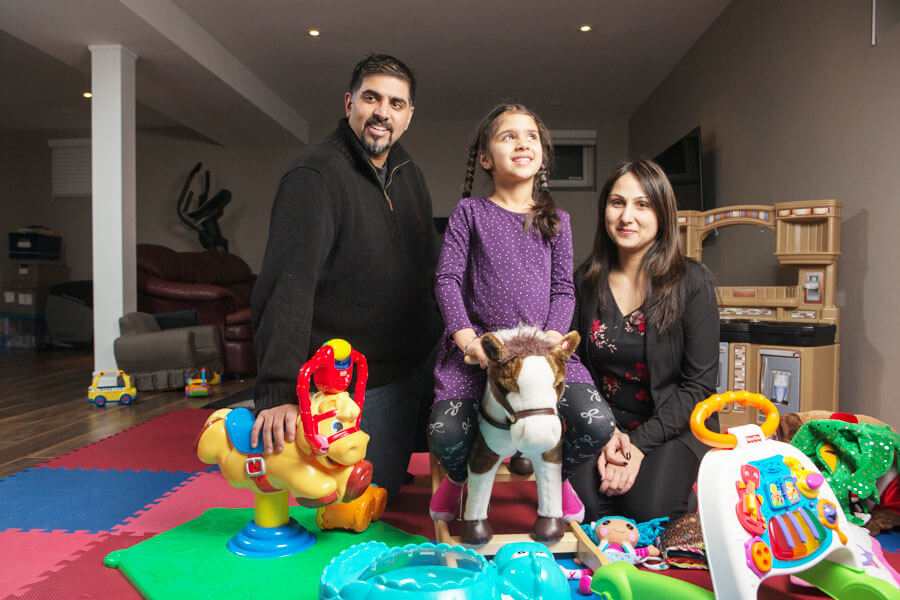 In our April 2016 issue of MoneySense, we introduced you to Sammu and Mandy Dhaliwall, a young married couple with three kids from Brampton, Ont. They are trying to juggle RRSPs, TFSAs, paying down their $350,000 mortgage as well as their $90,000 home equity line of credit.  Throughout the year we'll be giving them a financial challenge every four weeks to help them get their finances in tip top shape. Make sure to follow along! Let's start.
Challenge No. 1
The Dhaliwalls' first challenge was to go shopping for mortgage rates and find out what new rate and terms they'd be eligible for this July when their mortgage comes up for renewal. Most institutions offer a three-month interest rate guarantee. The couple was asked to check out RateSpy.com, a website that keeps track of mortgage rates offered by financial institutions, and then use this information as a bargaining chip with their own mortgage provider to potentially get a lower rate. The couple also inquired to see if they could roll their line of credit (LOC) into their mortgage to see if they could save some money doing this, as LOCs are usually 1% (or more) higher than variable rate mortgage rates.
Sammu and Mandy's experience

For our first challenge, we made appointments with three mortgage providers: our current mortgage provider, a big bank, and a mortgage provider from RateSpy.com.
Based on current markets, we felt a fixed-rate mortgage for a four or five-year term is what would suit us best and made comparisons based on this. (It's interesting to note that all three mortgage providers we contacted also recommended a fixed rate over a variable rate).
The big bank we contacted was offering either a 2.49% for a four-year fixed rate mortgage or 2.59% for five years. The mortgage provider from RateSpy.com was offering 2.54% for five years with the rate guaranteed for 90 days (a lower 2.44% rate was available for five years but guaranteed for only 60 days). Our current mortgage provider is offering the same rate as the big bank.
When we asked our current mortgage provider to match the lower rate, we were told that it was possible to get a lower rate once the application is put through. This is where we were not sure what to do. Both of us believe that to get a guaranteed rate for every mortgage application we make, our credit score would be affected negatively—so we didn't want to fill out multiple applications to get guaranteed rates we may not use. Nonetheless, on a 25-year amortization, we would save just under $21,000 on interest with the lower 2.59% rate.
We also looked at refinancing our mortgage with debt consolidation. We were provided an option of either rolling the debt into a higher mortgage or paying off the debt with home equity. The latter option would lower our rate from the current prime + 0.5% to just prime for annual interest savings of about $400. The first option would actually reduce our monthly payments; however, over the amortization period of 25 years, the total interest paid would increase by over $20,000 when compared to only about $14,000 in total interest if we continue to pay down our line of credit at the prime rate.
So, although our monthly payments would decrease by consolidating our debt into a refinanced mortgage (by about $700/month), our total interest paid over the amortization period would increase quite a bit (by about $14,000) when compared to using a home equity line of credit (HELOC). So, currently, we are leaning to keeping our mortgage amount as is but starting a HELOC to pay off the debt at a lower prime rate. Is this correct?