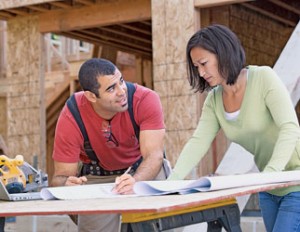 1 You need to check my references. All contractors boast about their skills and experience, but you can't take their word for it. Check your local Better Business Bureau website to see if there have been any complaints lodged against the company. Also, ask the contractor if you can visit the homes of previous customers to see their completed projects first-hand. "That's because somebody's idea of quality may be different from yours," says Tyrone Stanley, a carpenter and owner of Ty-Reno in Toronto.
2 A detailed contract will help keep me honest. You need a contract, "and not just a one-pager," says Frank Palmieri of Spec-All Home Inspection in Richmond Hill, Ont. The document should list all required materials, and have a detailed timeline and payment plan: visit the Canada Mortgage and Housing Corporation (www.cmhc.ca) for a template. For big jobs, get a lawyer involved.
3 I might not bother getting permits. It's the responsibility of the contractor and homeowner to get permits for any major plumbing, heating, electrical and structural changes. If you don't, you risk having a neighbour or roaming bylaw officer rat you out and your renos could be pulled down. "People think permits are expensive and they take a long time, but that's not necessarily true," Palmieri says.
4 I will overcharge you for materials. Contractors often charge you their regular hourly rate while shopping, and that money could be better spent on the project itself. Plus, they have little motivation to shop around for the best deals on products and fixtures.
5 Don't pay me all at once. At the beginning, set up a payment plan where only a small fraction of the bill is paid at the start, with installments as the job progresses. "The contractor should be working with a little bit of your money and his money too," says Palmieri. The total amount should not be paid in full until the job—as per the contract—is complete.