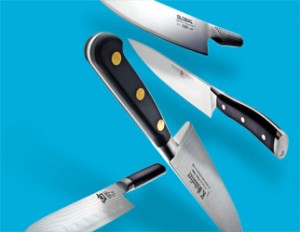 A good chef's knife is a must-have implement for a well-stocked kitchen. Invest in the right knife, and you'll have a slicer-dicer that will last for years. While there are numerous types, the most common are French (with a relatively straight bottom edge that curves at the tip—ideal for long slices), German (with a continuous curve along the edge, best for up-down motions), and Santoku (a smaller Japanese design with a sharp curve along the top towards the point and a Granton edge—divots in the blade that help keep food from sticking.)
The style you choose is a matter of personal preference. It all comes down to the way you cook, the types of food you tend to work with and the way the knife feels in your hand. That's why it's important to be able to pick up the knife before you buy, notes Mario Fiorucci, president of The Healthy Butcher in Toronto, which sells knives from its bricks-and-mortar locations and online (sliceandsear.com). Someone else's idea of the perfect knife may be too heavy, too light or improperly balanced for you; the best way to find out is to handle the prospective purchase in person.
That said, there are a few universal attributes to look for. For instance, seek knives that have full tangs—where the metal that forms the blade extends all the way into the handle—for a strong blade. Plastic or wood-composite handles are also desirable because they don't harbour bacteria. We looked into four of the most popular chef's knives on the market, seeking the best combination of price and performance. While any of the following implements may be right for you, only one undercuts competitors on cost yet presents anything but a bargain-basement experience.
Global G-2 8-in. ($99)
Global's knives aren't the most expensive, but they're among the most popular. This lightweight stamped high-carbon stainless-steel implement is easier to control than heavier forged-steel knives tend to be. It's all one piece, handle included, making it particularly strong. The handle even contains sand for balance but problematically it's also difficult to hold if you get oil or some other low- friction foodstuff on it.
Shun Classic Hollow Ground Santoku 7-in. ($170)
This knife is lovely to look at, featuring the patterned profile of Damascus steel. It is strong, too, with a VG10 steel core. Slightly lighter than other knives, the Classic is easy to manage. The dimpled Granton edge also helps the blade slice through high-friction foods. A real work of art, but certainly no bargain, price-wise.
Wüsthof Classic Ikon 8-in. ($159)