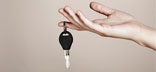 Want to save on car insurance? Then be careful what vehicle you buy. If your car is a favourite among thieves, you might find your premiums going through the roof.
Sub-compacts and mid-size cars are relatively cheap to insure compared to sports cars and SUVs, but you could still save $1,000 or more per year by avoiding certain makes and models. In particular, according to Insurance Bureau of Canada data, the following vehicles have an automatic insurance surcharge because their claim costs are at least 20% higher than the industry average:
• Honda Civic Si, Coupe (2DR)
• Acura RSX (2DR and 4DR)
• Acura MDX (4DR)
• Mitsubishi Eclipse (3DR)
• Toyota Camry (4DR)
Another factor that could push your premiums up is the cost of medical treatment after an accident. The injuries sustained by drivers of the following cars prompted higher than average medical costs:
• Chevy Cavalier
• Dodge Neon (2DR and 4DR)
• Hyundai Accent and Elantra (3DR and 4DR)
• Kia Spectra
One way to avoid sticker shock is to shop for insurance at the same time as you shop for a car. Quickly compare quotes using either your insurance broker or through online insurance sites such as Kanetix.ca. If a car you're eyeing will cost the earth to insure, you may want to keep looking.