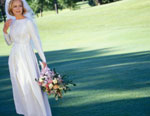 Elise Van Zutphen is thrilled. Not only is the 24-year-old Edmontonian walking down the aisle at the end of September to marry the man of her dreams, but she'll be wearing a tea-length Alfred Angelo wedding dress complete with sash that cost her just $160, tax and duty included.
After browsing around a few online bridal sites, Van Zutphen stumbled across her find at David's Bridal, a bricks-and-mortar chain that sells dresses online. Other major retailers, such as Urban Outfitters, J.Crew and Ann Taylor, are now selling their wedding gowns on the Internet too.
Van Zutphen says that if she had bought her dress from one of the numerous Edmonton stores that cater to brides, she would have paid at least $550 for the same dress. "I skipped the mark-up, and felt like I was getting a good deal," she says. Plus, with her busy schedule, she was happy to skip the hours of traipsing around to stores to try on gowns.
According to Van Zutphen, the process was simple—she took the measurements suggested by the website, chose a dress size, paid the invoice and then watched the package via online tracking. She also familiarized herself with the returns and exchanges policy—most stores will refund the dress, excluding shipping and taxes. If the dress isn't a perfect fit when it arrives, Van Zutphen says it won't be a problem. "I have a tailor in the city that I trust," she says, "so I'm not too concerned."
Shop online for your special day
David's Bridal
www.davidsbridal.com
Bricks-and-mortar chain with a large online selection
NetBride.com
www.netbride.com
Offers discounts on designer gowns
Romantic Gowns
www.romanticgowns.com
A live customer service rep helps online shoppers buy bridal and bridesmaid dresses
J.Crew
www.jcrew.com
Modern wedding dresses ranging in price from $99 to $3,000