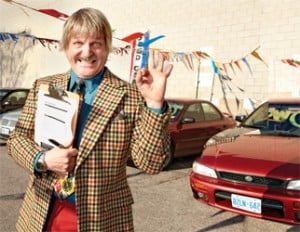 Most people can vividly recall the thrill of buying their first car, not to mention the nausea, sweaty palms and butterflies. My experience was no different. Armed with an ad promising an unbeatable deal on a brand new Chevy Cavalier, I bummed a ride to the dealership and announced my intention to snatch one at the advertised price.
The salesperson— a plump, elderly gentleman in a somewhat garish sport jacket—began a big show of consulting with his manager and checking the books to see if the sale-priced cars were still available. After a few minutes, he triumphantly announced there was one left at the back of the lot.
We hopped into his massive Oldsmobile and drove around the side of the building. I sprinted over to the car of my dreams and stared in disbelief at the interior. The seats, flooring and centre console were all missing. Only bare sheet metal and some wiring stared back at me.
When I calmly pointed this out, the salesman looked me straight in the eye and assured me the vehicle was merely undergoing a pre-delivery inspection. After I questioned the truth of that statement, his demeanour suddenly changed and he barked, "Well, do you want it or not? The sale ends today." Needless to say, I passed on the Cavalier and vowed never to return to that dealership.
Most car dealers do not subscribe to the P.T. Barnum philosophy of salesmanship, but there are enough bad apples out there to warrant a careful approach to such a large purchase. That's why we've assembled a list of the most common misleading or outright illegal sales tactics, with expert advice on how to steer clear of the scams.
The bait and switch
Like my experience with the gutted Cavalier, this scam often starts with a misleading ad in your local newspaper or dealer website. The bold print lists a popular car at a price that's too good to be true, and when you arrive at the dealer you're informed the car has already been sold or the sale has ended. Fortunately for you, the dealer has a similar car that's just a little higher in price than the advertised car. Often this scam skirts those annoying legalities by using fine print that notes a limited supply, perhaps only a single vehicle at that price. Even in those cases where the vehicle actually exists, it may lack basic features most buyers have come to expect, such as automatic transmission, air conditioning or power windows.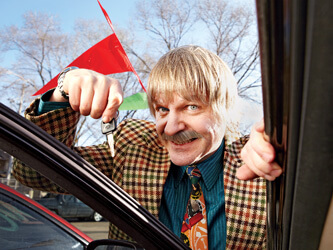 Clearly, the dealer's real goal is simply to get you through the door. According to George Iny of the Automobile Protection Association (APA), even after a bait-and-switch has been revealed many of us are still powerless to resist the upselling tactics. "Thirty per cent of the time you'll leave with a new car anyway," he estimates.
If you suspect a bait and switch, call the dealer before you venture down and verify the price and availability of the advertised vehicle. Iny also suggests taking the misleading ad to a competitor who can more easily decipher it and tell you what the catch is. Of course, they'll be trying to sell you a car too, but will be motivated to look like the good guy and offer a better deal. "It's a bit like in martial arts where you use the force of your opponent against them," he explains.
Free exchange or money-back guarantees
Phil Edmonston, author of the Lemon-Aid car-buying guides, says some new and used car dealers "get a lot of mileage out of these deceptive offers." With the free exchange privilege, a dealer may offer to swap one car for another if the initial purchase turns out to be a dud. According to Edmonston, though, what often happens is the dealer won't have anything else selling for the same price and may demand additional funds to complete the trade. Or worse, you may just end up swapping one lemon for another.
The so-called money-back guarantee is more typical of used car dealers looking to soothe nervous buyers who may not be sold on the reliability of their new purchases. While it sounds attractive, Edmonston cautions that unscrupulous dealers employing this tactic often levy exorbitant handling charges, rental fees or mechanical repair costs if an unhappy customer actually tries to return a vehicle.
Extended warranties
Speaking of guarantees, few people escape a new or used car dealership without a trip into the business manager's office for a hard sell on an extended warranty. Typically costing $1,500 to $2,000, this supplementary protection offers coverage beyond the factory warranty and usually nets the dealer a tidy profit. Manufacturers underwrite some warranties, while others may be sold by the dealership itself or a third party.
The experts differ on whether extended warranties offer real value for the money, but George Iny says those backed by the factory are the best of the bunch. "The commission to the seller is rarely over 30% and the warranty is honoured at every factory dealer across Canada." By contrast, dealer-backed or third-party warranties often cost less, but have more exclusions and you may have trouble finding a shop to do the repair work.
If you opt to buy an extended warranty, Iny suggests taking the highest level of protection possible. "Don't just go for the powertrain warranty. The expensive failure-prone parts are often accessories like air conditioning that are only covered by bumper-to-bumper warranty."
Damaged goods
Most people assume that when a car is written off by an insurance company it gets stripped for parts and compacted into a cube. But that's not always the case. Some are labeled as salvage because the insurance company knows the repair costs outweigh the replacement value. That won't stop others from buying these cars and fixing them up on the cheap.
You can safeguard yourself against buying a former wreck by insisting on seeing the previous ownership information. Any car that's spent part of its life under the ownership of an auto body shop or salvage yard is a non-starter. If a dealer can't show you a vehicle's full history, you can copy down the vehicle identification number (VIN) from the dashboard and pay for an online CarProof report. Depending where you live and the level of detail required, these vehicle history checks cost $10 to $70. Not only can they sniff out previous accident claims, they can pinpoint what provinces or U.S. states a vehicle has previously been registered in, and whether it has any outstanding liens.
Curbsiders
Classified ads are full of tempting deals often priced lower than vehicles at your local used car lot. This makes perfect sense if you consider that private sellers have no overhead, sales staff or inventory financing to cover off each month. However, buyers need to be aware the classifieds are full of shady professional sellers looking to unload rebuilt or even stolen cars. In the industry, these people are known as curbsiders and there's little recourse if you get scammed.
"What consumers have to understand is your rights as a car buyer depend entirely upon whom you buy the car from," says Terry O'Keefe, communications manager for the Ontario Motor Vehicle Industry Council (OMVIC). Licensed dealers are governed by provincial legislation that provides legal recourse and even compensation for vehicle sales that go wrong. But purchases from curbsiders (and even legitimate private sellers) are generally not covered by consumer protection laws and victims are often on their own when it comes to filing police complaints or taking sellers to court.
Some curbsiders may sell just one or two cars a month, while others are actually fronts for licensed dealers looking to unload dozens of wrecks they can't sell on their lots. Often these cars have been in serious collisions, but the curbsider will only admit to a minor fender bender, if anything at all.
One of the biggest tip-offs is a private seller who claims to be selling a car for a friend or family member. O'Keefe says buyers need to ask the right questions and avoid any seller who refuses to meet at their place of residence. "You have to learn to spot the tricks of the curbsiders and you have to take charge. Ask to see their driver's licence and the ownership papers. If the addresses don't match, find out why." Even if the information does match, obtaining a CarProof report, as mentioned above, is often a wise investment if you're seriously considering a private sale vehicle.
Edmonston says curbsiders are particularly active in Western Canada, where salvage vehicles are imported from other provinces, rebuilt and sold to unsuspecting buyers through classifieds in British Columbia and Alberta. In big cities across Canada, though, he estimates up to half of all private car ads are placed by curbsiders.
If you really want to avoid these scam artists, O'Keefe says the safest bet is to buy from a provincially licensed dealer.
Demos and former rentals
Bargain hunters who balk at paying all those new-car fees like freight and pre-delivery inspection love the idea of picking up a nearly new vehicle that still has a faint new-car smell. These may be dealership demonstration vehicles or former daily rentals. Both can occasionally represent good value but they also pose hidden dangers.
If you believe the ads, dealerships seem to be selling their managers' personal cars every month. Most of these vehicles were likely company cars enjoyed by salespersons or former demonstration models that are getting long in the tooth. You may even pick up a car that was part of the press fleet that auto reviewers use and abuse on the manufacturer's dime. Typically, these cars come fully loaded with options but may not have been meticulously maintained because their long-term use was never a consideration. Iny says demo cars in particular are often overpriced and may not be the bargains they're made out to be. In addition, any damage suffered at the hands of sales staff or careless customers will likely have been fixed in-house, with no record of the repairs on official paperwork.
Similarly, former daily rentals have a typical shelf life of one to two years, so may not have been maintained with longevity in mind. Even worse, most rental companies pay for their own collision repairs. "Any accidents go unreported because the rental companies self-insure their cars," says Iny. That means even a thorough CarProof report won't turn up any insurance claims. In fact, Iny says a dealer who offers up a free CarProof report on a former rental may be deliberately misleading buyers.
Creative financing
Edmonston says you should be sure to budget properly and don't spend more than 30% of your gross annual income on a new or used vehicle. That's sound advice whether you're retired, just starting a new family or still living in your parents' basement. Once you get that settled, the next question is how are you going to finance your new wheels?
Cash is usually king, but few of us have the resources to buy a car outright, so that means borrowing money from somewhere. Dealerships try to woo customers with low-interest or even 0% factory financing, but believe it or not, that may not be your cheapest option. Most of the time those deals come with higher purchase prices than those offered to customers who pay cash or use outside financing.
To combat the confusion created by this two-tiered pricing structure, Iny suggests using an online calculator like the one on the APA website (www.apa.ca) to see whether the bank or factory financing will net you a better deal in the long run. "Even bank rates of 6% or 7% may be preferable to 0% financing if the purchase price is significantly different. What you really want to find out is which offers the lower overall cost."
If your bank or credit union offers the better deal, Edmonston advises walking in with pre-approved financing in hand and asking the dealer if they can beat it.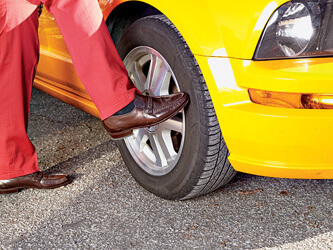 Last-minute cash grabs
Four provinces now require all-in pricing on new car ads, but that doesn't stop unscrupulous dealers from trying to sneak a few hundred dollars extra onto the advertised price. Typically, Iny says those additional costs come in the form of "admin fees" on the sales contract. Often in the $300 to $500 range, these charges are ostensibly for processing the paperwork, but both the APA and Car Help Canada say these fees are little more than last-minute cash grabs. (The paid members of these consumer groups do not pay admin fees when purchasing new cars through their pre-negotiated buying services.)
In a recent investigation, Iny's group found dealers in the Toronto area charging up to $700 for safety certification and emissions testing. The standard fee for an e-test in Ontario is $35 and a safety certification on a used car is typically $60 to $100.
If you live in a province with inclusive pricing laws, O'Keefe says you should walk away from any attempt to tack on additional admin fees and contact your provincial regulator. If you live in a province without these advertising laws, consider using the services of non-profit groups like the APA or Car Help Canada. They charge between $60 to $77 for annual memberships and offer no-haggle pricing through their networks of preferred dealers.
According to all our experts, though, the bottom line for buyers is that you have be informed of your rights and be armed with all the research you can muster.
Photos by: Nikki Ormerod