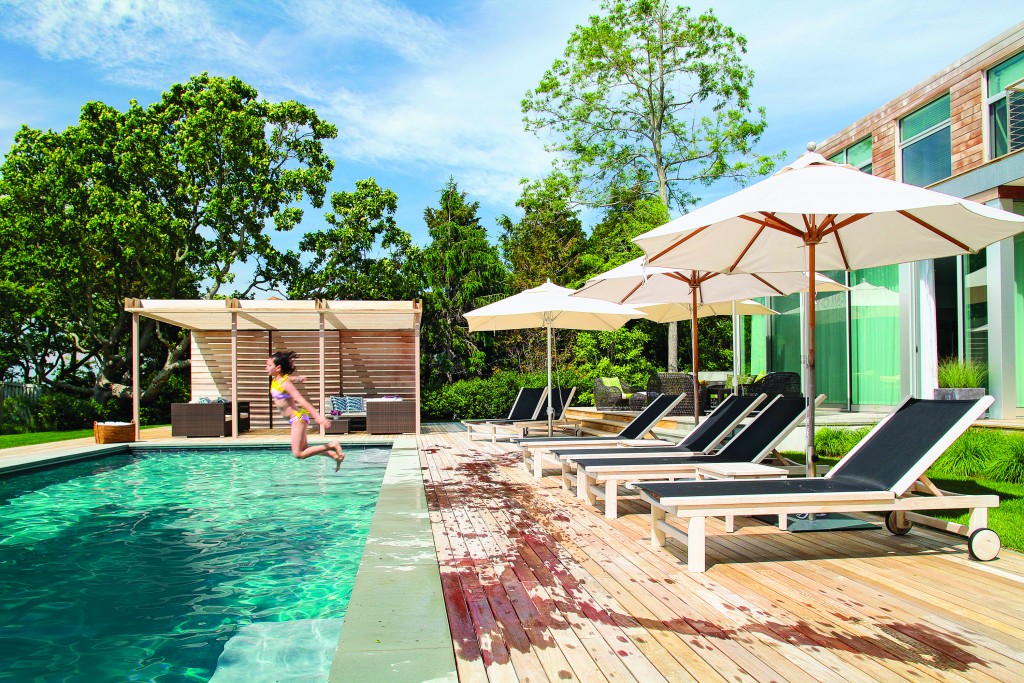 Ah, the inviting blue shimmer of the backyard pool. The ultimate symbol of domestic relaxation since the post-war boom, backyard pools have been especially tempting lately, given that the lagging loonie is making it pricey to book vacations abroad. Meanwhile, new money- and time-saving technologies are making pool ownership less onerous. But if you want pool design and installation to go swimmingly, you have to dip your toes into the water bit by bit. Summertime may be near, but for the prospective buyer of an in-ground pool there's plenty of homework to do before the backhoe starts digging. Dave Clark, who handles marketing and communications for Betz Pools in Stouffville, Ont., says pool owners almost have to become experts before they can make sound decisions. "If there's one tip that's better than all of them, it's educating yourself," Clark says.
The prospective owner of an in-ground pool confronts a number of choices. The first is determining whether a vinyl, fibreglass or concrete pool best suits their budget and needs. Each option has its pros and cons. Vinyl is most affordable, starting at $20,000. A concrete pool lasts the longest and is most customizable. It's a strong candidate for the wisest long-term investment, but it's the most pricey option at $60,000 and up.
That's just the shell of the pool. "I always tell them the pool's the cheap part. It's the stuff they put around the pool that's expensive," says Steve Rowe, owner of Custom Pool and Spa in London, Ont. Rowe prefers to sell customers a package that include items like decking, which other companies price as extras even though they're essential. Rowe says his company's all-in-one approach saves customers money because they probably can't get the same deals from subcontractors.
Approached that way, $35,000 is entry-level for a pool project, and that gets you a vinyl pool with some decking. A concrete pool will cost at least twice as much. A seven-figure house practically demands a six-figure pool project, custom designed and built in concrete. Lori Merritt of Trasolini Pools, which caters to an upper-middle-class clientele in Vancouver, says her customers pay about $150,000 by the time the first bather takes a splash.
From there, the options multiply. This is where customers have to be careful. "They're going to add the 'might-as-wells,' I call them," says Nicholas Bott of The Pond Clinic in Carp, Ont., near Ottawa. For a vinyl pool, you might as well buy wider-than-standard stairs, which will cost from $800 to $2,000, as well as an automatic pool cleaner. These have become smarter and more effective in recent years; they typically cost in the hundreds and save you a couple hours of work per use. Rowe advises customers to never buy an ordinary pump. Energy-saving variable-speed models do the same job by only running part of the time. Around $1,200, they use a small fraction of the power of a standard pump that runs continuously until you shut it off. Variable speed pumps "are saving the customer up to $800 annually," Rowe says.
Photo gallery: Pools for every budget »
Beyond that, available frills are just nice-to-haves. Tile ($4 to $55 a square foot) and stamped concrete ($12 a sq-ft) make the pool and patio look more attractive. You can probably live without fibre optic light systems that change colour, but if you or your teenagers think it sounds cool, it'll be $1,600 to install. A waterfall is a lovely touch at $5,000, as is an infinity edge at $10,000. Some owners like to have a push-button retractable cover ($20,000), while others shield the entire pool area in a weather-proof telescoping glass enclosure (around $35,000; all prices vary according to pool size).
The wildest of all contemporary options is the natural pool, an artificial pond that uses plants and gravel to filter the water and make it fit to swim in. "There are certain plants that act as natural filters, and render the water practically sterile. It's like having a really clean lake in your backyard," Bott explains. Households torn between buying a pool versus a cottage might see a natural pool as an in-between compromise. Natural pools are relatively costly to install at $70,000 to $250,000 but need practically no chemicals to maintain.