If you're looking to up your grill game this barbecue season, there's only one way to go—it's time to get a smoker. Some barbecues can simulate the effect, usually with a separate attachment, but the only way to properly infuse food with deep, smokey tastes and textures is with a dedicated smoker. Here are three of the best smokers available.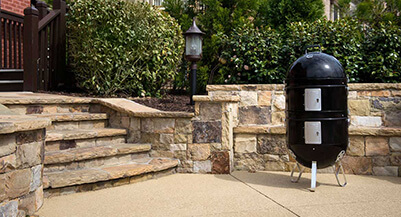 Best overall
Napoleon Apollo 300 Smoker
$399 | napoleongrills.com
Napoleon Grills may not be as big a name as its better-known rival Weber, but the Barrie, Ont.-based company's product smokes the competition. The Apollo is similar to Weber's Smokey Mountain Cooker in that both are black, metallic tubes that look like a cross between a rocket ship and R2D2. Both are also modular, with separate bases, lids, grills and mid-sections. The Apollo, however, is more versatile. Its two individual mid-sections can be stacked on top of each other for big jobs, or removed for a smaller amount of food. Shrinking the size of the unit means it's easier to maintain a consistent heat.
The Apollo also has hooks on the inside of the lid for hanging food items and its doors are smaller than Weber's, which helps keep more heat in when adding charcoal. The instruction booklet is full of handy tips, and at $399, the Apollo is a bit cheaper than the Weber model.
Easiest to Use
Bradley Original Smoker
$399 | bradleysmoker.com
Hard-core aficionados frown on electric smokers, but they're the obvious choice for people with no patience for charcoal. The Bradley Original Smoker, which resembles a small beer fridge, is the ideal device for newbies. Simply plug it in, dial up the desired temperature and place your food on the racks. The only effort required is keeping its silo filled with puck-shaped, flavoured wood-chip bisquettes. It's not truly authentic smoking because there's no charcoal involved, but with results this good, it's hard to complain.
Most Dependable
Weber Smokey Mountain Cooker 22.5-inch
$449 | weber.com
The 22.5-inch Smokey Mountain Cooker is a reliable workhorse that has a few valuable features that are missing on Napoleon's Apollo. For instance, the main access door is slightly larger, which offers better access to the charcoal compartment, while the lid has two handles instead of one, making it easier to lift when hot. Also because this smoker is bigger it offers more grilling area than a fully assembled Napoleon—perfect for smoking large amounts of food.