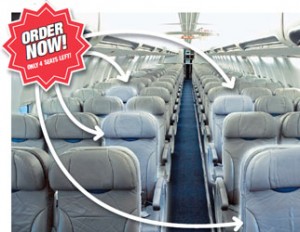 As the frigid temperatures creep across Canada, you've turned to your computer to book a trip to a sunny destination. Cruising the web you come across a fabulous deal: seven nights in the south at a heavy discount. But there's a catch: there are only four seats left at this price. Should you pounce on this deal? Not a chance, say industry experts.
"The best method for driving urgency in the online travel market is a time-sensitive offer," explains Jonathan Tafler, general manager for two of Torstar Digital's online travel portals, Jaunt.ca and Travelalerts.ca. That's usually the reason for those "four seats left at this price" warnings. "It's more of a marketing ploy," Tafler says. "It's not always genuine."
"Rooms and seats are released in blocks," explains Robert Kokonis, president of Toronto-based aviation consulting firm AirTrav Inc., making it harder to determine how many seats or rooms are actually left until much closer to the departure date.
But there are ways to snag a great online vacation deal. The first rule is always confirm—either online or by using toll-free numbers—with an airline or hotel if there really is a shortage of seats or rooms. Next, consider these five tips for getting the best online deal possible when you're booking your next trip.
Use a consolidator. Sites like Expedia.ca and Kayak.com—called travel consolidators—gather price information from hundreds of sources. "The best way to use consolidators is to price-compare," says Tafler. "Ideally you want to visit three different sites." Patrick Sojka, who operates Rewardscanada.ca, adds that you should also check an airline's website, as long as it's not a complicated trip.
Be flexible. If you live within a couple of hours' drive of more than one airport, it can be a good idea to check out the cost of flights and all-inclusive vacations from all of these options.
Buy early. Most airlines and hotels start to increase their prices 21 days before the flight or check-in date. They also jack them up at 14 days, and then again at seven and three days beforehand. These increases can occur even earlier for international travel, so if you have a tight schedule, it's best to purchase earlier rather than later. "I try to book at least 30 days before travelling," says Josey Miller, Tripadvisor.com's travel expert.
Buy late. If you're just interested in getting away and you're not fussy about the details, consider booking at the last minute. Airlines, all-inclusive packages and hotels offer amazing deals when they're looking to fill to capacity. For 11th-hour travelers this can mean as much as 50% to 75% off the original price.
Buy on a cheap day. Miller says she always avoids booking any portion of her trip on a Sunday, when prices can skyrocket. "I always research prices and then book on a Saturday, Tuesday or Thursday, when prices are typically lower," she says. The same applies for the actual departure date. According to Farecompare.com, the cheapest day to fly is Wednesday, followed by Tuesday and Saturday.
With files from Paul Brent