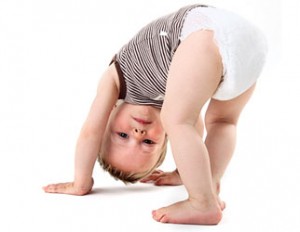 MoneySense magazine recently found that the average cost of raising a Canadian child to age 18 in a typical two-child family is a staggering $243,660. However, there are ways to ease the pressure on your budget.
Get 50% off diapers
Just one year of disposable diapers can cost as much as $1,000, but you can slash that expense by 20% to 50% if you borrow some techniques used by "extreme couponers." Candace Anderson of FrugalMom.net says the best strategy is to find two-for-one coupons on flyers and online coupon sites (flyerland.ca and smartcanucks.ca are good bets). Then wait until that brand goes on sale in your local store. That way, you not only get a discount off the usual price, you get two packs for the price of one.
Another tip: You can also get on the mailing lists of the major manufacturers via their websites and they will send you coupons.
Help your student save on textbooks
University students — and their parents — are often shocked to find that in addition to paying soaring tuition fees, they have to shell out another $1,000 or so for books. You can save 25% by hitting up the university's book store early and scouring for used books. Another option is BigMama.ca, a site where Canadian students can "rent" a textbook for a semester, saving up to 75%.
$7200
You can get up to $7,200 in free money from the government to help pay for your child's university or college education. The Canada Education Savings Grant will contribute up to $200 for the first $500 you save in an RESP each year, and up to $400 on the next $2,000 saved, depending on your income.
They look cute, but watch out
Watch out for kiddie-sized snak paks and other adorable food products marketed to children. They look cute as a button, but usually all the manufacturer is doing is putting adult food in tiny packages and selling it at an inflated price. "You can save so much money by just portioning the food out yourself," says personal finance blogger Kerry Taylor. "Instead of buying a package with small pieces of cheese and crackers, buy crackers and slice the cheese yourself. Boom — you have an instant snack."
Just say 'no'
Your kids may be constantly demanding the latest Nintendo DS systems and Harry Potter Lego sets, but studies show that experiential purchases, such as family vacations or guided hikes, provide more happiness. If you have a limited budget for gifts, you should focus on memorable activities that the family can do together.
Save on sports
Want to save on gear for your kids? Ask the team organizer if any parents from previous seasons have donated old equipment or might be willing to sell it. Also check out used sporting equipment stores. (But always buy helmets and masks new.)
Let the government chip in
Make sure you're taking full advantage of all the tax credits and government benefits that are available for families.
Canada Child Tax Benefit
This is a tax-free monthly payment made to eligible families to help them with the cost of raising children under age 18.
Universal Child Care Benefit
This payment of $100 per month per child is available for each child under the age of six, regardless of the family's income. If you're receiving the Canada Child Tax Benefit and you're eligible for UCCB, you'll get it automatically. You can also apply through the Canada Revenue Agency.
Children's Fitness Tax Credit
Parents can claim up to $500 per child towards the cost of registering their sons or daughters in a prescribed program of physical activity.
Read the rest of the series here:
Cut your work related expenses
Ten ways to trim your household spending
Six ways to save a bundle on your next getaway
Luxury goods for less
Save money on kids' expenses
Slash your food costs now
Save $750 a month