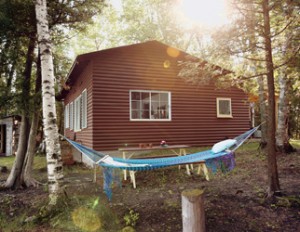 We're a mostly city-dwelling people, but for many Canadians, the heart resides at the cottage. When it comes to living—really living—we jump in our SUVs and head for that special, magical place by the lake. Once there we spend our days swimming, fishing, paddling and water skiing. And when the sun dips below the horizon we sit by the fire, a glass of red wine in hand, and watch the stars light up the night sky.
Of course, not all cottages are created equal. Some are vast and opulent edifices with indoor plumbing, outdoor Jacuzzis, $10,000 stereo systems and the latest appliances and furnishings. Others are mere one-room shacks with propane lights, wood stoves and treks to the outhouse for nocturnal ablutions. Whatever your taste and budget, there's an endless array of options for equipping and furnishing your particular piece of paradise.
The no-frills getaway
No cottage is more simple, more spartan—or cost-effective—than the one built by my parents on a lake near Kingston, Ont. It is, by any standard, tiny: a single bedroom and a kitchen area with a counter, cupboards, a small table for eating and a pull-out couch for guests. The floor is sheet linoleum, which cost about $1 per square foot.
Climate control, such as it is, is provided by a portable $40 electric heater for those cool mornings and evenings. There is a small electric bar fridge, with meals cooked outside using a Coleman stove or grilled over coals in the fire pit. A well with a cast iron hand-pump yields fresh, cold water, carried to the cottage in buckets for drinking, cooking and washing up. There is an outhouse that doubles as a home for palm-sized dock spiders, which my parents do their best to ignore.
They absolutely love this monastic, no-frills set-up. Why? My folks' four-bedroom home in Ottawa features a large yard, extensive gardens, and a daily regimen of mowing, trimming, weeding, raking, painting, gutter-cleaning, and assorted repairs, maintenance and chores. Their goal was to get away from all that, to focus solely on rest, relaxation and the aforementioned swimming and star gazing.
Dress for distress
That approach makes a lot of sense to Bruce Clark, owner of the iconic cottage outfitter The Muskoka Store in Gravenhurst, Ont. A cottage is not a home, he points out, so when it comes to decor and furnishings, the same rules don't apply. "The cottage is an abusive environment, and it's always good to have furniture that improves as it becomes distressed—materials like leather and wood, where if they get banged up the bruises add to the attractiveness," says Clark. "It's all about creating a certain comfort level where people aren't afraid to come in with their boots on, or afraid to sit down."
The Muskoka Store offers custom-made log-style wood furniture starting at $59 for a footstool and $2,000 for bunk beds. For maximum rusticity, and a bit more money, the entire line can be purchased with the bark still on.
Clark advises cottage owners to forget the formal dining room—"it never gets used"—and concentrate instead on fun furniture and unique conversation pieces. "Get creative. Don't be afraid. Suspend chairs from the rafters, use a dentist's spit bowl as a lamp. There are so many things you can do to add interest and atmosphere to a cottage, especially when you use items in ways other than their original purpose."
Campy and creative
Out east, where cottages are camps, retired teacher Barb Fullerton shows how to put this philosophy into practice—and save a bundle in the process. Her camp, built six years ago on the Saint John River near Fredericton, features "an eclectic collection of furnishings, mostly second-hand and recycled." Things like a dining table made from a piece of plywood and painted with a mural of the tea-party scene from ?Alice in Wonderland , surrounded by a mismatched set of wooden chairs.
Fullerton says she's "the cheapest person in the world," and she's proud of it. "I had a limit of $10 for chairs, and then I painted them bright colours, like greens, blues, reds and yellows." And there's more of the same: the cottage boasts various tables and shelves purchased for between $1 and $5 at yard sales. Beds and bedding were donated by family members, and dishes and cutlery were either gifts or dollar store finds.
Amazingly—or perhaps not—none of it looks cheap or chintzy. All of the items come together to create a quirky, warm space that's brimming with personality. Says Fullerton: "Although I do not pretend to be an artist or decorator, let's just say [Nova Scotia folk artist] Maud Lewis is my muse. Her and Scrooge."
The pampered camper
Not everyone feels the need to compromise on luxury at the lake. For well-heeled cottagers, upping the posh quotient can be as simple—yet transformative—as adding a Jacuzzi hot-tub. Models on the market today include underwater lighting, stereo systems with iPod docks, and a dozen or more therapeutic jets to ease sore muscles after a day of water skiing or wood chopping. Prepare to pay $10,000 or so for a top-of-the-line five-seater, and an additional $10 or so per month in energy costs to keep the water steaming and the jets jetting.
Sophisticated al fresco cooking can also add a touch of class to the cottage experience. For those wanting all the amenities of home, "outdoor kitchens are becoming very popular," says Bruce Clark. "Not just barbecues, but full kitchens with prep areas, taps, sinks and stovetops, even fryers. It allows you to prepare meals in the open air without over-heating the cottage during the summer months."
Prices range from $3,000 or so for a simple setup, to $30,000 or more for standalone islands with stone counters, roofs, wood-burning ovens, gas ranges, stainless steel refrigerators and built-in wet bars.
Off the grid
One thing Barb Fullerton doesn't have at her camp is electricity: she makes due with propane appliances and lights. Not everyone, however is willing to make that concession. Hard by the shores of the wild and remote Coulonge River in western Quebec, where power lines are but a distant rumour, graphic designer Scott Sigurdson built his dream cottage—complete with power he generates himself.
His system involves solar panels capable of producing 350 kilowatts per hour on a sunny day. Those feed a battery bank comprised of four six-watt L-16 batteries—the same kind used in golf carts—which in turn are fed through a five-kilowatt inverter, turning the DC power of the batteries into the alternating current necessary to run power tools and a variety of appliances specially selected for their energy efficiency.
"Typically, the largest single user of power at a cottage is the water pump," says Sigurdson. "Normal water pumps are relatively huge, at up to two horsepower, and they can draw 5,000 to 6,000 watts when they start up. I use the smallest pump you can get at 1/3 horsepower, and it has slow-start technology, which means there isn't a large initial draw—a big power spike— when it starts up."
His refrigerator, too, is a purpose-built unit encased in six inches of insulation. "It's a top-loader so the cold air doesn't pour out when you open the lid, and it runs on 24-volt direct current so it doesn't have to go through the inverter," Sigurdson explains. "It uses only about 60 watts a day, as opposed to the 1,200 to 1,400 watts a regular refrigerator uses, so it's radically more efficient."
The lights, meanwhile, are tiny seven- to nine-watt fluorescent bulbs, "so when we have every light on in the cottage we're not even using 100 watts."
The whole system cost about $10,000, and is capable of powering the cottage for three or four days at a time. "I can run everything I want for a long weekend, but then I have to give the batteries time to recharge." Moreover, Sigurdson says that since he installed the system in 2009, the price of solar panels has dropped by more than half, "meaning that today you could get a lot more power for the same buck."
For cottagers looking to build similar systems, he offers the following advice: "Make sure your inverter is big enough for the job, so the lights don't dim every time the water pump comes on. Put your solar panels on adjustable racks, so you can align them with the sun as the seasons change. And if I were doing it again, I'd probably not use the L-16 batteries because they're so heavy and difficult to move. I'd replace them with a dozen or so heavy-duty 12-volt batteries, which would end up costing about the same and having the same storage capacity."
The great outdoors
What you do outside your four cottage walls can make all the difference. If you're not ready to shell out thousands on a fully kitted solar system, you can still easily afford landscape and pathway solar lights for after dusk. These provide just enough candlepower to illuminate dark walkways or the waterline, but not so much that they interfere with stargazing. They can be purchased in packages of 10 or more for as little as $40, and installation is as simple as sticking them in the ground: they generate their own electricity and come on automatically at night.
Solar showers are also a nice touch, especially in cottages without plumbing. For as little as $30 you can buy solar bags that you fill with water and hang from nearby tree branches—they'll heat water to 35°C in as little as two hours.
There are countless more ways to customize your cottage's property, including screened-in gazebos for when the bugs are biting, or modular docks that can be packed away for the winter. The key is to ensure that your accoutrements complement, rather than overpower, the natural environment. After all, enjoying nature is the reason you're there in the first place: as Clark points out, a cottage is not a home. It's better.
For more cost-effective cottage ecofittings, visit our Equip your cottage photo gallery.