When it comes to home theatres, choosing the right TV is only the start of the process. Recent advances in TV technology have made other components including sound, networking and lighting more important than ever. Here are a few things to consider when building a home theatre.
Audio
The bad news is that thinner TV screens have resulted in poorer built-in speaker quality. To maximize your fancy new TV, you'll likely need to add a sound bar or surround sound kit. The good news is, like with most consumer technology, prices for decent quality speakers are coming down.
If all you're after is a wired device to amplify your TV's existing volume and sound capabilities, a lower-end sound bar in the $400 range should do the trick. For a bigger home theatre experience, complete surround sound setups, with a number of receivers, speakers and subwoofers are available at varying price points, range from $700 to $5,000 and up.
"The sound system is where the bulk of the home theatre budget should go," says Igor Kivritsky, general manager at Hi-Fi Centre in Vancouver. A poor sound system will treat a video game, movie or hockey game the same way. A quality system on the other hand offers clarity, detail and depth of sound with appropriate bass and frequency for various content types.
Dolby Atmos, which first debuted in movie theatres in 2012, propagates sound in a 3D space instead of pushing sound from one speaker to another. The result is sound that feels like it's passing through the air around you. You can achieve this in your home by using an Atmos-enabled receiver with speakers mounted to the ceiling or lower down but pointed up to bounce the sound off the ceiling.
Blu-ray players and streaming devices that support Dolby Digital Plus can pass Atmos surround sound information through to the receiver. The latest Blu-ray players as well as Roku and Apple TV devices already support this feature. Not all movies do, however. There are about 150 movie titles that support Dolby Atmos, going back to 2012.
While wired deployments are still the primary installation method, wireless options are becoming more popular.
They work with wireless transmitters, usually placed in the system cabinet, that "talk" to a receiving module with either a built-in amplifier or line outputs to an amplifier to drive the surround speakers. "It's a good alternative to running wires or hiding them when it's difficult or too invasive," says Fred Breitner, owner of Great Metropolitan Sound in Toronto.
Either way, a professional installer may be required.
Acoustic wall treatments can also help augment a room's audio resonance. These are mainly 2 x 2 panels glued to walls, made up of various materials, usually the same foam used in recording studios wrapped in fabric. They can be decorative and come in different sizes, shapes, patterns and colours. They are also strategically placed, using a computer software modelling program to determine where they will work best.
"There's no such thing as a room that sounds perfect out of the gate, and a functional decoration like that can be of immense benefit," says Kivritsky. Panels can be scaled up in size. Covering a whole room typically costs $10,000-$15,000, but even at $1,500 for some well-placed panels, there will be a substantial improvement."
Networking
This is the newest addition to the home theatre and for some, the most intimidating. The key here is to remember that Internet bandwidths and speeds have increased to the point where streaming content has finally become viable, offering you more bang for your home-theatre buck. Think about it this way: If you're going to spend thousands of dollars on a home theatre, it makes sense to ensure it's equipped to not only handle Blu-ray discs, but also tap the bevy of high-quality programming available on Netflix and Shomi, for instance.
While most newer model TVs are Wi-Fi-enabled for easy access to various streaming services via Roku, Apple TV and Chromecast devices, you may want to consider hard-wiring Internet directly to your home theatre to avoid fluctuations in connectivity and picture quality.
Adding a third-party router will help you get the most out of your connection since Internet service providers typically use the same device as both a modem and router. Apple, Linksys, Netgear, D-Link and Asus all have excellent routers, with the best usually in the $200-$300 range. If your router is in a different room in the home, wireless access points (WAPs) or "bridges" can be used to link the two.
"A typical situation would have the connection coming from the basement, so for a three-storey house of, say, 6,000 square feet, the best place to have a WAP would be on the second floor at the other end of the house to cover the second and third floors," says Fred Breitner, owner of Great Metropolitan Sound in Toronto. "We don't like having to make holes in people's homes, but will do it if it's necessary."
Powerline adapters are another method, though not quite as efficient. These use adapters that plug into wall outlets, both near the router and at the home theatre, routing the Internet connection through the home's power grid. While convenient for homes without good infrastructure, the throughput may not be fast enough for more demanding setups, says Breitner.
Lighting
This is the element that has come down in price most in recent years—the advent of energy efficient LEDs and Wi-Fi connectivity are the main reasons why. Where intricate and remote-controlled lighting used to cost a considerable amount to install, it is now largely a do-it-yourself affair.
Dimming capabilities are an important function of any home theatre lighting system because harsh lighting can impact the way colours pop onscreen. You'll want to adjust the lights differently for film for instance, than you would for, say, a sporting event.
Philips Hue is a line of smart bulbs and lamps that fit most fixtures and can be programmed to match any home-theatre environment, with up to 16 million colours and combinations to choose from. Presets or "scenes" can be controlled via the free app for iOS and Android devices. Hue lights are also dimmable and work with up to 250 third-party apps too.
The line also includes LightStrips—a 6.5-foot flexible strip of small LEDs that can be placed almost anywhere, be it under a couch, behind a TV, behind an entertainment console—wherever you feel it adds to the experience.
If colours aren't your taste, Belkin's WeMo line of home automation products includes a crop of smart lighting products. The WeMo Smart LED Bulb comes in a kit of two 60W-equivalent bulbs with a Wi-Fi link. One link can manage up to 50 smart bulbs, all of which can be dimmed through the free WeMo app for iOS and Android.
Whether you go with smart bulbs or not, positioning is key. Pointing bulbs at an angle to diffuse light against a wall is another great way to create ambience without causing reflections on the screen. If your room is also used to entertain guests, consider adding either standing or table-top lamps, or both. And if your home theatre room has a lot of natural light, consider blackout shades for optimal viewing.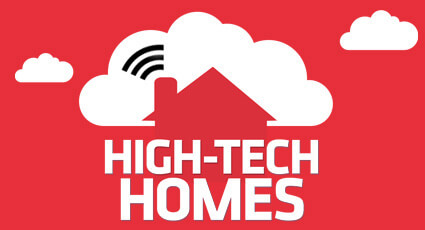 Video Series
The Connected Bedroom »
The Connected Bathroom »
The Connected Kitchen »
The Connected Home Theatre »
The Connected Outdoors »