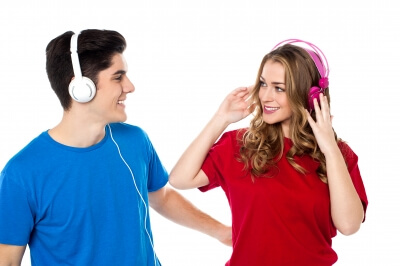 Google recently launched its all access music subscription service in Canada for $9.99 begging the question: Which streaming music service is best? And do you really need to pay for it?
Americans have enjoyed deluxe music storage and streaming services for years thanks to apps such as Pandora, Beats and Spotify. Canadians on the other hand, have largely gone without, combining virtual stores such as Apple's iTunes for purchases and storage with free apps such as 8tracks, Grooveshark and Songza for music sampling. These freebies offer a wide-range of playlists to explore based on your mood or musical tastes but come with restrictions including limited skip functionality and pesky ads. The biggest drawback to these free streaming services however is that they don't offer music purchase or storage options for easy access on any device as well as offline use.
Enter Google Play Music and its competitors Rdio, Deezer and Slacker. These paid services allow users to build personal libraries, provide recommendations, curate playlists and offer music downloads for times when Wi-Fi is not available (think driving and running).
"I think (they're) great for people who are really into music," says MoneySense technology writer Peter Nowak. "But there are a lot of people who are just kind of into music."
The latter group is probably better off saving the roughly $120 a year by making the most of the free options listed in the chart below. Avid music collectors on the other hand may find value in the paid services for convenience and curation reasons. Stuart Johnston, president of the Canadian Independent Music Association, says streaming offers listeners perks that buying individual albums or tuning into the radio do not.
"There's an argument to be made that this is a great way to level the playing field to discover music," he says. "They all have different strengths. Take them for a test ride."
While Google and its competitors fight to become the Netflix of the music streaming world, MoneySense has gone ahead and tested the most popular free and paid services to help find the right one for you.
Best paid app: Rdio
If you're the type of listener who is willing to pay, Rdio is our favourite service. It's easy to navigate Rdio's collection of 25 million songs (including French language music) thanks to its clutter-free design. Building libraries is a snap when you reference chart-topping and most popular lists as well as new releases and Rdio's personalized recommendations. The app also lets you follow what other Rdio users listening to. There are no download wait times and album thumbnails will appeal to more visual users.
Best free app: Songza
If you're more into making the most of a free service, we liked Songza the best. The "concierge" dashboard serves up playlists for every type of activity from cooking to deleting an ex's phone number and by what's trending. Or search by playlists by genre, activity, mood, or decade (as far back as the 1920s). As an added bonus, each playlist has a brief explanation of what to expect so you're not going in blind and you can star your favourite playlists for future listening. But the most impressive feature just might be that Songza's lists are curated by professionals, not randoms or robots. It's like having a live-in DJ.
These suggestions may not be the winners for you. Check out the options to find your best fit.
| Service | Price | Pros | Cons | Who is it for? |
| --- | --- | --- | --- | --- |
| Google Play Music | $9.99/month* | Store up to 20,000 songs, explore music recommended for you | Not available on Windows, need Google+/Gmail | The music nerd who wants it all, loves Google+ and uses Gmail |
| Rdio | $9.99/month** | The clean and organized design makes it easy to find what you need | Easy to accidentally download single song instead of full album | The hipster who craves new music and needs offline access |
| Club Songza | $0.99/week | Listen without audible or visual ad interruptions | Can't store individual albums | The poser who can't be seen with ads on display |
| 8tracks Plus | $4.16/month | No ad distractions while listening, get a 'plus' badge on your profile | No album art | The super snob who can't soil their masterpiece with display ads |
| Deezer Premium | $4.99/month | Your subscription is valid wherever you travel | Missing genre tabs like indie, ska, blues, folk, need Internet connection | The experimental listener who could be anywhere on the map |
| Deezer Premium Plus | $9.99/month*** | Your subscription is valid wherever you travel, can listen without Wi-Fi | Missing genres tabs like indie, ska, blues, folk | The experiemental listener who needs offline access |
| Slacker Plus | $4.99 | Download stations to listen without Internet | Must upgrade to listen to any artist on-demand | The impatient listener who needs to bypass hosts, ads and songs |
| Slacker Premium | $9.99 | Download stations to access without Internet, hear anything on-demand | Not very visual | The impatient listener who also needs on-demand access |
| Xbox Music | $9.99/month**** | Stream your favourite artists or stations while gaming or on any device, build your own library for offline listening | Two-step sign-up process requires Microsoft account and Xbox Music Pass. Missing personalized artist recommendations | The gamer who wants to blast tunes while playing their favourite game |
| Google Play Music | Free | Store your music all in one place and access it from any device | You can access only your locker but none of Google Play's features | The loyal Google fan who already has the music they need |
| Songza | Free | Playlists suitable for every mood, activity or group of friends | Limited skips | The hostess with the mostest; playlists for every occasion |
| 8tracks | Free | Create your own playlist option | Default playlists not created by pros | The snob who'd rather create their own playlist than listen to someone else's |
| Deezer | Free | Just like radio with the ability to skip songs, make playlists, or store albums | No descriptive blurbs for stations other than genre tagging | The experimental listener who'll try anything once |
| Slacker | Free | Artist bios and reviews available | Annoying audible ad interruptions | The noncommittal listener who isn't bothered by interruptions in the form of ads |
*30-day free trial; $7.99 if you sign up before June 30
**14-day free trial
***$4.99 for first six months
****30-day free trial; 12-month pass for the price of 10 months
Updated on Wednesday, May 21, 2014.