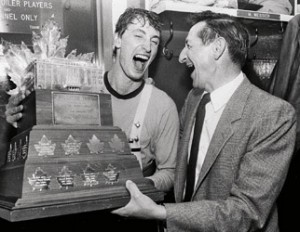 When my son Trevor recently signed a contract to play Major League Baseball with the Chicago Cubs, I was filled with the kind of pride only a parent can feel. That moment took me back to a similar experience in my own life, when I signed my first professional hockey contract with the Indianapolis Racers of the World Hockey Association. That was in 1978, shortly before I joined the Edmonton Oilers.
Like me at the time, my son was starting his first real job after school. And now that he was earning his own money, he'd have to start thinking about what he would do with it. When I was his age, people would come up to me saying, "OK, here's your pension plan and here's what you're going to be doing when you turn 50, and 55, and 60." To be honest, I had a hard time taking it too seriously. I mean, I was just a kid excited to be playing professional hockey. Any talk about my golden years seemed like forever down the road. Yet here I am now at age 51, retired from the sport I love. Time goes by quickly, and as I'd come to understand later in life, financial planning at a young age is critical for securing your future.
Thankfully, in my youth I had the best financial adviser a son could ask for: my dad Walter. I was raised in a very conservative family and Dad worked really hard to provide for all of us. So it should have been no surprise that his approach to money management was also conservative. When I got that first signing bonus in 1978, Dad took my cheque, announced, "This is what we're going to do," and bought an annuity with it. That's been very solid for me since day one. And so when my son turned pro and got a signing bonus, it was the same thing for him. "That's good," I said. "It's in the bank now, and you don't get to touch it."
[brightcove video_id="6023947306001″ account_id="6015698167001″ player_id="lYro6suIR"]
There's no question that as a professional athlete I have been very fortunate. As my dad told me, "You have this great opportunity. Follow your passion." At the same time, Dad warned me all this could end tomorrow. "You're not always going to be making that kind of money," he'd say. Professional athletes usually have a short lifespan—maybe six or seven years. In the NHL, very few players will have a career like Chris Chelios, who retired at age 48. So whenever young players ask me for advice I tell them to try to play as long as they possibly can. I had been skating from the age of two, then suddenly at age 39 it was over and done with. It was a big change.
The other advice I give to players is not to get caught up in all the business offers that come your way. Just concentrate on what made you the athlete you are today and put your money away. You'll enjoy your life that much more when you're retired. My business successes—my restaurant in Toronto and winery in the Niagara Peninsula—came much later in my life. These were ventures I was passionate about, and I heavily vetted them with my business manager, CFO and accountant. More importantly, I never risk more than 10% of my family's net worth at anytime because I've worked too hard to get to the position I'm at. I don't want to gamble my money away.
But that's the kind of thing I see all the time in everyday life. Too many hard-working people save $5,000 or $10,000, then invest it in a single stock based on a tip they've received. They put that money in and all of a sudden it's down to zero. There are only a few guys out there who are intelligent enough to turn $10 into $100 into $1,000. Personally, I'm a big bond guy. And, as I always say, there's nothing wrong with keeping your money in the bank.
When I do invest in equities, I do it through money managers who know my investment strategy is conservative. I take the same approach with real estate: I'm not a guy who buys office buildings. I buy properties that my family and I live in and enjoy.
All these habits came from my parents. Mom and Dad would never overspend: they were never outlandish. I mean, my goodness, when I was 10 years old my dad was borrowing $10 from his father so he could buy me a pair of skates. For me, it doesn't matter how much wealth you have, or how much you make in a particular year: you don't change your way of living. Stay true to who you are. That's how I've lived my life. I don't drive a $100,000 car. In fact, my kids sort of laugh at my car, but I don't mind. I still enjoy driving it.
The financial lessons my parents taught me are the ones I've passed onto my kids. Really, it's good advice for everyone.
Wayne Gretzky is a Stanley Cup champion, entrepreneur, founder of the Wayne Gretzky Foundation for less fortunate youth, and brand ambassador for TD Bank.