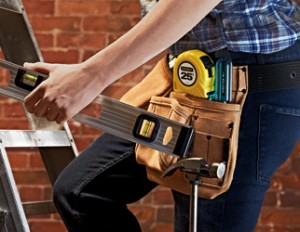 If you own a home, even a new one, sooner or later it's going to require some work: everything from collapsed gutters, to dilapidated fences, to even more ambitious projects like a complete kitchen overhaul.
Regardless of your level of ambition, there's a host of tools every homeowner should have. But even if you're a budding Mike Holmes, think twice before you start filling those cupboards with pricey tools: in some cases cheapies will serve you well, and often you're just better off renting.
If you do get the right tools and are up to the challenge of doing-it-yourself, the savings can be astounding. Toronto-based homeowner Rod Wilmot, an information technology worker by day, estimates he's saved a whopping $65,000 by renovating his kitchen, bathroom, bedroom and hardwood floors himself, instead of hiring contractors. "Of course, I had a lot of help from friends and family members," Wilmot says, "but everything turned out great."
The basics: $300-$500
If you're interested only in simple household maintenance there are some tools that are absolutely necessary. A hammer, for example. "Get one that weighs 20 ounces unless you're going to be doing a lot of framing or deck work, at which point you might want to bump it up to 28 ounces," recommends Keith Andreasen, Rona's resident adviser on tools and home renovations. And a tape measure, too. "You can buy them for $5 or $40, but you probably want something in the middle range," he says.
Inexpensive staples like screwdrivers, pliers, wrenches, levels and squares are also de rigueur, as is the indispensable cordless drill. "Before someone renovates a basement or redoes a kitchen, they have to get handy at hanging a picture, installing some IKEA cabinets or putting up coat hooks," says Ottawa based home designer, renovator and builder Moneca Kaiser. Cordless drill sets can be purchased for as little as $99 for an 18 volt Black & Decker, but it's worth it to spend $300 or more for a Makita or DeWalt—the main difference being durability. "Sometimes you get what you pay for," notes Wilmot, who admits he once dropped his DeWalt two storeys onto concrete, with few adverse effects other than some superficial scuffing and a few heart palpitations.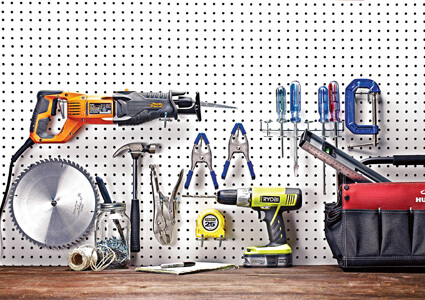 Woodworking: $500-$1,500
Remember that dilapidated fence? Or maybe it's a rotten deck. You can fix or replace those yourself, and save thousands of dollars in the process—and you don't need a bunch of complicated, expensive tools to do so. The first thing you'll want to purchase is a circular saw. A decent corded model will cost about $100, while $170 gets you a similar unit that runs off an 18-volt lithium ion battery. But unless you plan on cutting only thin, soft material, go with the corded model, recommends Ottawa-based contractor Mike George and owner of National Capital Electric. "Two-by-fours, plywood and fence posts will run your battery down pretty quickly," says George.
If you're going to be cutting a lot of angles—say putting points on your picket fence—you might also want to consider buying a simple miter. Basically a circular saw housed in a metal frame, the miter can be set to cut precise angles or to quickly and effortlessly cut boards to length. Douglas Thomson, editor of Canadian Home Workshop magazine, says most homeowners will be best served with a full-sized model with a 12-inch blade, which allows you to cut wood up to eight inches wide—perfect for those deck planks. Again, they don't have to cost a lot: a Ridgid runs about $500.
Speaking of deck planks, you'll want to fasten them down somehow. Increasingly the tool of choice is an impact driver. "An impact driver is like a drill, but the drive mechanism is slightly different, so it drives screws or undoes nuts and bolts much more efficiently than a drill ever would," says Thomson. "If you're building a deck and are going to be driving 500 screws, it'd be a great tool for that." Sets sell for as little as $150 for cheaper brands, rising to $500 high-end units.
Skilled work: $1,500-$5,000
Decks and fences are one thing, but what happens when you decide to tackle large-scale interior renovations, those bathrooms, bedrooms and kitchens? For starters, you're going to need more—and more expensive— gear. That simple miter saw, for example, will have to be upgraded to a sliding compound miter which allows for not only much wider cuts but bevelled cuts necessary for precision cabinetry and the installation of crown molding. A top-of-the-line Bosch model sells for $800, but Wilmot says homeowners can get by with a mid-range model for about $300. "You don't have to buy a professional-calibre tool because you're not going to be using it every day."
The same, however, can't be said for the venerable table saw— the largest, heaviest and costliest tool in the arsenal of most home renovators. Table saws are used for making long, precision cuts in a range of materials from plywood to hardwood and veneers. But do you absolutely need one? The jury's still out. Thomson suggests using a specific type of circular saw that has an added rail guide system (total cost for package about $500) for ripping large sheets of wood. Consider, too, that big box hardware stores will rip sheets for $1 a cut, adds Kaiser. A table saw is only necessary for those undertaking larger renovations and doing fine cabinet work, says George. "You'll probably want to spend $1,000 or more for a 220-volt model with a two- or three-horsepower motor that won't wear out." It might seem like a steep investment— but the key word here is investment. "A reasonably highquality set of kitchen cabinets can easily run you $20,000," George notes. "You can save half that or more by doing it yourself with a table saw and miter."
Another tool beloved by savvy home renovators, but too often overlooked by neophytes, is the pneumatic nail gun. All-in-one kits that include an air compressor, a hose and a power head holding a clip of nails cost about $200 to $300. These are ideal for everything from simple furniture and upholstery repairs, to nailing down hardwood flooring and installing trim. "You only need one hand to operate it," notes George. "It's ideal when you're working by yourself."
What else? A jigsaw is essential for curved cuts and interior cuts—holes for kitchen sinks or plumbing pipes, say—and a reciprocating saw is ideal for demolition work or cutting pipe and metal: both tools can be purchased for between $70 and $200. And if you're going to be cutting tile for bathrooms or kitchens, you'll need a wet saw, which sells for as low as $130 for a Ryobi, ranging up to $1,000 for a Bosch. The same rules apply when it comes to buying: highend tools used infrequently are a poor investment.
Cutting costs
Purchased at retail all of the above can add up. Fortunately, there are ways to equip your home workshop for less. "Sales on tools take place throughout the year, but Fathers' Day and Christmas are guaranteed to have some of the best deals," says Andreasen. The usual Internet sites—Kijiji, eBay, et al— offer a virtual smorgasbord of used tools at half-off their retail price or better. Some big-box stores sell refurbished rental tools, and federal and municipal government and school board websites often put their used tools up for auction, says Wilmot. "It's amazing the things you can find, everything from hand tools to industrial band saws."
However, just renting tools often makes the most sense: why would you spend $1,000 on a gas-powered post-hole digger when big-box stores like Home Depot lease them on an hourly or daily basis at a fraction of the cost? Same goes for floor sanders, gravel compactors, or generators: any piece of machinery you're likely to use only once.
OK, that's it. Get busy. That new fence or bathroom cabinetry isn't going to install itself.