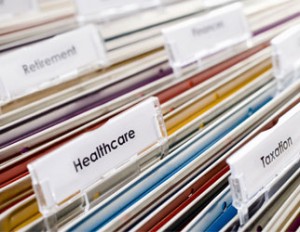 People in financial trouble are often messy with their money. They pay bills late, don't pay them at all, or pay the same bill twice. They transfer money back and forth between accounts, incurring overdraft fees because they miss by minutes. They take $100 out of the bank and 20 minutes later they're back for another $20, wasting money on ATM fees.
One of the biggest hits from Til Debt Do Us Part was the office-in-a-box. I've done a couple of speaking events where these were offered as prizes and people cried when they won them. Really.
You probably have lots of the stuff you need to build an office-in-a-box just sitting around your house. Here's the list of ingredients:
File folders
Hanging folders
Box or drawer to hang folders in
Pens and pencils
Eraser or white-out
Paperclips/stapler
Post-it notes
Calculator
Envelopes (if you're still paying bills my mail)
Stamps (see above)
The key to being organized is ensuring that everything has a place. Get all your paperwork together and create a file folder for each of your bank accounts, forms of credit, home, insurance, estate and taxes. Set them up in a drawer or box.
Create a monthly bill summary. List your bills in the date order they need to be paid to prevent you from missing a bill. If you have bills that are paid automatically from your account, write an "A" beside these bills so you remember to deduct them from your spending journal at bill payment time each month. If you have bills that are paid less than monthly (insurance, property taxes) write the month in which the bill is due to be paid.
Create two "Unpaid Bills" folders labelled "1-15" and "16-31". As soon as you get a bill, look at the due date on the bill and put it in the appropriate folder. On the 12th and 27th of each month, pay the bills that are due by the 15th and 30th. When you pay a bill, write the cheque or transaction number, amount paid, and the date you paid it on the bill. Put the paid bill in your "Bills Paid" file. Check each bill off your bills summary.  If a bill has not been paid in full (tax bills are paid over several months, for example) put it back in your Unpaid Bills folder so you don't forget it.
At the end of each month, review your bank statements and compare it to your spending journal to make sure there were no mistakes and once a quarter, file all your paperwork to keep your system current.
Clean up annually. Go through your files at the end of each year and throw out bills and receipts no longer needed for auditing/budgeting purposes.
Staying organized isn't tough, but does require some discipline. If you're spending time watching TV or hiking a beer on a Saturday afternoon, you have time to get your money mess cleaned up.