Anticipation, trust and fear. These are the most intense emotions that Canadians feel when deciding how to invest, a new poll for BMO has found. Ideally, the heart doesn't weigh in on money matters but the evidence suggests otherwise. Take a look at this snapshot of the bank's finding's below: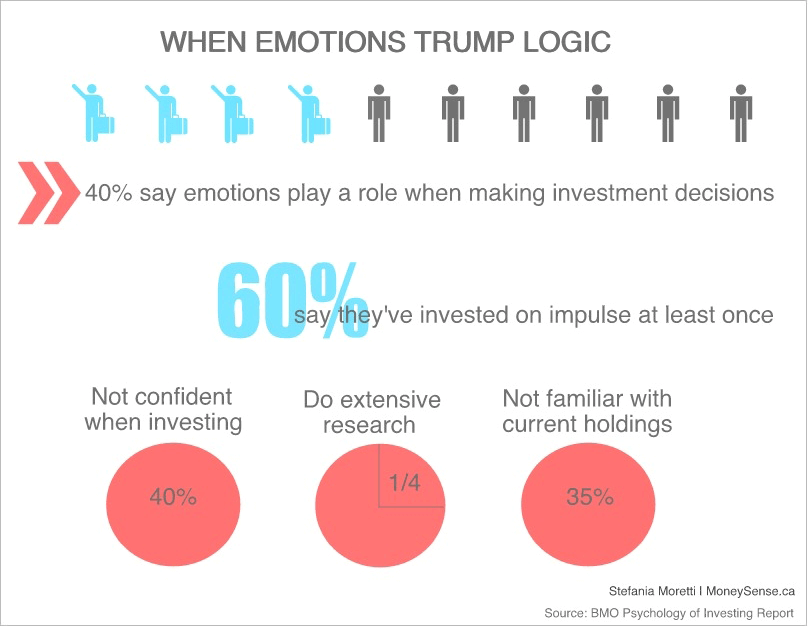 Human nature is only part of the problem however. A large portion of investors admit to not doing the necessary legwork to feel good about their choices. Only one-quarter do careful and extensive research before making investment decisions and just 16% of respondents  said they are "very familiar" with the actual investments they hold in their portfolios.
"While we're only human, wise investing means more than simply following your heart," BMO Asset Management Inc.'s Serge Pépin said in a press release. "It's critical not only to take the time to understand the market environment before making any financial moves, but also to ensure you're in the right frame of mind to make such decisions."
Reading the business pages of newspapers and magazines, doing research online and seeking advice from financial professionals can help to ensure an informed investment decision-making process, Pépin added.
The survey results cited in the BMO Psychology of Investing Report are from online interviews with a random sample of 1,000 Canadians 18 years of age and older, conducted between Nov. 6 and Nov. 8, 2012. A probability sample of this size would yield results accurate to ± 3.1%, 19 times out of 20.