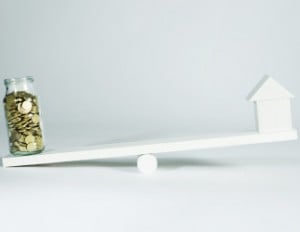 UPDATE: Since this story was first posted earlier on March 8, TD Bank announced a four-year fixed rate mortgage at 2.99%, representing a roughly half a percentage point cut.
***
Canadians will soon be able to lock into a 10-year mortgage below 4% with a major bank.
Bank of Montreal has slashed a number of its lending rates including its benchmark five-year fixed rate mortgage to 2.99% with a 25-year amortization period. The bank also introduced a new 10-year product at 3.99%—a first for a major bank.
The offer is on the table until later this month and could ignite a rate war among Canada's biggest banks, according to Queen's University business professor and real estate expert John Andrew.
Andrew suspects BMO's aggressive promotion is a way to entice homeowners into shorter-term mortgages and put pressure on the federal government to further tighten lending rules.
"That's a good thing. (A 25-year amortization period) is a more responsible loan," he said.
And although cheaper lending costs are great for consumers, Andrew is wary of the dangers associated with them. BMO, he said, needs to do its homework on what will happen to these mortgages  five to 10 years down the line when interest rates could be twice as high.
"I really hope that they are stress-testing that mortgage and looking at the borrower's ability to have that mortgage at a much higher rate."
Both Finance Minister Jim Flaherty and Bank of Canada Governor Mark Carney have cautioned that rising household debt levels in Canada present a downside risk to the domestic economy.
In the meantime, ultra-low rates could blow additional hot air into Canada's already brisk real estate market, Andrew said.
"These low mortgage rates, I think, will just keep prices climbing steadily."
Only a rate hike by the central bank and higher requirements for down payments will snuff prices, he said.
Carney left the central bank's prime rate unchanged at 1% Thursday.