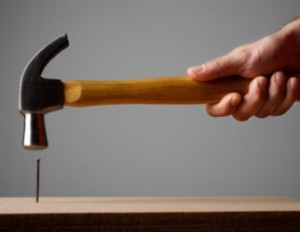 Now that RRSP season is over, it's time to set our sights on April 30, the day your tax return is due. While it's still a little less than two months away, it's never to early to start getting those bills ready. (I'm trying hard, for the first time, not to scramble at the last minute.)
While most Canadians won't have too much work to do — send in your T4 with your tax return and that's it — it's important not to forget some of those tax credits that could put a little money back in your pocket. I'm going to talk about a few of these credits leading up to April 30, starting with the popular Home Renovation Tax Credit.
Home Renovation Tax Credit
It's been a long time since a tax break has resonated so well with the public. An RBC survey released in October said about 63% of Canadians were going to take advantage of the HRTC, while 47% had already done renovations when the poll was conducted. This might sound like a no brainer, but in order to claim the credit, you have to submit your bill. I made the mistake of paying in cash for a renovation — and therefore not getting a receipt — so I can't claim the work. (I made sure to get the bill for a second small reno on my house.)
It's also important that your contractor put his/her GST number on the receipt. It's important to note that if your contractor was a relative, they need a GST number. Just getting your dad to redo your floor won't count — if he can claim GST though, it will.
Double check your bill and make sure it has these other items on it (from the CRA website):
a description of the goods and the date when the goods were purchased;
the date when the goods were delivered (keep your delivery slip as proof) and/or when the work or services were performed;
a description of the work performed including the address where the work was performed;
the amount of the invoice;
proof of payment (receipts and invoices) – invoices must indicate "paid" or be accompanied by other proof of payment, such as a credit card slip or cancelled cheque
You also want to make sure you're claiming the credit for something that's eligible. Hopefully you checked this out before you did the work, but just in case, here are the tasks the HRTC can be used for:
Renovating a kitchen, bathroom, or basement
Windows and doors
New flooring – carpet, linoleum, hardwood, floating laminate, etc.
New furnace, woodstove, boiler, fireplace, water softener, water heater, or oil tank
Permanent home ventilation systems
Central air conditioner
Permanent reverse osmosis systems
Septic systems
Wells
Electrical wiring in the home (e.g., changing from 100 amp to 200 amp service)
Home security system (monthly fees do not qualify)
Solar panels and solar panel trackers
Painting the interior or exterior of a house
Building an addition, garage, deck, garden/storage shed, or fence
Re-shingling a roof
A new driveway or resurfacing a driveway
Exterior shutters and awnings
Permanent swimming pools (in ground and above ground)
Permanent hot tub and installation costs
Pool liners
Solar heaters and heat pumps for pools (does not include solar blankets)
Landscaping: new sod, perennial shrubs and flowers, trees, large rocks, permanent garden lighting, permanent water fountain, permanent ponds, large permanent garden ornaments
Retaining wall
Associated costs such as installation, building plans, permits, professional services, equipment rentals, and incidental expenses
Fixtures – blinds, shades, shutters, lights, ceiling fans, etc.
It can't be used for buying things like furniture, tools, carpet or house cleaning, snow removal or lawn care or buying a new house.
So, before you file, double check those bills to make sure you can actually claim the credit.
Follow MoneySense on Twitter @moneysensemag and Bryan @_inthemoney