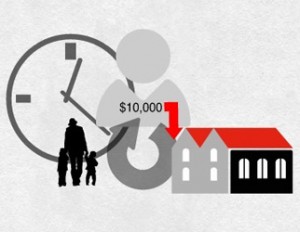 Today's low interest rate environment combined with a growing appetite for socially responsible investments (SRI) are propelling community bonds into the spotlight. Just this week, reports that Goldman Sachs is getting into the business of "social impact" or community bonds surfaced. But what is a community bond exactly and is it right for you?
MoneySense went to Scott Hughes, principal of CapacityBuild Consulting Inc., to find out. Hughes helped structure the Centre for Social Innovation's first community bond offering which raised more than $2 million to help buy and restore a downtown Toronto building. Known as the CSI Annex, the property is now a work and event space for a number of local community groups.
Community bonds are "a combination of financial and social returns" that satisfy investor appetite and the funding requirements of a specific cause, Hughes said. The interest-bearing bonds are intended for small scale, non-accredited investors and can only be issued by a non-profit organization.
How did CSI do it?
To raise $2 million, CSI sold a series of $10,000 bonds to investors paying 4% interest for five years, with interest calculated semi-annually and principal and interest paid upon maturity. If all goes well, investors can expect to get back roughly $12,190 after five years before tax.
Investors had the option of buying the bond directly from CSI or via a Self-Directed Registered Retirement Savings Plan (facilitated by Concentra Financial). Concentra Financial acted as administrator providing a liaison between CSI and investors who either committed new funds or reassigned existing funds to their SDRRSP for the bond. The SDRRSP route also provided investors the opportunity to generate an income tax deduction and there's the added bonus of not having to worry about imputed interest creating additional tax liability.
………………………..Click to enlarge: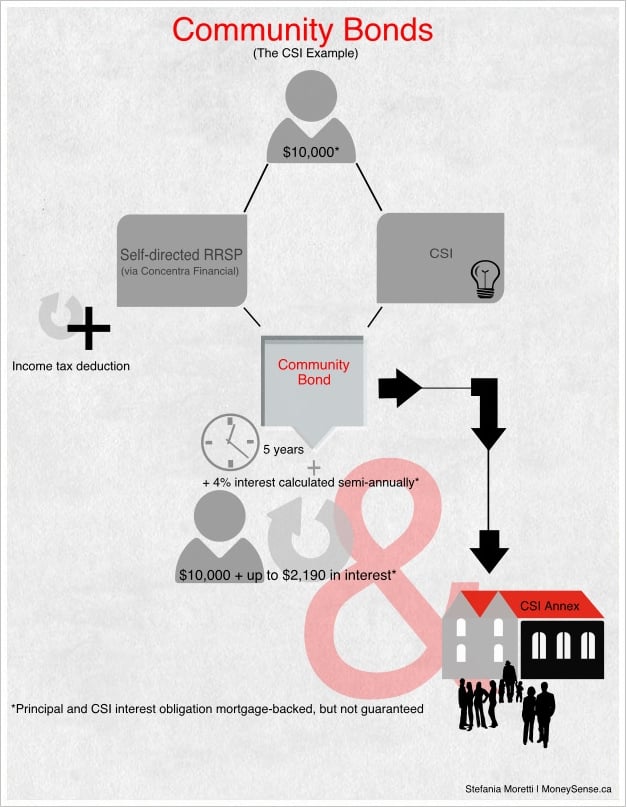 The bonds are mortgage-backed so if CSI reneges on its commitments, the property will be sold with bondholders getting a cut of the proceeds after all other lien-holders (like the bank and city) are paid off.
The bonds are mortgaged-back but not guaranteed. There's a difference, Hughes said.